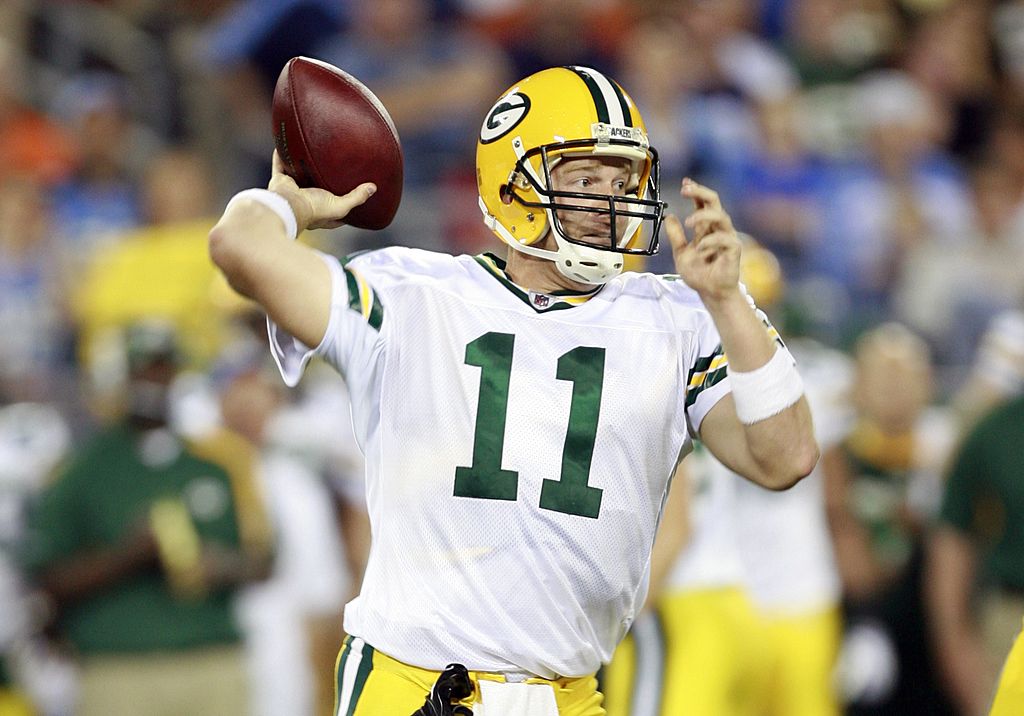 Louisville's Brian Brohm Could Have Replaced Brett Favre Instead of Aaron Rodgers
The Green Bay Packers have enjoyed the Aaron Rodgers era. But over a decade ago, Brian Brohm could have instead been Brett Favre's successor. Where is Brohm now?
There exists an alternate universe where instead of former No. 1 overall pick Aaron Rodgers leading the Green Bay Packers to a Super Bowl title, Brian Brohm instead accomplished the feat.
Who?
Before the Packers truly committed to Rodgers as Brett Favre's replacement in 2008, Green Bay drafted a quarterback capable of fighting Rodgers for the spot.
This is Brian Brohm's story — and as we know, it's one that didn't end with him hoisting the Lombardi Trophy.
Brian Brohm had an excellent career at Louisville
A star high school quarterback, Brian Brohm remained in his home state and signed with Louisville in 2004. Brohm is responsible for one of the strangest college football stats you'll ever see.
Despite not starting a single game in his freshman season and only throwing 98 passes, Brohm earned Conference USA Freshman of the Year.
Brohm earned the starting role in 2005, Louisville's first year in the Big East, and held it until he played his final college down in 2007.
Brohm completed 65.8% of his passes for 10,775 yards, 71 touchdowns, and 24 interceptions in four years. He threw 30 touchdowns as a senior in 2007, although Louisville only finished 6-6 and didn't make a bowl game.
Brohm's solid play turned him into the 56th overall selection in the 2008 NFL draft. The Packers selected him hoping he could potentially replace the recently-retired Brett Favre.
Media analysts loved the Brohm selection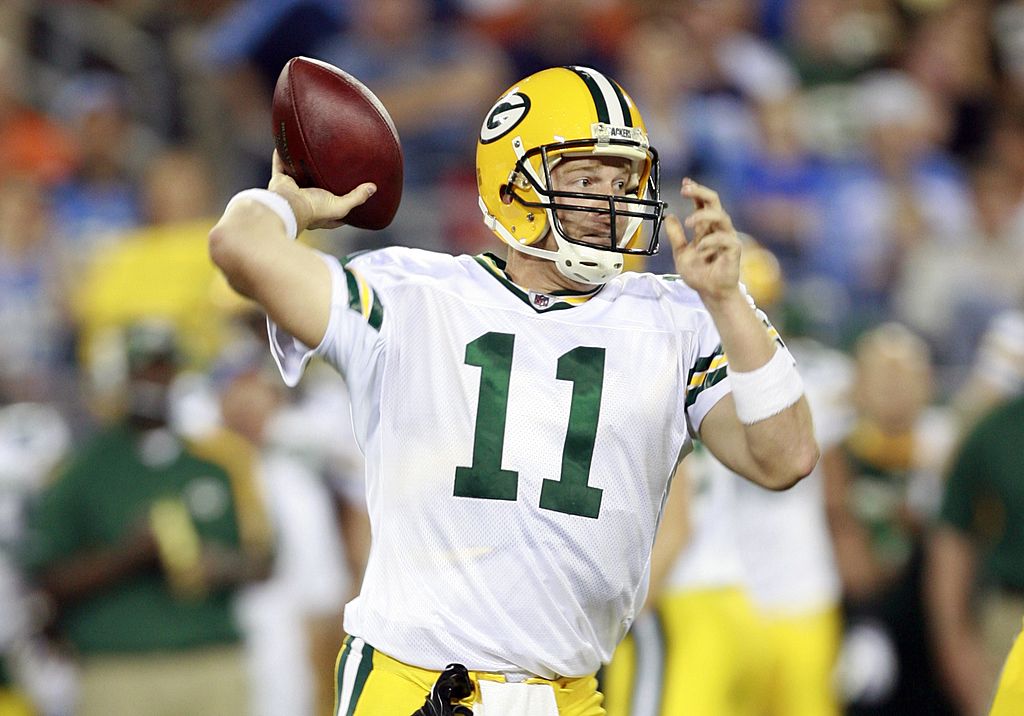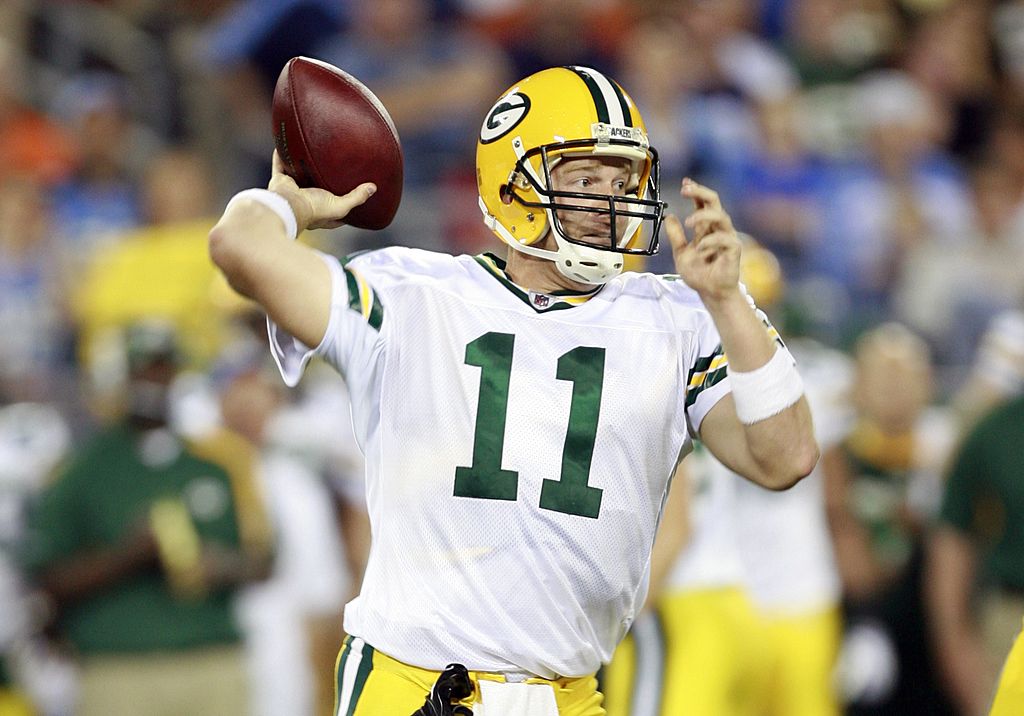 Unlike the Packers' recent Jordan Love pick, media members and fans absolutely loved the team selecting Brian Brohm.
Brett Favre had just retired, seemingly for good, and Aaron Rodgers was mostly untested in the NFL. There was a genuine belief that Brohm, not Rodgers, would be the Packers' next franchise quarterback.
The Sporting News compared Brohm to NFL legend Peyton Manning. ESPN's Merril Hoge said he liked Brohm better than where Rodgers, who hadn't played much in his first three seasons, was at that point in his career.
ESPN NFL draft analyst Todd McShay even made an incredibly bold claim during the draft.
"Brian Brohm, two years from now, could be the starting quarterback of the Green Bay Packers. … I think Brian Brohm's upside is greater than that of Aaron Rodgers."
It didn't even take two years for the Brohm pick to look bad. Brohm struggled in his first preseason and spent the entire 2008 campaign on the practice squad.
Rodgers won the Packers' starting job outright. Seventh-round pick Matt Flynn, a national champion at LSU, served as Rodgers' backup.
By 2010, when McShay thought Brohm would be the starter, Aaron Rodgers had firmly entrenched himself as the Packers' starting quarterback.
Brohm, on the other hand, lasted one season in Green Bay. The Packers waived him after the 2009 preseason and he spent a season-and-a-half in Buffalo.
Brian Brohm now works at the University of Purdue
Brian Brohm never got into a regular-season game with the Green Bay Packers. He completed 51.9% of his passes for 252 yards, no touchdowns, and five interceptions in three career games with the Buffalo Bills from 2009-10.
Brohm played in various other leagues, including the CFL, until he retired in 2016. Western Kentucky immediately named Brohm its quarterbacks coach, where he worked with future Dallas Cowboys quarterback Mike White.
Brohm reunited with his older brother, Jeff, who was WKU's head coach at the time. Western Kentucky won Conference USA, Brohm's old stomping grounds, that season.
When Jeff Brohm earned Purdue's head coaching job after the season, Brian Brohm followed him to Indiana. The younger Brohm has served as the Boilermakers' co-offensive coordinator and quarterbacks coach the last three years.
Aaron Rodgers is still going strong after a decade-plus of starting. Brohm, at least, has found a new calling in the coaching ranks and spends most of his time with his family.