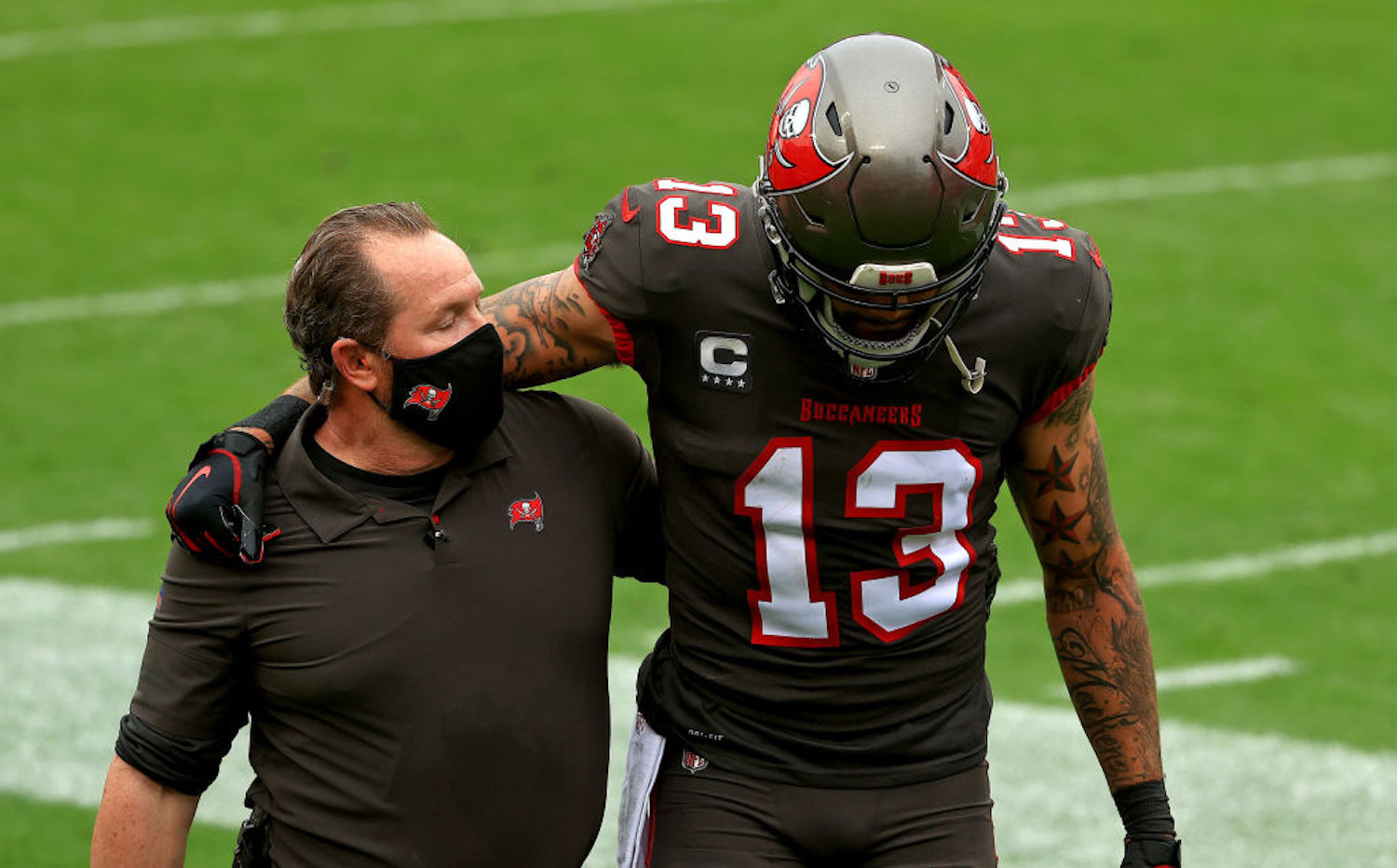 Tom Brady Can Breathe a Huge Sigh of Relief After Some Encouraging News About His Favorite Target
Tom Brady thought he lost star WR Mike Evans for the playoffs after a scary injury, but the MRI made him breathe a sigh of relief.
When Mike Evans dropped to the ground in pain after hyperextending his left knee Sunday, Tampa Bay Buccaneers fans gasped in unison. Evans has been the most dangerous offensive weapon all season for the Bucs, so losing him for the playoffs would be a crushing blow to Tom Brady and the offense.
But, thankfully for Evans and the Buccaneers, the MRI on his knee showed no structural damage to his left knee. Will Brady have his favorite wide receiver available on Saturday for Tampa Bay's first playoff game in 13 years?
Mike Evans has been Tom Brady's favorite target this season
There aren't many wide receivers in NFL history who can say they've had better starts to their careers than Mike Evans. By eclipsing the 1,000-yard mark on Sunday, Evans became the first wideout in NFL history to record over 1,000 receiving yards in each of his first seven seasons as a pro.
Evans accomplished that feat while catching passes from the likes of Ryan Fitzpatrick, Jameis Winston, and Mike Glennon. Now he has Tom Brady, and Evans quickly became his favorite target in his first year with the Bucs. Brady and Evans clicked from the moment they got on the practice field together, and they've put together an impressive season through the air.
Evans leads Tampa Bay in targets (109), catches (70), receiving yards (1,006), and receiving touchdowns (13) this season. The Texas A&M product has been the most reliable downfield target for Brady all year, and the Buccaneers need him in the lineup to make a deep playoff run through the NFC.
Mike Evans went down with a scary knee injury
Moments after breaking the record for most consecutive 1,000-yard receiving seasons to start a career, Mike Evans' historic day turned dark. On what looked to be an easy touchdown on a slant route, Evans slipped on the grass in the end zone and hyperextended his left knee.
Evans was in great pain as he sat in the end zone, and he eventually limped off the field where a cart was waiting to bring him to the locker room. The injury didn't look good at first glance, and Buccaneers' players feared the worst.
"It's always tough when you see guys go out," Brady said after the game. "[I'm] proud of him for everything he's gone through this year and what he's fought through. It's an incredible record to have. Toughness, dependability, not obviously [only] skill, but attitude plays a big factor into those things. I just love playing with the guy, so when he went out, other guys really stepped up and made a bunch of plays."
Tom Brady can breathe a sigh of relief after some encouraging news
When Evans went down after awkwardly twisting his knee, Buccaneers' fans were just hoping he could return in time for the start of the 2021-22 season. Well, it turns out he might return in time for this Saturday.
The MRI following Evans' knee injury revealed no structural damage, according to NFL Insider Jay Glazer. Evans will be listed as day-to-day, but head coach Bruce Arians seemed optimistic on Monday that his star wide receiver will be able to suit up when the Buccaneers face off against the Washington Football Team in the first round of the postseason this Saturday night.
That loud sound you just heard was Tom Brady breathing a massive sigh of relief from his Tampa mansion.
All stats courtesy of Pro Football Reference