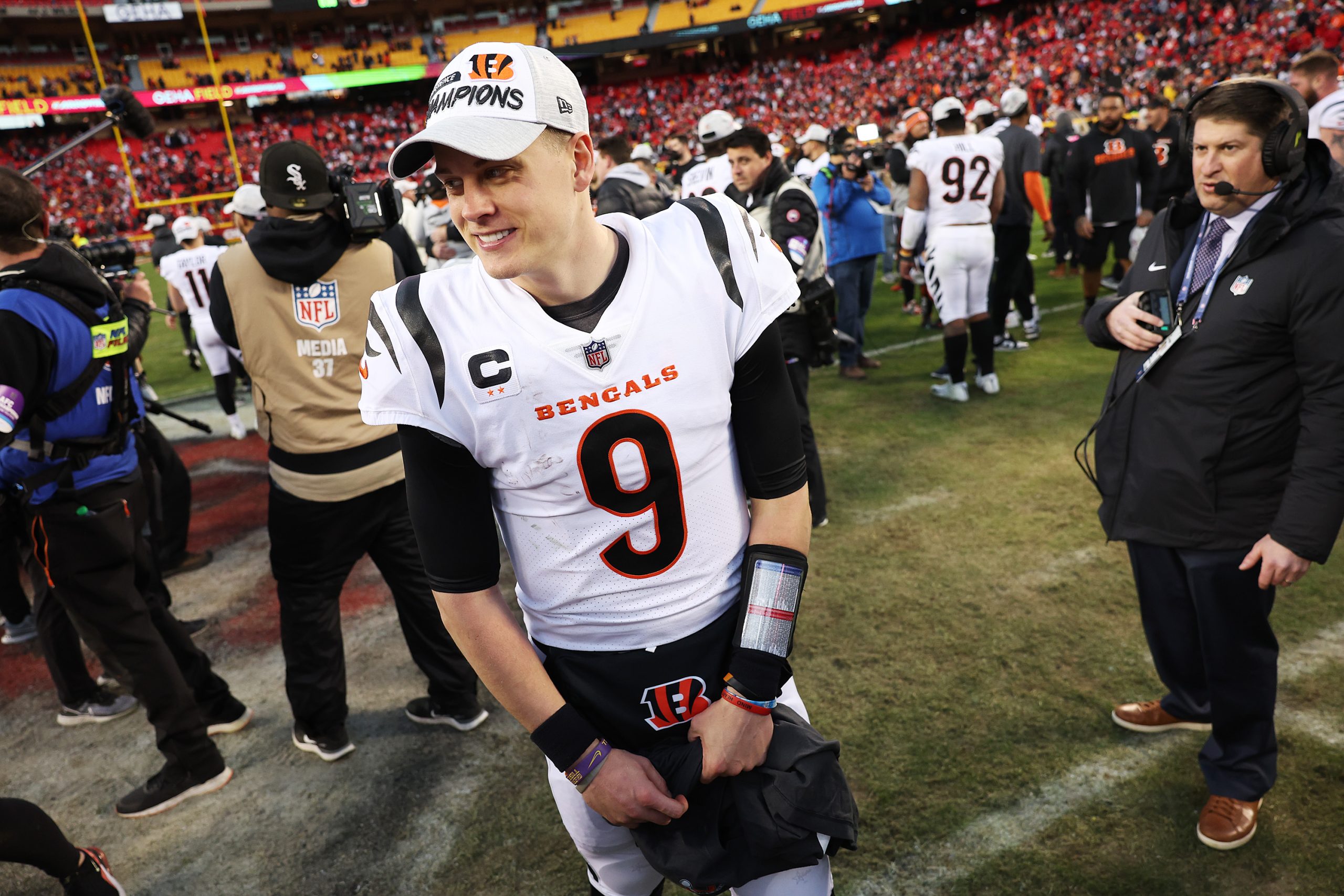 Tom Brady Offers Advice to Joe Burrow on What He Should Do If the Bengals Beat the Rams
Tom Brady offered Joe Burrow some friendly advice on what to do if he wins the Super Bowl.
Tom Brady has called it quits. After winning seven Super Bowls in 22 NFL seasons, Brady announced his retirement earlier this week. As he prepares to watch his first Super Bowl as a retiree, he offered some friendly advice to the Cincinnati Bengals quarterback, who is making his first appearance in the big game in just his second year in the league.
Joe Burrow was 3 when Tom Brady was an NFL rookie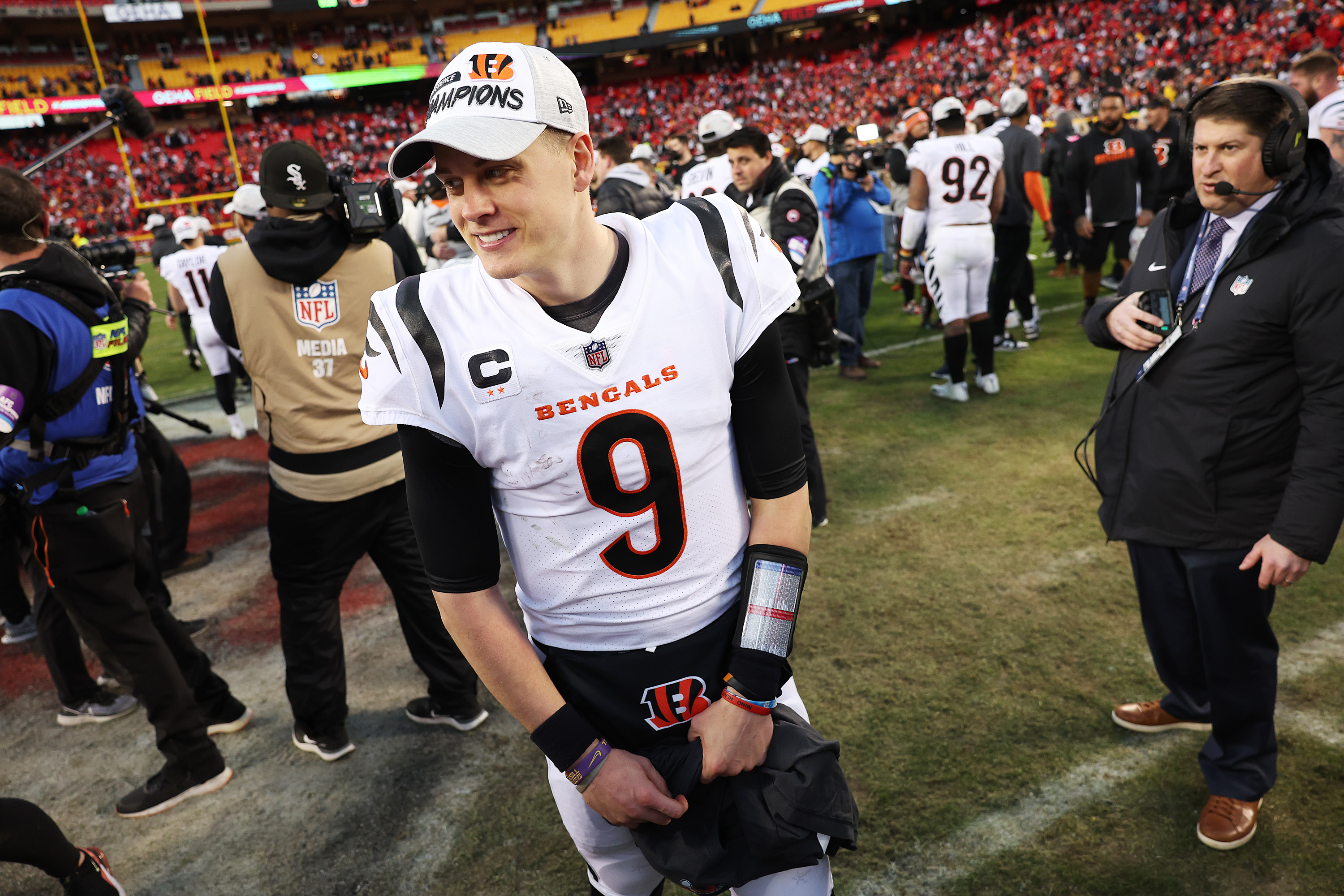 The NFL lost what many believe is the greatest quarterback to ever play when Brady decided to retire. The NFL, however, is still in pretty good hands when it comes to young signal-callers.
The AFC alone is loaded with young studs like Burrow, Patrick Mahomes, Josh Allen, and Justin Herbert. All these guys were pre-schoolers when Brady first set foot on an NFL field. Burrow was 3 years old.
Burrow is on his way to taking the throne from Brady. In just his second season, he's guided the Bengals to an improbable Super Bowl berth one year after they won four games. He's bounced back from a devastating ACL injury suffered against the Washington Football Team last season in Week 11. Burrow went 2-7-1 as a starter.
He's got a long way to go to catch Brady, but he's off to a good start. Burrow displays the same calm demeanor Brady did but offers a little more athleticism than the three-time MVP.
Tom Brady offered some friendly advice to Joe Burrow on what he should do if the Bengals win
Brady and Burrow are both winners. We all know about Brady's seven Super Bowl rings, but Burrow has proven to be a winner as well. After transferring from Ohio State, Burrow led LSU to a national title in his second season with the Tigers. Three months later, the Bengals made him the first pick in the 2020 NFL Draft.
Burrow also won the Heisman Trophy in that championship year after putting up Fantasy Football-like numbers. He threw 60 touchdown passes, passed for 5,671 yards, and completed 76.3% of his passes. He was intercepted just six times.
Should Burrow and the Bengals beat the Rams and win the Super Bowl, Burrow will make history. He'll become the first player to win an NCAA title, Heisman, and a Super Bowl. That prompted Brady to give Joe Cool some advice via the Let's Go podcast with Jim Gray.
"Before we came on the air, Tom said something that gave me quite a chuckle and he probably didn't want to say it because of the sensitivity around it but I can, I'll repeat it for him," Gray said to Burrow. "He said, he hopes you are the first person to win the Heisman Trophy, a college football championship, and a Super Bowl. He said if that happens, you should go out on top and retire."
It drew laughter from both Burrow and Brady before Brady jumped in and said, "Definitely don't do that. You've got a great future ahead."
Brady said Burrow has tools he didn't have when he entered the league
Burrow has gone through so much in his short stint in the NFL. He's bounced back from a season in which he won two games as a quarterback, but more importantly, he bounced back from his injury. He said his level of confidence hasn't changed, but he had to slowly work his way back to make sure he could still use his legs the same way he had in the past.
"I think my confidence in myself hasn't really changed," Burrow told Gray. "I would say my confidence in my body, being able to physically do the things I needed to win games has changed throughout the year. At the beginning of the year, I was basically eight months out from my surgery. I wasn't quite making as many plays as I had in the past with my legs. 
"So, I kind of had to rethink the way I was playing early in the year, trying to play more in the pocket within the structure of the offense. Then, about halfway through the year after the bye week, I gained a little more confidence in my knee and I was starting to make some of those plays in the pocket. Making people miss, the way I had before the injury."
Brady said Burrow possesses some tools that Brady didn't have early in his career.
"I think (Joe has) some tools that I didn't quite have when I was his age," Brady said. "Super impressed by how he's kind of come into the league. … Two years into his career after a really tough injury last year (he) showed a lot of mental, physical toughness coming back and having an incredible season."