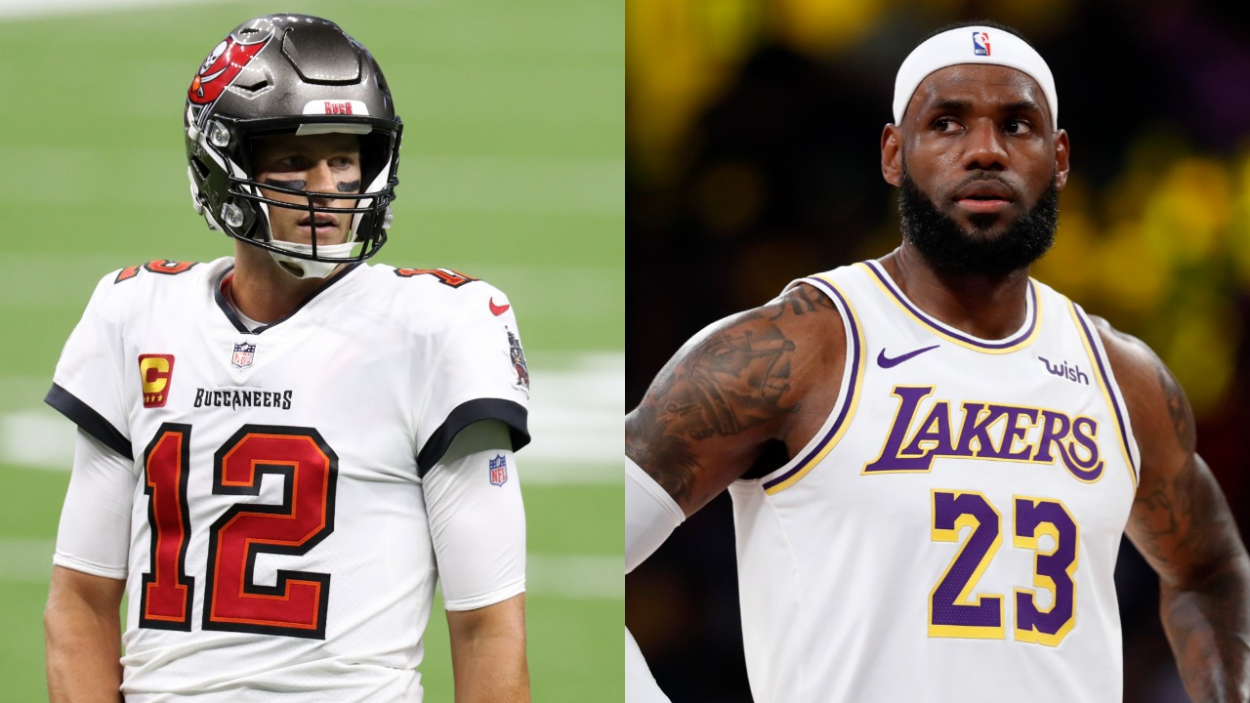 Tom Brady Responds to LeBron James Saying He's Not the GOAT Athlete: 'Of Course, I Remember When He Said That'
Many consider Tom Brady to be football's GOAT, especially after seeing him win his seventh Super Bowl in 2020. However, is he the greatest athlete to ever exist? LeBron James didn't think so back in 2017, and he shared the reasons for his beliefs, but TB12 recently responded to The King's comments.
We are still watching two GOATs play at a high level in their respective sports: Tom Brady and LeBron James. Sure, the "greatest of all time" titles are up for debate. Is Brady really the best player to ever play in the NFL? Is James actually better than Michael Jordan? Whether we know these answers or not, it's still safe to say that they're two of the greatest competitors ever.
However, what about the greatest athlete in the history of all sports? James once said he couldn't give Brady that title, and TB12 has since responded.
LeBron James said Tom Brady isn't the GOAT athlete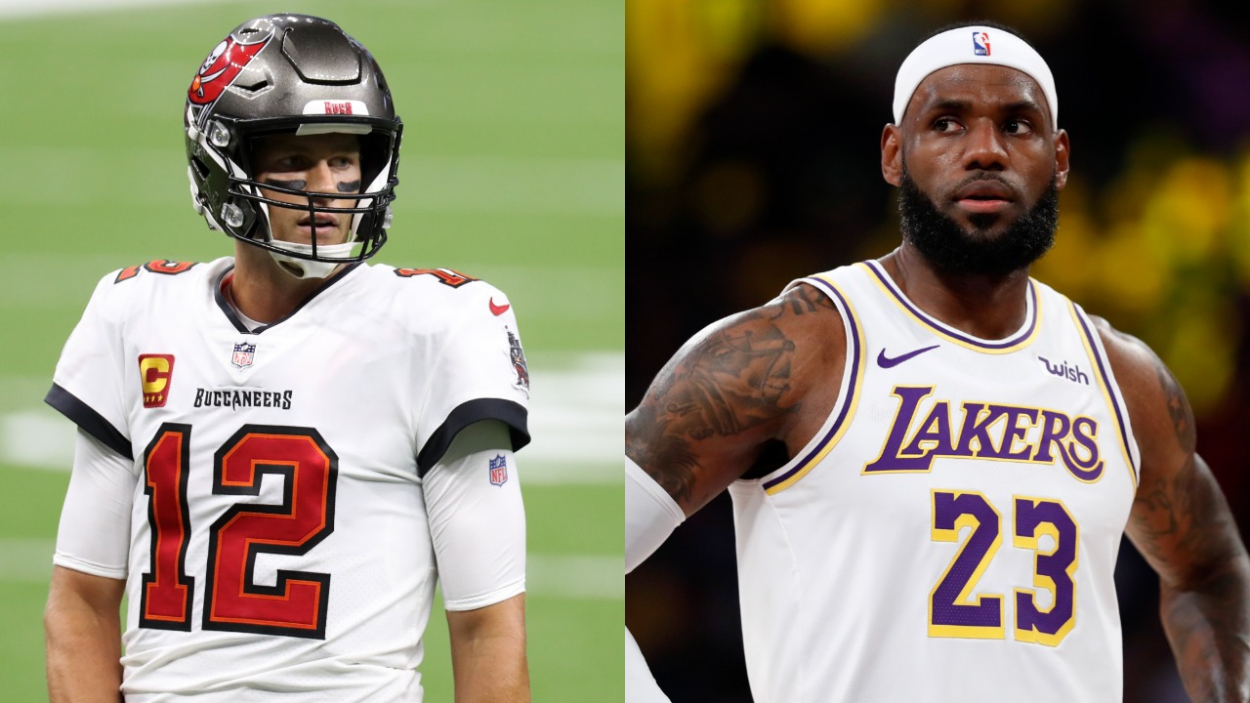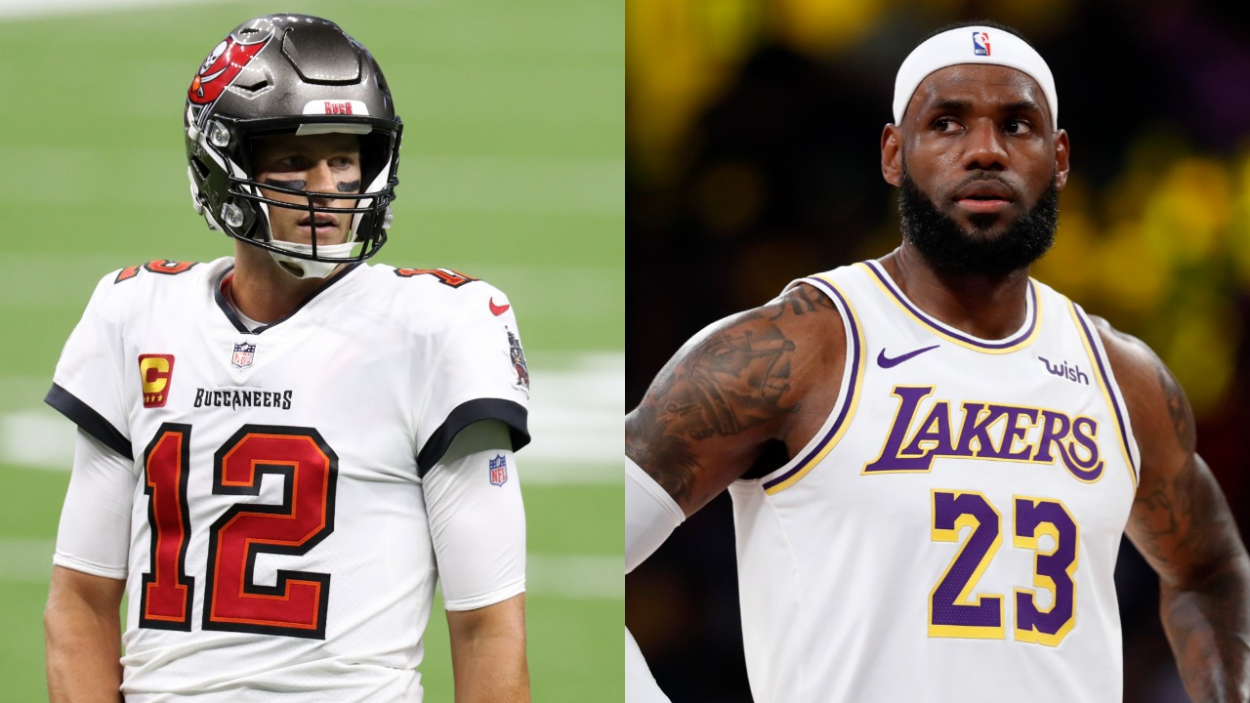 James has a ton of admiration for Brady. But when appearing on The Shop in 2017, he said it's hard for him to say a football player is the GOAT of all athletes.
"My only argument with a football player being the greatest athlete of all time is that they only gotta play one side of the floor, man," James said, per CBS Sports. "Yes, Brady is unbelievable. Brady is the greatest quarterback I've ever seen, but he affects the game one way."
James then brought up how basketball players have to constantly worry about playing offense, getting back on defense, and then going back to offense again during games. Football players, though, typically just have one responsibility for their teams.
"As physical as football is — and to the body, I know it's crazy to the body — but for a quarterback, [Patriots coach Bill] Belichick has done a great job of implementing those five guys in front to protect that asset," James added, per CBS Sports.
He continued: "For us [as basketball players], every single night, you gotta know both sides. … When I played football, offensively, I never even talked to the defensive side. I never even talked to y'all. Ain't nothing to talk about."
James, though, concluded by saying Brady is still the GOAT in terms of football players.
"I'm not saying he's not great. He's the greatest football player of all time," he said.
TB12 responded to LeBron James' GOAT comments
In somewhat of a full-circle occurrence, Brady also appeared on The Shop recently, and Maverick Carter, James' business partner, asked him for his thoughts on The King's 2017 comments.
Although James made them about four years ago, Brady said, "Of course, I remember when he said that."
"It really just depends what style you like," Brady said. "You could say, 'Well, you're maybe the most accomplished.' I would say, 'OK yeah, I've won a lot of games, Super Bowls and so forth.' But my style of play might not fit everybody else's, what their view of what that position should be."
Brady then admitted that he knows he can't do the same things running backs or offensive linemen can do on the football field.
"I can really just be the best with the body that I was given," Brady said. "There's certain things that I certainly cannot do. And I have the awareness to realize, 'OK, I can't do those things.'  You can't do everyone else's job. I can't block, tackle, run, catch — sure as hell can't run — but I can throw the s— out of the ball. So, let me just do that. And let me do that really well."
OK, so Brady didn't really answer whether he thinks he's the GOAT athlete, but we know he keeps tabs on what other GOATs say about him.
Is Tom Brady the GOAT athlete?
Brady didn't answer whether he's the greatest athlete ever because it's such a tough topic to debate.
If you think the GOAT should be based on championships, then Bill Russell's 11 NBA championships in 13 years should give him the title. But if you put sustained excellence over an extended period into consideration, then Brady has to be the greatest.
Brady has played in the NFL for 21 seasons, and he just threw for the second-most touchdowns in a season for his career in 2020. He also produced more yards at 43 years old than he has since the 2015 season when he was 38. Oh, and TB12 left the New England Patriots last season and won his seventh Super Bowl.
So, when debating who the GOAT athlete is, it really depends on your criteria for that title. But either way, Brady has proved he is the greatest athlete to ever play the sport of football, and he isn't finished yet.
Stats courtesy of Pro Football Reference