Tommy Heinsohn Literally Fainted After His Boston Celtics Won the 'Greatest Game Ever Played'
Game 5 of the 1976 NBA Finals between the Boston Celtics and Phoenix Suns had it all. There were key baskets, unsung heroes, and bizarre timeouts. Many have referred to Boston's 128-126, triple-overtime victory as the "greatest game ever played."
Players were physically exhausted, and others, like Celtics coach Tommy Heinsohn, were mentally drained. After the game, Heinsohn literally fainted in the trainer's room, putting his availability to coach a potential series-clinching Game 6 in serious jeopardy.
Tommy Heinsohn turned to seldom-used Glenn McDonald in a key move during the Boston Celtics win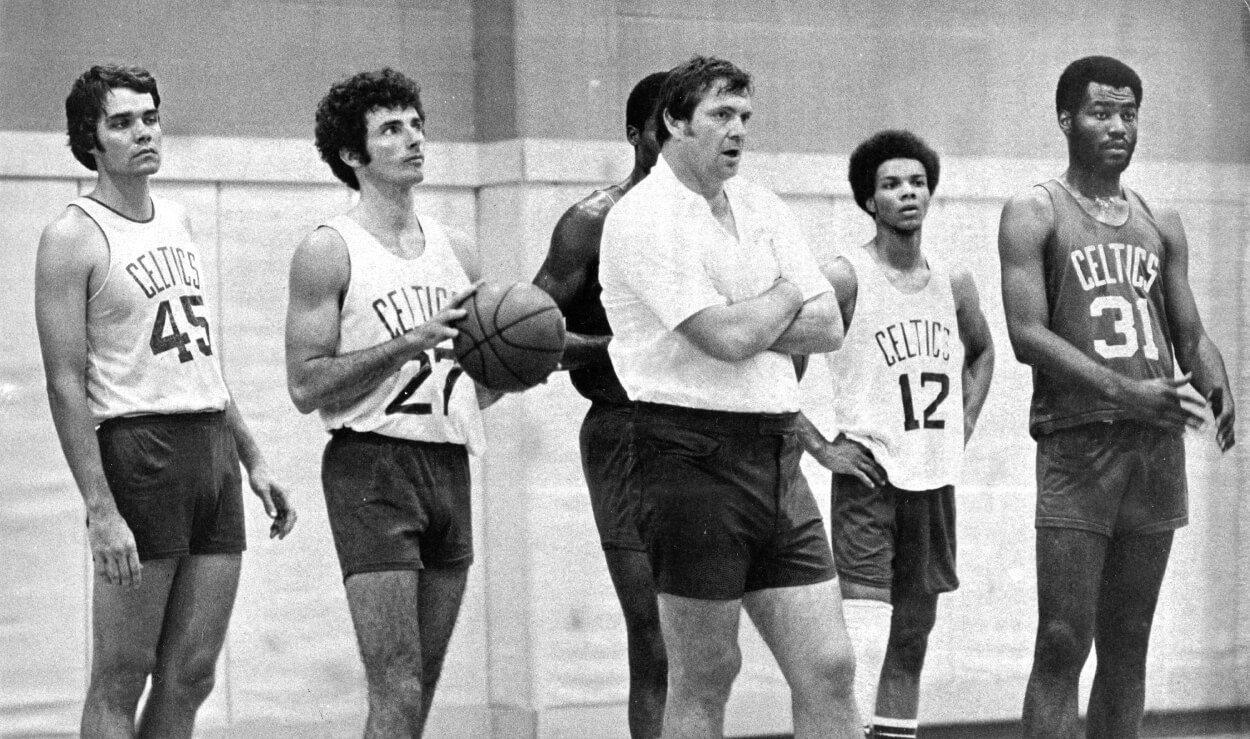 The game opened as anything but a great one as the Celtics stormed out to a 36-18 lead after the first 12 minutes. The visiting Suns eventually bounced back from a 61-45 halftime deficit, sending the game into overtime. The Celtics got away with one in the first OT as Boston's Paul Silas called for a timeout with three seconds left and the game tied. Boston had no timeouts left, which should have resulted in a technical foul, but referee Richie Powers didn't see Silas' signal.
"I tried to call one and Richie Powers didn't see me or didn't want to see me," Silas said in 2001, per SB Nation. "He didn't acknowledge it. I know they feel if he had, it would have been a different ending. Bottom line is that he didn't, and we got another ring."
With one second left in the second OT, John Havlicek seemingly gave the Celtics a one-point victory with a bank shot. Phoenix's Paul Westphal then purposely called a timeout he didn't have, resulting in a technical foul. Back then, the team taking the foul shot didn't automatically get possession of the ball after the free throw. In this case, Boston made the shot, and the Suns had one last gasp with a second left and the ball at midcourt. Garfield Heard's catch-and-shoot went in, sending it to a third overtime.
In the third overtime, Silas, Boston's 6-foot-7 forward, fouled out. Instead of replacing him with 6-foot-8 power forward/center Steve Kuberski, Heinsohn called upon little-used guard Glenn McDonald. McDonald provided quickness in a game where players were growing tired.
"When Paul fouled out, I didn't think I was going in," McDonald told Sportscasting last April. "I looked at Steve and said, 'Paul fouled out. Get ready.'"
Heinsohn then pointed to McDonald.
"He looked at me and said, 'Run 'em, Mac. Run 'em,'" McDonald said of Heinsohn. "I was extremely fast and I love to get out on the fast break. I played a little at the end of the first half, but after halftime, I didn't touch the floor."
McDonald scored six of his eight points in the final 1:35 to lead the Celtics to a win in the longest game in NBA Finals history.
After the game, Heinsohn fainted in the trainer's room
The game took its toll mentally and physically on the players. How could the Suns bounce back from such a devastating loss? How would players be able to respond two days later after playing 60 or more minutes of grueling basketball? One person who was unable to immediately answer those questions was Heinsohn, who needed medical attention after fainting in the trainer's room.
During an interview with Michael D. McClellan of Celtic Nation, Heinsohn was asked what he remembered most about that game.
"Fainting in the locker room after it was all over," he once told McClellan while laughing  "I'd gotten dehydrated during that thing, so they'd brought me into the trainer's room and I fainted.  Somebody asked me a question and I just keeled right over. 
"I ended up with a touch of high blood pressure, and they weren't going to let me go out to Phoenix and let me coach the next game. It wasn't until the next day that they changed their minds. They looked me over, and allowed me go out and coach."
He then spoke about how ruling the game was.
"That game was such a draining experience," he said. "It was a terrific game. We got up big, and then Paul Westphal started making these whirling-dervish moves. He was the only guy in the league that I'd ever seen go into the paint for a layup, do a three-sixty at full speed, in the air, and make the shot. And he made about four of those in the second half of that game.
"And then, of course, Gar Heard hit that big shot. The next game, the sixth game, was in Phoenix. And whoever was able to bend over, tie their sneakers and walk out onto the floor was going to win that game (laughs). That's how debilitating that triple-overtime game was back in Boston."
Heinsohn, who died in 2020, was able to gather his troops and close out the series with an 87-80 win in Phoenix.