Former Controversial College Football Coach Tommy Tuberville Says College Athletes Shouldn't Be Paid: 'This Is Not a Minor League Farm System'
Tommy Tuberville is no longer a college football coach, but he recently addressed whether college athletes should get paid or not. Student-athletes getting paid is one of the hottest debates in college sports, and it may actually happen sooner rather than later, but is Tuberville the right person to discuss the topic?
One of the more polarizing debates in college sports concerns whether student-athletes should get paid. Given that universities make boatloads off them, many believe they deserve some sort of compensation, while others think they receive enough from scholarships. Former college football coach Tommy Tuberville is in the latter category.
Tuberville, who is now a U.S. Senator in Alabama, recently addressed the topic, and he, unsurprisingly, said he doesn't think they should get paid.
College athletes getting paid is a hot debate
People have debated whether college athletes deserve monetary compensation for years. However, it looks like we're getting closer to that actually happening.
According to The Washington Post, laws that make it possible for college athletes to earn cash off their name, image, and likeness (NIL) will go into effect in six states on July 1. The NCAA governing body also plans to vote on a national framework for NIL later this month.
So, how much can athletes make? It will ultimately vary, but, per The Washington Post, a study found that former Clemson quarterback Trevor Lawrence's Instagram account was valued at over $300,000.
No, not everyone will make Trevor Lawrence money, but athletes will be able to make a decent living off their NIL.
Tommy Tuberville believes college athletes shouldn't get paid
Tuberville, the former Ole Miss and Auburn coach, won the Alabama U.S. Senate race in 2020, but he still talks college football from time to time. In fact, he recently addressed whether he thinks college athletes should get paid.
"Players are already getting paid, you gotta remember that; they're getting their scholarship, plus most of them are getting six, seven, eight hundred dollars cash a month for what we call cost of attendance," he said to TMZ Sports. "So, nobody's going hungry as a college athlete — men and women. But it should always be about education. If we get away from that now, we're going to lose it. This is not a minor league farm system."
Tuberville continued to double-down on his belief that education is the most important aspect of college sports. But he also admitted that he told his players they essentially had two full-time jobs.
"I always told recruits and the players every year, 'This is the only time in your life you'll have two full-time jobs: going to school like a normal student, getting good grades … and then you throw on top of that another full-time job of playing college sports,'" Tuberville said. "It is hard. It's time-demanding. It's difficult. It makes grown men and grown women out of people that play it."
Tommy Tuberville is the last person who should be discussing athlete compensation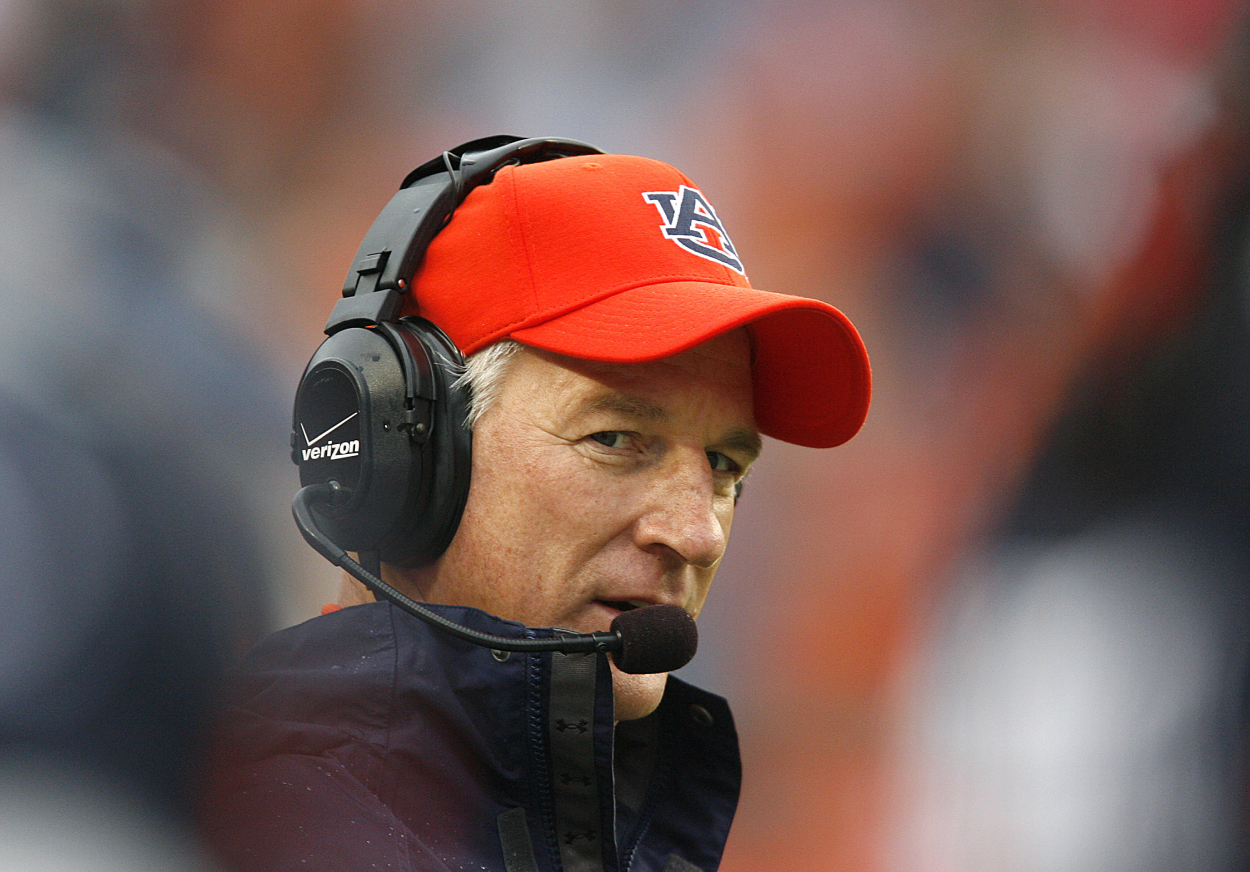 Yes, Tuberville had significant success during some points of his career. He led the Auburn Tigers to eight straight bowl games from 2000 through 2007 and went 13-0 in 2004.
He also had failed seasons throughout his career.
Tuberville went 5-7 in his final year at Auburn. He eventually resigned after that 2008 season but still received a $5 million buyout from the school, according to AL.com. He was essentially paid $5 million to quit.
But college athletes can't get paid for their own name?
That's not all.
After taking over a Cincinnati program that had consecutive 10-win seasons in the two years prior to his 2013 hiring, Tuberville led UC to a 4-8 campaign in his final year at the school in 2016. During that atrocious season, Tuberville said, "The football program at the University of Cincinnati is better than it's ever been," per Cincinnati.com.
When looking at wins and losses, that simply wasn't true. So, during the time he was potentially turning a blind eye to his program's failures, Tuberville was making $2.2 million per season at UC, according to Cincinnati.com. That equates to $550,000 per win in his final year.
But it's all about education, right?
Tuberville made millions while coaching student-athletes, and his career even helped him gain a cameo on The Blind Side and later earn a U.S. Senate seat. So, why should we listen to him on whether those same athletes deserve compensation themselves?
Many people have opinions on whether college athletes deserve to get paid or not. Tuberville, though, might not be the best person to ask.
Stats courtesy of Sports Reference