Toni Kukoc's 1st Day With the Chicago Bulls Was a Somber One That Left a Lasting Impression
It was three years after the Chicago Bulls drafted him when Toni Kukoc first set foot in Chicago to begin his NBA career and helped the Bulls win three straight titles. He arrived at the Berto Center, the Bulls' practice facility, with hoards of media members waiting. The only problem was those television stations and other members of the press weren't there for him.
After three years, Toni Kukoc decided it was time to join the Chicago Bulls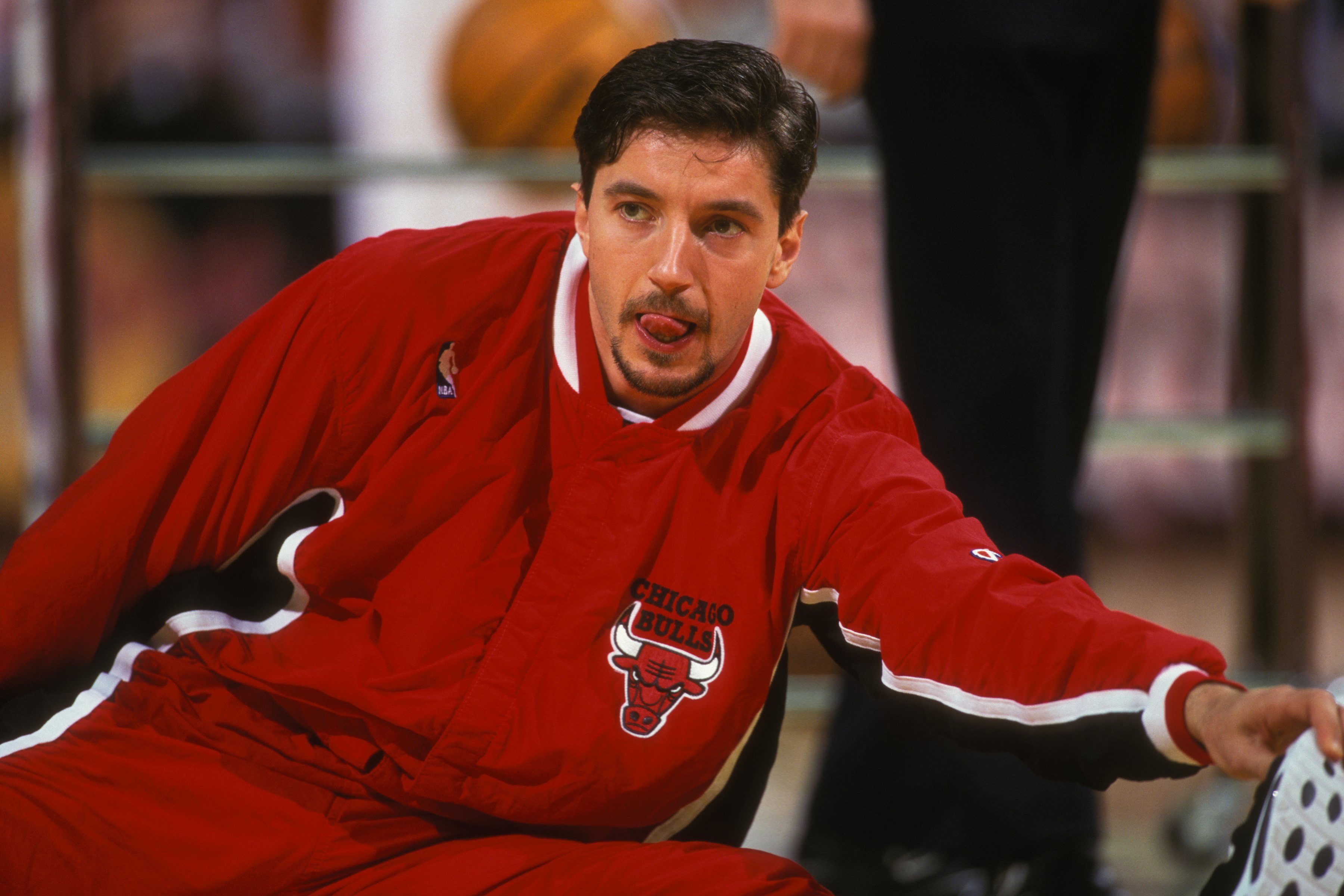 Bulls GM Jerry Krause scooped up Kukoc, a versatile seven-footer from Croatia, in the early portion of the 1990 NBA Draft. He selected him with the team's second-round pick, the 29th overall choice. Krause and the Bulls, however, had to play the waiting game.
The Bulls were on the verge of their first three-peat, stacked with Michael Jordan, Scottie Pippen, and Horace Grant. Adding Kukoc, who had the skills of a point guard, would make them the unquestionable favorite. Kukoc decided to remain overseas and didn't join the Bulls until the 1993-94 season.
"Knowing that I was drafted by the Bulls and that I had a chance to come over to actually get to that team was special," Kukoc said on The Waiter — a Toni Kukoc Story, a video posted by the Chicago Bulls. "I achieved everything that I could possibly achieve in Europe, and I felt that I should go to see how good I am."
While in Croatia, Kukoc said he followed the Bulls. In fact, he admitted the Bulls had an effect on his wedding night.
"The night we were getting married, I said we guys can party until like three o'clock but then there's a game against Phoenix on TV," he recalled. "That's when we all go home."
Toni Kukoc recalled arriving in Chicago as a swarm of media surrounded the practice facility
After three years of waiting, those in Chicago eagerly anticipated his arrival. On Oct. 3, 1993, he pulled up to the Berto Center, where tons of media were waiting. Those journalists, however, were there for a different reason.
"It was literally the day when I landed and I went to the Berto Center and I see all the cameras, all the trucks, all the media," Kukoc said. "I was told Michael's dad was killed."
James Jordan was murdered in August 1993. Two teenagers, Larry Demery and Daniel Green, were charged and are still serving time for killing Michael Jordan's father.
It was upon arrival that Kukoc realized how close the team was to each other. The bond the team had left a lasting impression on Kukoc.
"It was strange," Kukoc said. "It was a very sad day. A lot of players were crying. It helped me in a way to realize the bond they had among themselves, sharing that feeling, that moment, just being my first day, my first hour, with that team."
Kukoc fit in nicely with the Bulls, helping them win three more championships
Kukoc's first year with the team was the same year Jordan announced his first retirement to pursue a professional baseball career. Although he wanted to play with Jordan, and eventually loved doing so, playing without him his first year was beneficial.
"Maybe Michael not being there that year kind of opened the door for me to more playing time to more minutes to maybe play a more natural position," he said.
In his first season with the Bulls, Kukoc averaged 10.9 and 4.0 rebounds. He started eight of the 75 games he played.
Kukoc went on to team with Jordan and Pippen to win three straight championships. He also enjoyed a 13-year career, playing for four different teams. The first seven of those years were spent with the Bulls.
Kukoc was inducted into the Naismith Memorial Basketball Hall of Fame in 2021.