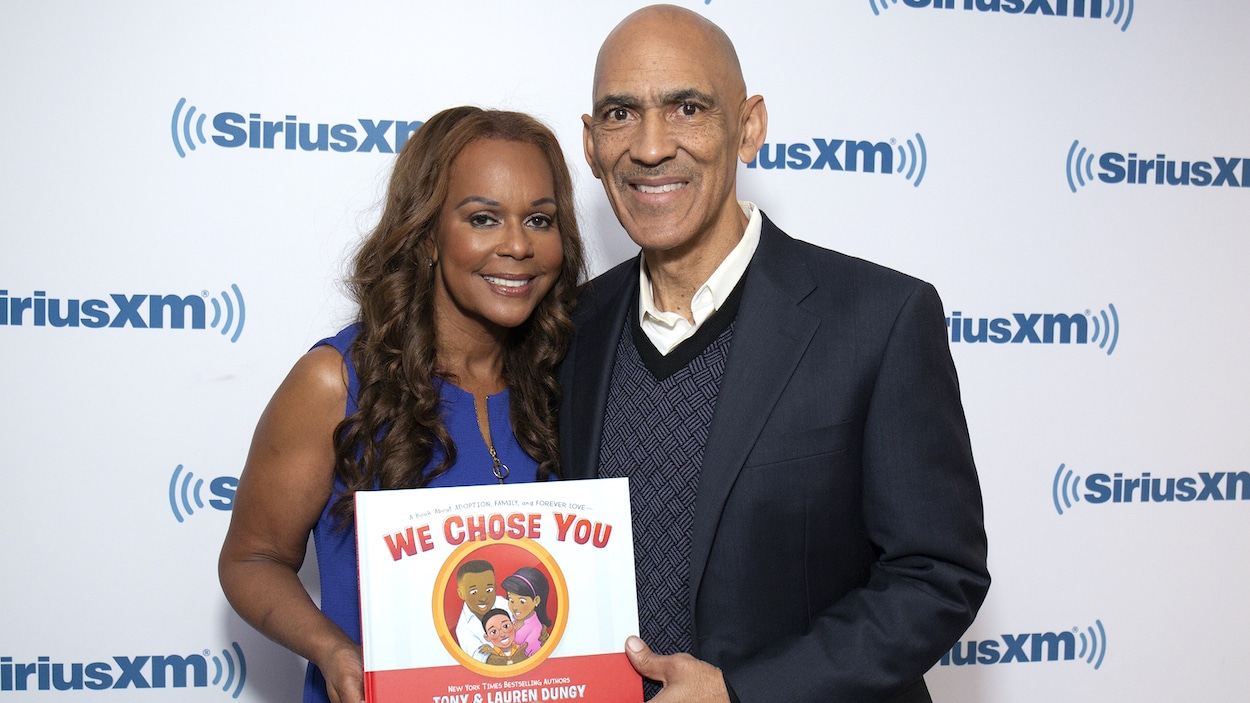 Tony Dungy Shoots Down Notion NFL Coaches All Ignore Their Families
Joe Thomas said NFL coaches are so dedicated they shirk parenting in the wake of the Colts' Jeff Saturday hire, but Tony Dungy disagrees.
The Indianapolis Colts hiring Jeff Saturday out of the ESPN studio, with no NFL coaching experience, rubbed a lot of former players the wrong way. There was a lot of negative reaction to the fact that owner Jim Irsay hired Saturday over more qualified minority candidates on his staff. And future Hall of Fame tackle Joe Thomas said Irsay hiring his "drinking buddy" to coach his team "is one of the most disrespectful things" he's ever seen. Thomas went so far as to say he's seen NFL coaches who work so hard they basically ignore their families during the season, and that's the level of commitment it takes to be an NFL coach. After his stunning rant, though, legendary Colts coach Tony Dungy respectfully disagreed with his assessment.
NFL Coaches don't have to be bad dads to win games
It's safe to say that ten-time Pro Bowl and six-time All-Pro former NFL tackle Joe Thomas hates the Jeff Saturday hire by Colts owner Jim Irsay.
During an appearance on Good Morning Football, not only did Thomas derisively call Saturday Irsay's "drinking buddy," but he also deemed the move "egregious" and "disrespectful" to all the NFL coaches who came before him.
The future Hall of Famer then shared an anecdote about the level of dedication to coaching displayed by one of his short-lived Cleveland Browns coaches, Rob Chudzinski.
Chudzinski coached the Browns for one season (2013) and went 4-12 in his only stint as an NFL head coach. During that time, the coach lived "right next door" to his superstar offensive lineman. And Thomas shared with the GMFB crew that his "commitment" to coaching was so strong that he only "saw his children one time every week."
Thomas then relayed the whole story of how Chudzinski would pick his four kids up from school on Fridays, take them for ice cream, bring them home, and then head back to the Browns facilities to work on the next game plan.
The retired lineman's point was that the level of dedication Chudzinski dedicated is what it takes to succeed (4-12?) in the NFL. Retired former Tampa Bay and Indianapolis Colts head coach Tony Dungy took issue with this assertion.
Dungy, who owns a 139-69 career record, coached in 19 playoff games, won a Super Bowl, and played for and coached under another NFL legend in Pittsburgh Steelers coach Chuck Knoll, tweeted that doing it Chudzinski's way is not the only way to do it in the NFL.
"I'm sorry Joe but Chuck Noll won 4 Super Bowls and he saw his kids more than once a week," Dungy wrote. "Jim Caldwell and I took the Colts to 2 Super Bowls and I promise you we saw our kids more than once a week. To be an NFL coach does take commitment but not everyone has to do it like that."
While there are plenty of stories like Thomas' of coaches sleeping in their offices and not being very good fathers, it's refreshing to hear from Tony Dungy that some of the greats found a way to achieve some level of work-life balance while still putting together incredible coaching resumes. 
Now, we'll get to see how Jeff Saturday does as sa coach when the Colts take on the hurt and floundering Las Vegas Raiders at 1 pm ET on Sunday.