Tony Stewart's Snub Is Why Joey Logano Stops to Talk to Young NASCAR Fans
Drivers sometimes brush off being wrecked by a competitor as a hazard of the job. Other interactions are tougher to forget. In the case of Joey Logano and Tony Stewart, the future three-time NASCAR Cup Series champion made a bad impression that the sport's newest two-time champion couldn't shake off.
Logano can laugh now. But the incident became so ingrained in his mind that he's made a concerted effort not to be that guy.
Tony Stewart and Joey Logano combined for five championships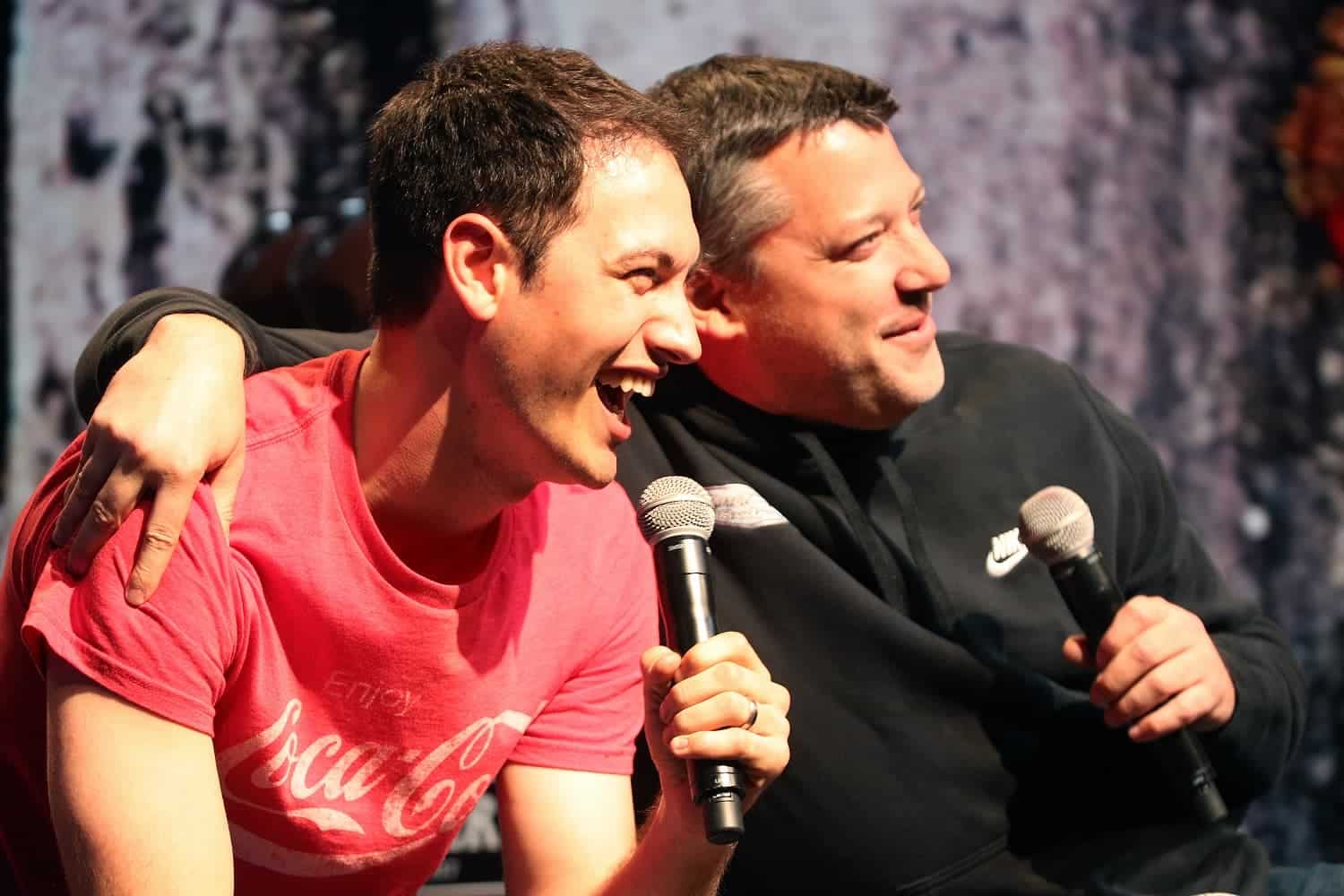 Tony Stewart is already in the NASCAR Hall of Fame, and Joey Logano will join him not long after retiring. Stewart was one of the best of a generation deep in talent, and Logano is making his mark among contemporaries with another decade ahead to continue building that resume.
Stewart won his three NASCAR Cup Series titles from 2002-11. Competing in 18 seasons in the top NASCAR series, he won 49 races. That was on top of the 1997 IndyCar championship.
Logano, 32, has already booked 31 Cup Series wins and 30 in the Xfinity Series. His 2022 victory in the Championship 4 at Phoenix Raceway gave him two season titles in five years.
Joey Logano's first interaction with Tony Stewart didn't go well
Appearing on Sirius XM NASCAR Radio, Joey Logano recalled attending a race at Atlanta Motor Speedway. Logano believes he was 8 years old, but Tony Stewart's career timeline suggests the episode probably took place one or two years later, around the turn of the century.
Logano was a big fan of the driver of the Joe Gibbs Racing No. 20 Pontiac. The youngster brought some items to the track that day in hopes of getting an autograph from Stewart after practice while standing in a "mix zone" where fans and drivers could interact.
"He must have not had a good practice. He looked mad," Logano recalled. "But I was there with my Tony Stewart gear and I was excited. I wanted to meet him. I ran up with my stuff, 'Will you sign my stuff?' And he just kind of kept walking."
Logano took pains later in the interview to point out he had his share of professional run-ins with Stewart over the years, but he regards him as a good person. He knows first-hand drivers have their down days.
"There's a lot of times that you get out of the race car (and) you're just mad and angry and frustrated," he said. "And then there's people all over you. You're like, 'Grrrr, leave me alone. I just want to go back and figure out why we're not good right now.' But that moment changed me as an adult forever."
The reigning champ stops to sign kids' autographs
The brief interaction – or non-interaction, to be accurate – with his hero while still a pre-teen made an impact on Joey Logano.
"Every time I see a kid, I'm like I've got to stop. Even if I'm late, I've got to stop. If you're an adult … sorry, bud. I gotta go. But if it's a kid, it's just so in my head at that moment that I was so upset, and I don't want no other kid to feel that way."

Joey Logano
The irony of the Logano-Stewart episode? When it took place, Stewart was driving the No. 20 Pontiac for Joe Gibbs Racing. A decade later, Logano was driving the JGR No. 20 Toyota.
Got a question or observation about racing? Sportscasting's John Moriello does a mailbag column each Friday. Write to him at [email protected]