Tracy McGrady Confidently Calls the NBA 'Soft,' but He Says the Players Aren't to Blame
Hall of Famer Tracy McGrady recently agreed with the notion that today's NBA is "soft," especially compared to his era. But he isn't blaming the players for it.
Young fans of today's NBA players are likely tired of their parents or grandparents complaining about how "soft" the league is compared to when they were kids. Whenever an argument comes up about whether a player from this generation is better than someone from the 90s (like LeBron James with Michael Jordan), older basketball enthusiasts always say today's stars aren't tough enough.
However, former NBA superstar Tracy McGrady recently addressed that topic. And while he agrees that the league is "soft," he doesn't blame the players.
NBA teams score a lot more points today than they did in the 1990s and early 2000s
In the 1980s and 1990s, we had the "Jordan Rules," where the Detroit Pistons essentially beat Michael Jordan up to keep him from scoring. Today, we're worried about flops and whether shooters have enough room to land.
Rules have completely changed the way basketball is played. Defenders used to be allowed to hand check, which made it difficult for undersized guards to drive through the lane. Now, after a 2004-05 ruling banned almost all contact with offensive players, those guards can essentially dance their way to the basket and get easy layups whenever they want.
It also used to be a lot more difficult for players to shoot the ball along the perimeter, but refs now call flagrant fouls if defenders don't give them enough room to land. That has forced defensive players to stay back and give shooters much more space to put up their shots.
The changes have impacted the game significantly.
For example, in 1998-99, teams averaged 91.6 points per game. Last season, they recorded 112.1 per contest.
And that's why older generations call the game soft, including Tracy McGrady.
Tracy McGrady called the NBA 'soft,' but he doesn't blame the players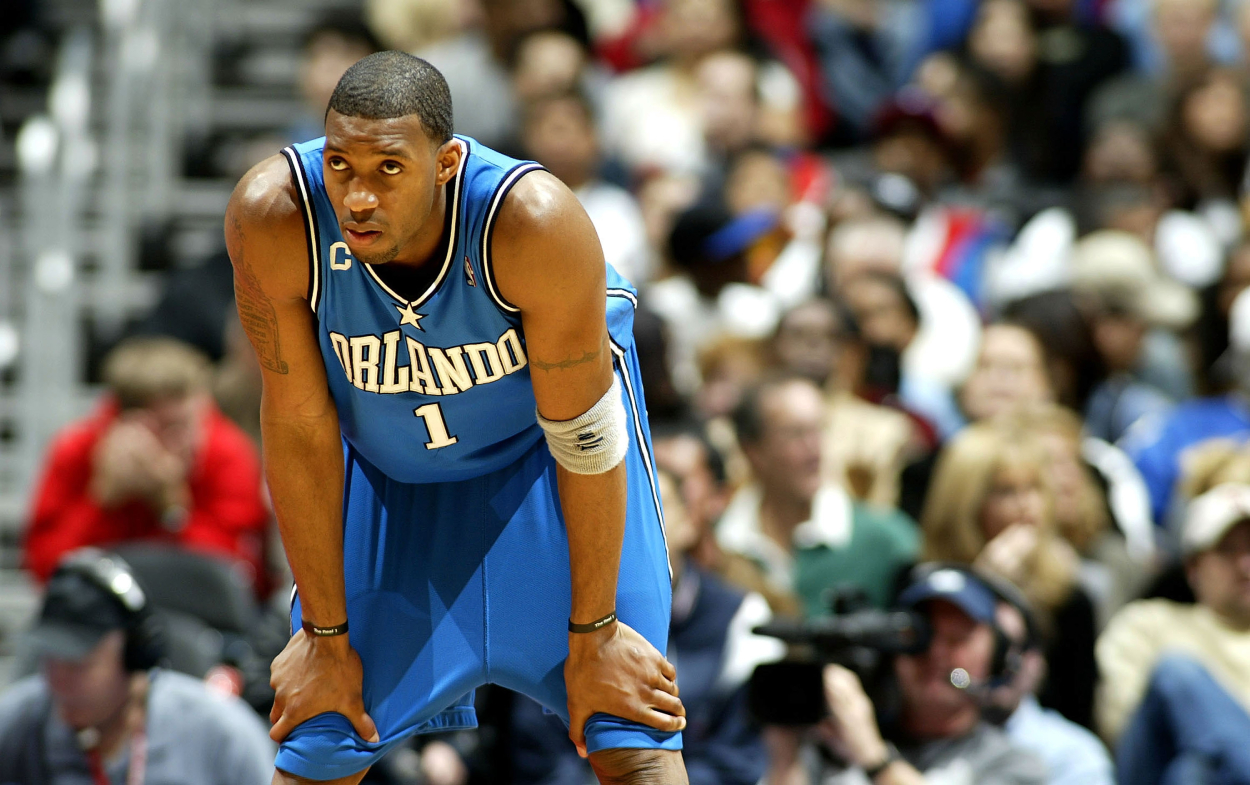 Tracy McGrady recently appeared on The Draymond Green Show, and Green asked the former Orlando Magic star whether he thinks he would have had even more success in today's NBA than his era. McGrady's prime was essentially from 2000-01 through 2007-08 when teams were still averaging under 100.0 points per game.
And the question led to McGrady sharing his thoughts on whether the NBA is soft or not.
"The rules are a lot different; come on, man, guys shooting 3-pointers are shooting shots now, and you land on somebody's foot, it's a flagrant foul," he said on the Jan. 19 episode. "How the hell you contest shots? The rules make the game soft. Not the players; it's the rules. I think people [misconstrue] that when we say the league is soft we're talking about the players; it's the rule changes that we're talking about."
McGrady clearly doesn't think the "soft" argument should be an indictment of the players but the league itself.
The rule changes may inflate some stats a bit, which can convolute the "who's better than who" arguments. But guys like LeBron James shouldn't be blamed for ushering in a soft generation; he would have likely dominated in the 1990s, too.
So, does McGrady think he would have thrived more in today's NBA than during his era?
Tracy McGrady thinks he would be great in today's NBA
To answer Green's question, McGrady made things simple: He absolutely believes he would dominate in this era.
"So, yes, would I thrive? Absolutely," he said. "You gotta think, in our era, bro, some of the scores were 75 to f***ing 76. Finals (scores) were in the 60s, and I'd have 30 points. I have 35 points of that. … And it's not like I was just a guy that scored with the ball in my hands. No, I was catching and shooting as well. I did everything. So, yes, I would definitely thrive in today's game at a high level."
It's hard to argue McGrady's stance. He averaged 32.1 points in 2002-03 when teams averaged just 95.1. Oh, and we can't forget about the time he dropped 13 points in 33 seconds. He was unstoppable back then and would be unstoppable now.
But true ballers will find a way no matter what, so many players today would have also thrived in his era.
Stats courtesy of Basketball Reference