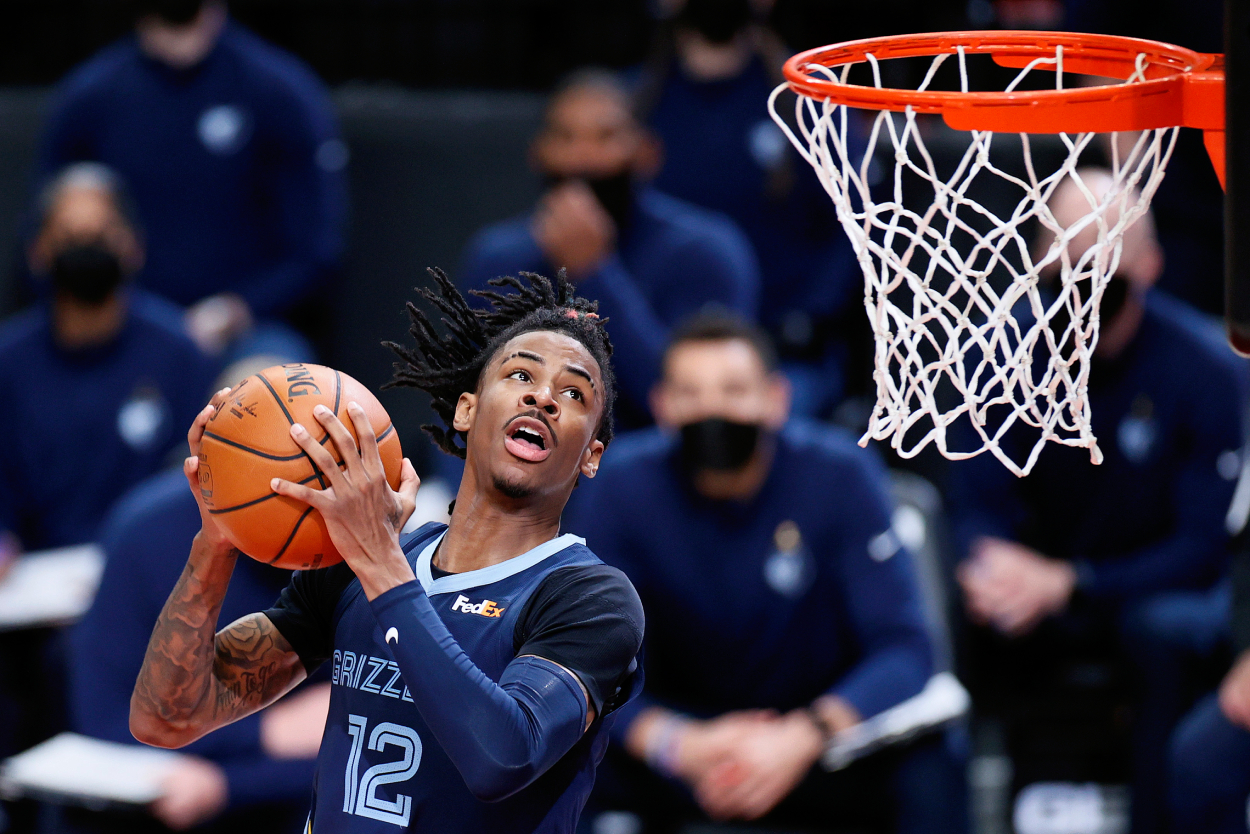 Ja Morant's Road to Highlight-Reel Blocks and Dunks Started With Tractor Tires and Wooden Planks
Memphis Grizzlies star Ja Morant is a walking highlight reel, but his athletic dunks and blocks all started with some tractor tires and wooden planks in his backyard.
Most of the NBA's top scorers were big-time recruits in high school. Kevin Durant was the country's No. 2 prospect in 2006, while LeBron James was No. 1 in 2003. Even Zach LaVine was a four-star and in the top 55 nationally in 2013.
The high-flying Memphis Grizzlies star, point guard Ja Morant, though, didn't receive that respect. He actually had no stars next to his name, and all of the big national recruiting services failed to even rank him among the best 2017 prospects.
He, however, has since become one of the most explosive guards in the NBA, and it all started with tractor tires and wooden planks.
Ja Morant starred at Murray State after leaving high school as an unranked prospect
In 2017, the big schools were worried about guys like Marvin Bagley, Michael Porter Jr., Mo Bamba, Deandre Ayton, and Collin Sexton. No one was paying attention to the guard from South Carolina: Ja Morant.
Morant went to a small program in Murray State, and he did so in large part because of an assistant coach accidentally seeing him play while on the way to a snack bar. But he became an absolute star during his time there.
He averaged 12.7 points, 6.5 rebounds, and 6.3 assists as a freshman, leading the Racers to a No. 12 seed in the NCAA Tournament. However, he really took the nation by storm during his sophomore season.
In 2018-19, Morant averaged an incredible 24.5 points, 5.7 rebounds, and 10.0 assists, and he took Murray State to the second round of the NCAA Tournament. His athleticism allowed him to score whenever he wanted, but his skills helped him find his open teammates in ideal positions. He also became a mainstay on SportsCenter that year with numerous highlight-reel dunks.
Morant's play and athletic abilities eventually catapulted him to the top of every NBA Draft big board. He surpassed many of the best 2018 high school prospects like R.J. Barrett, Cam Reddish, and Nassir Little.
The Memphis Grizzlies then selected Morant with the No. 2 overall pick in the 2019 NBA Draft. Former five-star prospect Zion Williamson was the only player chosen before him.
Now, Morant's is flying high in the NBA, going viral on Twitter almost every night with a new acrobatic dunk or ridiculous block. But his rise to the top all started in South Carolina.
Ja's explosiveness began with some tractor tires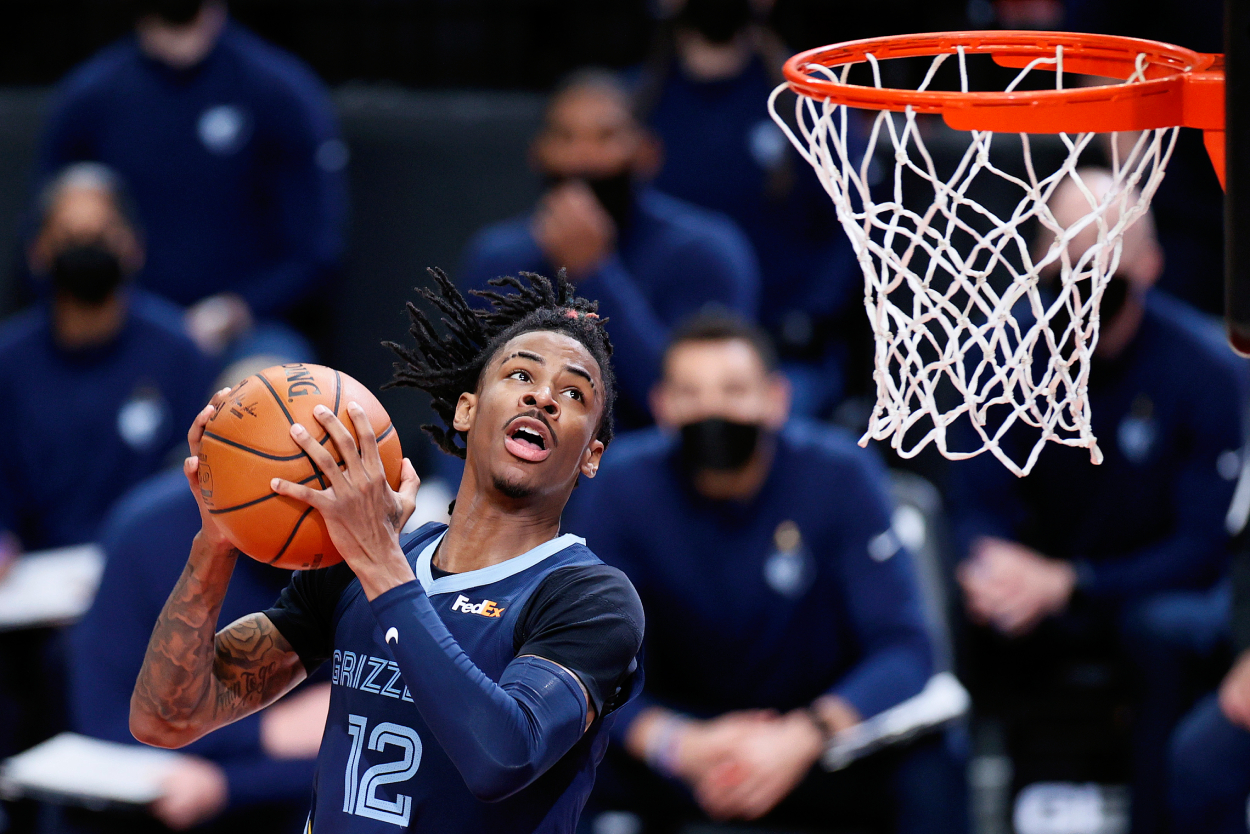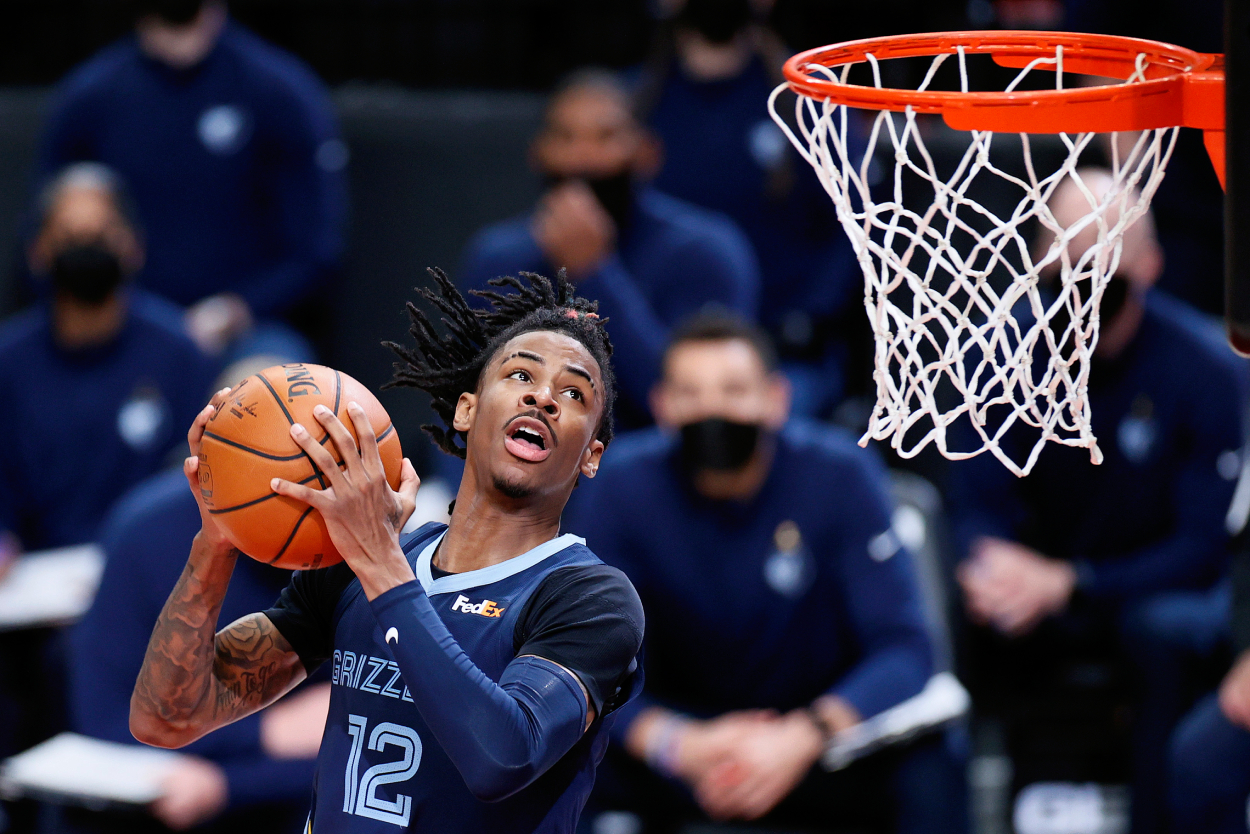 Ja Morant's father, Tee, essentially raised him around basketball. Tee actually played with Ray Allen in high school before competing at the collegiate level as well.
So, when Ja was just a kid, his dad started training him in the backyard.
According to a 2019 article from the Courier Journal, Tee had his son run separation drills to help with him being undersized. He also taught Ja how to make step-back jumpers and had him do parachute drills and resistance training to improve his strength and agility.
But that's not all he did.
"He also bought tractor tires and had Ja practice jumping with a soft landing," Justin Sayers wrote in the Courier Journal. "After a few months, he had to buy wooden planks to make them higher."
All that training paid off. Morant began dunking as a high school senior and hasn't looked back. He's now one of the most athletic guards in the NBA, and his eventual growth spurt (Ja is 6 feet, 3 inches) has allowed him to go toe to toe with anyone in the league. He has become one of the best guards in the world.
Ja Morant has since become a superstar for the Memphis Grizzlies
Now, it seems ridiculous for anyone to ever overlook Ja Morant. Did those scouts see his athleticism? He can likely jump over several tractor tires now.
In addition to his unreal vertical, Morant's speed makes him impossible to stop in transition. His playmaking skills also allow him to finish around the rim with ease or find his open teammates.
Ja had an outstanding rookie campaign, averaging 17.8 points and 7.3 assists, and he won the NBA's Rookie of the Year Award. He then built on that success his second season and led Memphis to the playoffs before becoming a legit MVP candidate in 2021-22.
Through his first 34 games this year, Morant, who has received Kobe Bryant comparisons from Shaquille O'Neal, is averaging 24.7 points, 6.9 assists, and a career-high 5.8 rebounds. He's also shooting a career-best 48.5% from the field and has improved his perimeter shot, making 35.8% of his 3-pointers. His upward trajectory has turned the Grizzlies into one of the top teams in the Western Conference, and they now have a chance to contend for an NBA title.
Before he was all over your timeline with his rim-shattering dunks, though, Morant was just an underrated kid who used tractor tires to help improve his leaping ability. Now, he's one of the biggest stars in basketball.
His path to the NBA was unconventional, but we're all glad he's here now.
Stats courtesy of Basketball Reference and Sports Reference; Recruiting info courtesy of 247 Sports