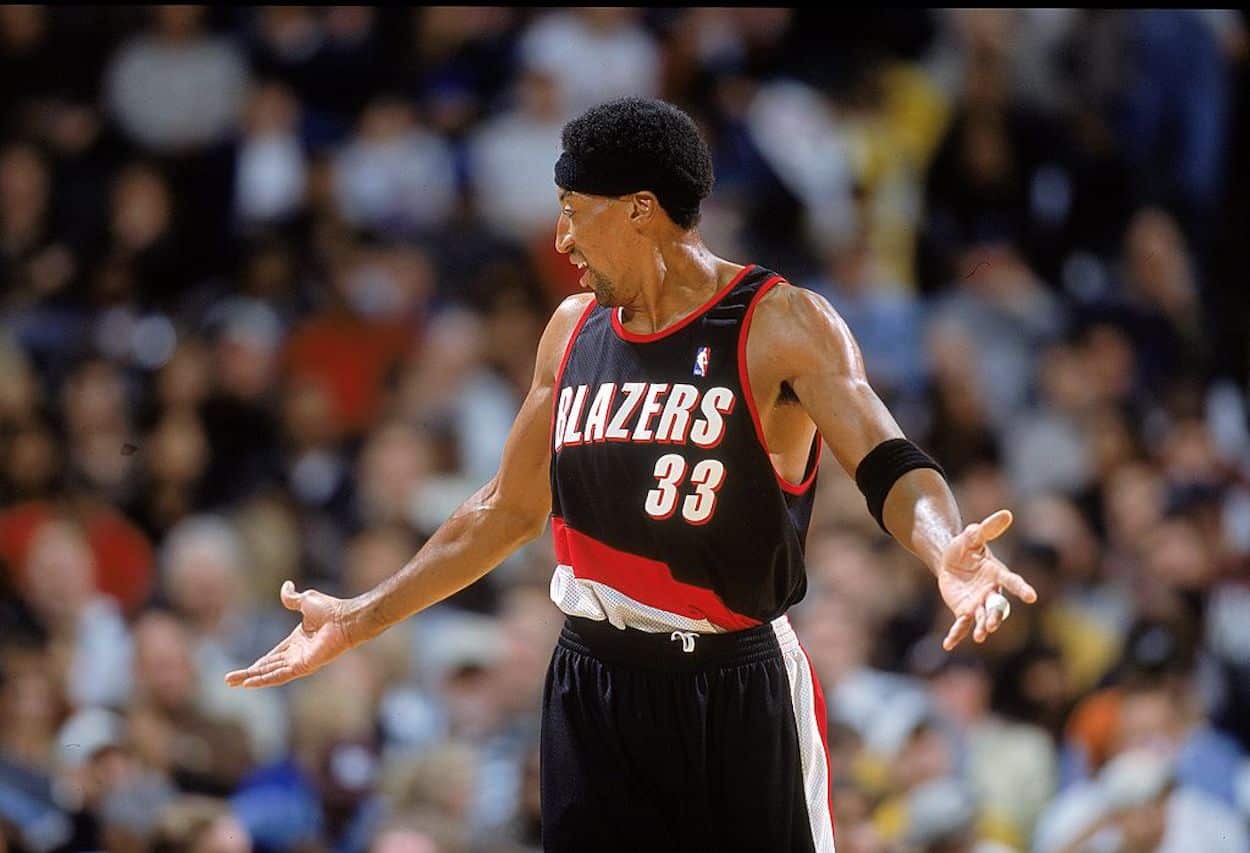 Trash-Talking Wasn't Scottie Pippen's Game, Says Olden Polynice
While all is fair in love and war (and basketball), Scottie Pippen apparently lacked some trash-talking chops.
In the larger scope of NBA history, Scottie Pippen doesn't always get the respect he deserves. While the forward was an elite defender and a capable scorer, he's sometimes written off as little more than Michael Jordan's sidekick. It is possible, however, that Pip lacked one skill: trash-talking. At least that's Olden Polynice's take on things.
During a recent interview with Brandon "Scoop B" Robinson, Polynice shared his take on the forward's trash talk. According to the big man, Pippen would try to engage in some verbal warfare but never quite managed to pull it off.
Scottie Pippen apparently couldn't talk like Michael Jordan or Larry Bird
As long-time NBA fans will know, Olden Polynice and Scottie Pippen were traded for each other in 1987. That historical connection will always tee up some questions, and during a recent interview, the big Haitian was ready to answer.
Within a Bally Sports conversation, Brandon "Scoop B" Robinson asked Polynice if Pippen was much of a "junk-talker," capable of stacking up against Michael Jordan. The answer, at least in one man's opinion, was unequivocal.
"No," Polynice said without missing a beat. "Not at all. And it's funny, not that he's retired, he's become a trash-talker. … But it's like, he would like, come at you. I remember we had an issue one time when he was with Portland, and it's funny to me cause I look at it like this: I know the guys in the league who are gonna talk trash. I know the guys that are gonna fight. I know the guys that are punks. We all knew that; we all knew about each other. And, you know, you'd test guys. The people that didn't do a lot of talking, they're the ones that I kinda worried about cause they not trying to talk. They just ready to fight."
After that breakdown of the different types of opponents, the center returned to Pippen with an assessment that didn't pull any punches.
"But Scottie, you know, he tried to trash-talk, but it wasn't coming out the same, you know what I'm saying," Polynice continued. "It just wasn't quite right. And, so, I'm like, 'Dude, just let it go, man. You're not Mike; you're not Bird; you're not Reggie Miller. That's not your game. That's not your thing.' … But I see now; he's all about it now."
With that being said, we do know of one time when Pippen produced a quality one-liner
Based on the sheer volume of stories we've heard over the years, it's probably safe to conclude that Scottie Pippen didn't talk trash as well as Jordan and Bird. We do, however, know of at least one time when he showed his verbal skills.
During the 1998 NBA Finals, Pip and the Bulls were squaring off against the Utah Jazz. In the final seconds of Game 1, Karl Malone, who was famously nicknamed "the Mailman," stepped to the foul line looking to secure the win. Pippen, however, had an ace up his sleeve.
"I had my brother in town, my brother was a postman," Pippen remembered on an episode of The Jump. "So Karl Malone is at the line, the game is on the line. I was pretty good friends with Karl actually, so I just walked by him and said, "The Mailman don't deliver on Sunday." Malone did end up missing his free throws, and the Bulls won both the game and the series.
Does that anecdote prove that Scottie Pippen was capable of producing some high-quality trash talk? Or does the fact that it was such a carefully choreographed situation, rather than an organic moment, prove Polynice's point?
You can be the judge of that.
Like Sportscasting on Facebook. Follow us on Twitter @sportscasting19 and subscribe to our YouTube channel.