Troy Aikman Still Thanks Barry Switzer for Getting Him to UCLA: 'I Think Deep Down Barry Felt Bad'
Troy Aikman had an illustrious NFL career with the Dallas Cowboys. Before he won three Super Bowls and made the Pro Football Hall of Fame, he was a college star. Aikman only played for one NFL team, but this wasn't the case in college. The quarterback actually transferred from Oklahoma to UCLA.
This transfer put Aikman in a position to best showcase his talents. One of the main people responsible is a coach he later came to know better in Dallas: Barry Switzer. Here's the story of how Switzer helped Aikman maximize his college career. 
Troy Aikman's college football career
According to CBS Sports, Aikman's college career began with the Oklahoma Sooners. He led the Sooners to a terrific start, storming to 3-0 out of the gate. Sadly, he ran into bad luck against the powerhouse University of Miami. The Hurricanes dealt Oklahoma their only loss of the year. In that game, Aikman broke his ankle.
This put him out for the rest of the season. Switzer, then Sooners coach, knew he'd have to adapt the team's style of play to account for the loss of Aikman. Backup quarterback Jamelle Holieway entered the picture. And Switzer switched to an I-formation offense that emphasized the running game. 
Then, Aikman transferred to UCLA, where he starred. He led the team to 20 wins in two seasons, completing nearly 65% of his attempts while throwing for 41 touchdowns and 5,298 yards through the air. Aikman's play at UCLA led the Cowboys to take him with the No. 1 overall pick in the 1989 NFL draft, and the rest was history. 
Sounds easy enough, right? The truth is that it was a bit more complicated for the parties involved. 
Aikman's transfer from Oklahoma to UCLA
Aikman recently appeared on Morten Anderson's Great Dane Nation podcast to talk about his football life. He touched on his college career in great detail. The former QB noted that he'd been recruited by Jimmy Johnson to play for Miami, the same team against whom he suffered his season-ending injury in 1985.
Aikman chose Oklahoma because he believed Johnson was going to stay with a formation not conducive to showing off Aikman's passing ability. The issue was that when he got to Oklahoma, he was confronted by a coach in Switzer who preferred a run-heavy approach. 
When Aikman went down with a broken leg and Holieway stepped in, the team was off to the races. After the Sooners' success, Aikman knew the writing was on the wall. To get a true chance to play, he had to leave. But transferring out of big-time college football programs isn't always easy. Players often face resistance from coaches. Fortunately, this wasn't the case for Aikman. 
How Barry Switzer helped Troy Aikman get to UCLA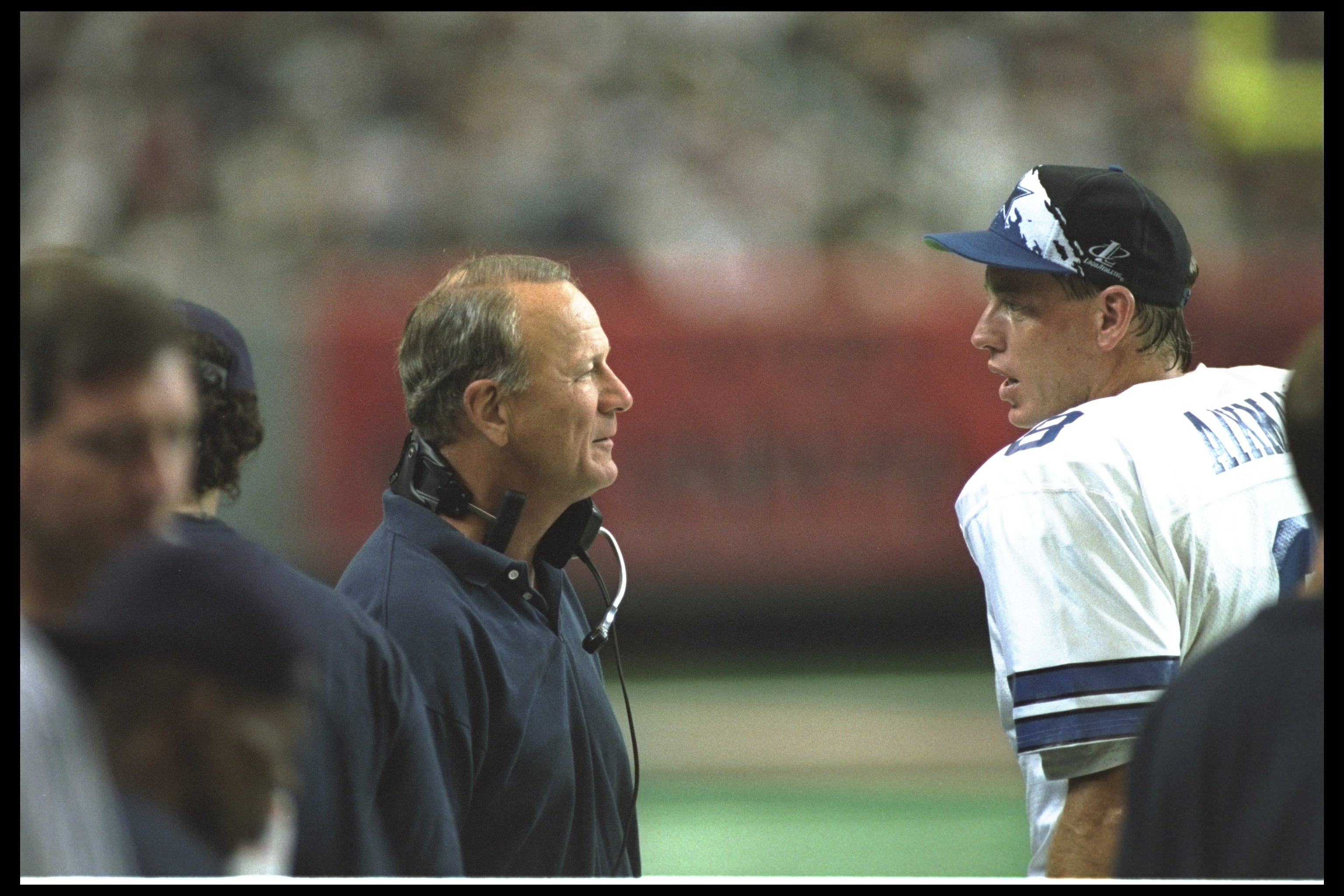 Switzer could have been a fly in the ointment. Instead, Aikman told Great Dane Nation that Switzer helped the young quarterback find the right place. While Oklahoma was billed as an open quarterback competition, Aikman went to Switzer and informed him he wanted to leave. That's when Switzer placed a call to UCLA head coach Terry Donahue to give Aikman an endorsement.
The QB said that while Switzer didn't misrepresent himself, the fact was that it wasn't a good stylistic fit between him and Switzer's offense, and Switzer wanted to do right by him: "I think deep down Barry felt bad that it didn't work out."
It's safe to say that the aftermath worked out for everyone just fine. Aikman thrived under Donahue, praising his tutelage and commenting about how it helped him prepare for the NFL. Switzer won a national championship in 1985, the same year Aikman went down. The two later even reunited in the pros to win a Super Bowl title.