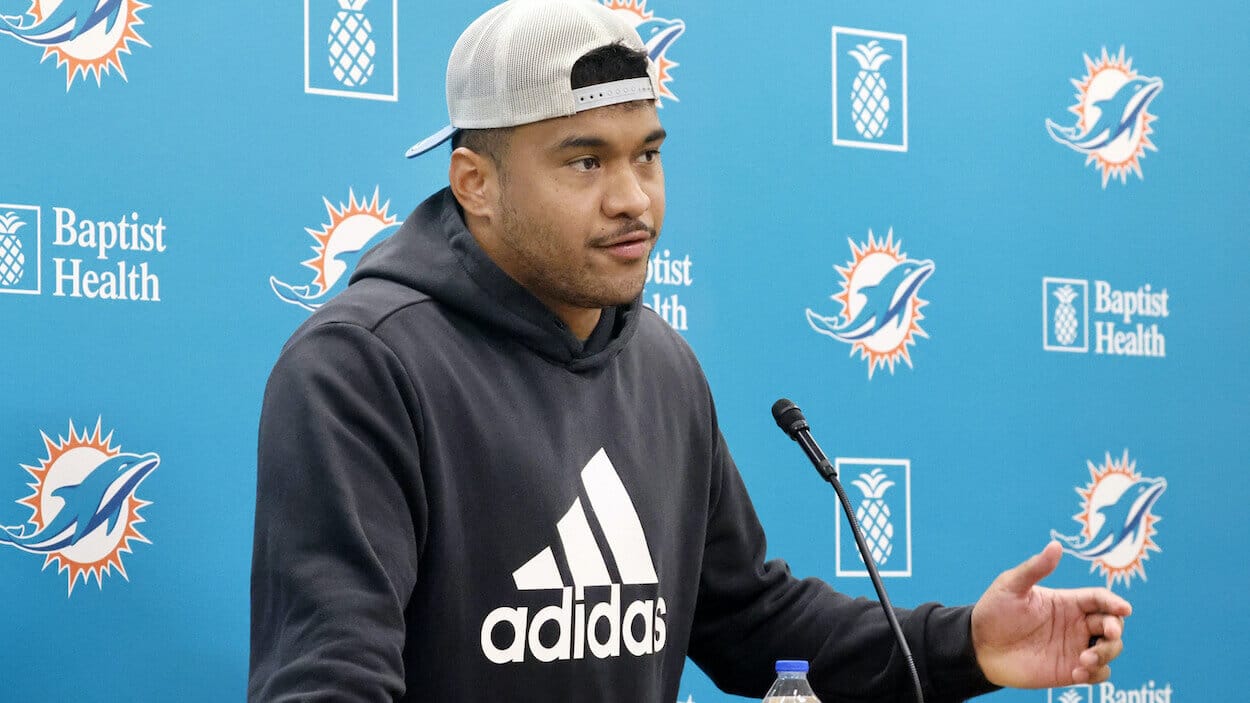 Tua Tagovailoa Drops Retirement Bombshell That Should Scare Dolphins Fans
After a Tua Tagovailoa retirement revelation, Dolphins fans should be happy for now, but concerned long-term for their franchise QB.
A Tua Tagovailoa retirement announcement was a possibility this offseason, but the 25-year-old Miami Dolphins quarterback says he's coming back for next season. The 2020 No. 5 overall pick suffered two documented concussions last season and said he did consider retiring this offseason. That news should worry Dolphins fans, as the underlying takeaway from the QB's announcement that he is not retiring is that he could after one more big hit.
Tua Tagovailoa retirement is not happening, for now
Dolphins QB Tua Tagovailoa is coming off his best season in the NFL. In 2022, he threw for 3,548 yards with 25 touchdowns and eight interceptions. He also led the league in yards per attempt (8.9), yards per completion (13.7), and Quarterback Rating (105.5).
Despite his career year, Tagovailoa's future came into question this offseason after two documented concussions and one likely concussion suffered four days before the truly frightening one on national TV.
At his media availability at Dolphins offseason workouts, Tagovailoa addressed his concussion problems and whether he considered retiring this offseason.
"I considered [retirement] for a time. Having sat down with my family. Having sat down with my wife and having those kind of conversations. But really, it would be hard for me to walk away from this game with how old I am, with my son — I always dreamed of playing as long as I could to where my son knew exactly what he was watching his dad do," Tagovailoa said. "It's my health. It's my body. I feel like this is what's best for me and my family. I love the game of football. If I didn't, I would have quit a long time ago."
While Tagovailoa coming back is great news for Dolphins fans, this statement is cause for concern.
The fact that a Tua Tagovaolia retirement was on the table, to begin with, is concerning, as is all the talk about his health and his family. While the QB says, he's not all that concerned with CTE, per ESPN insider Adam Schefter, another concussion could mean it's time to step away from the game for the sake of his wife, son, and family.
While everyone surely hopes Tagovailoa has a long and healthy career, it's also not wrong to hope that if there is another concussion, the QB will do the smart thing and step away for the long-term good of his health and family.
The Dolphins are already preparing for the worst-case scenario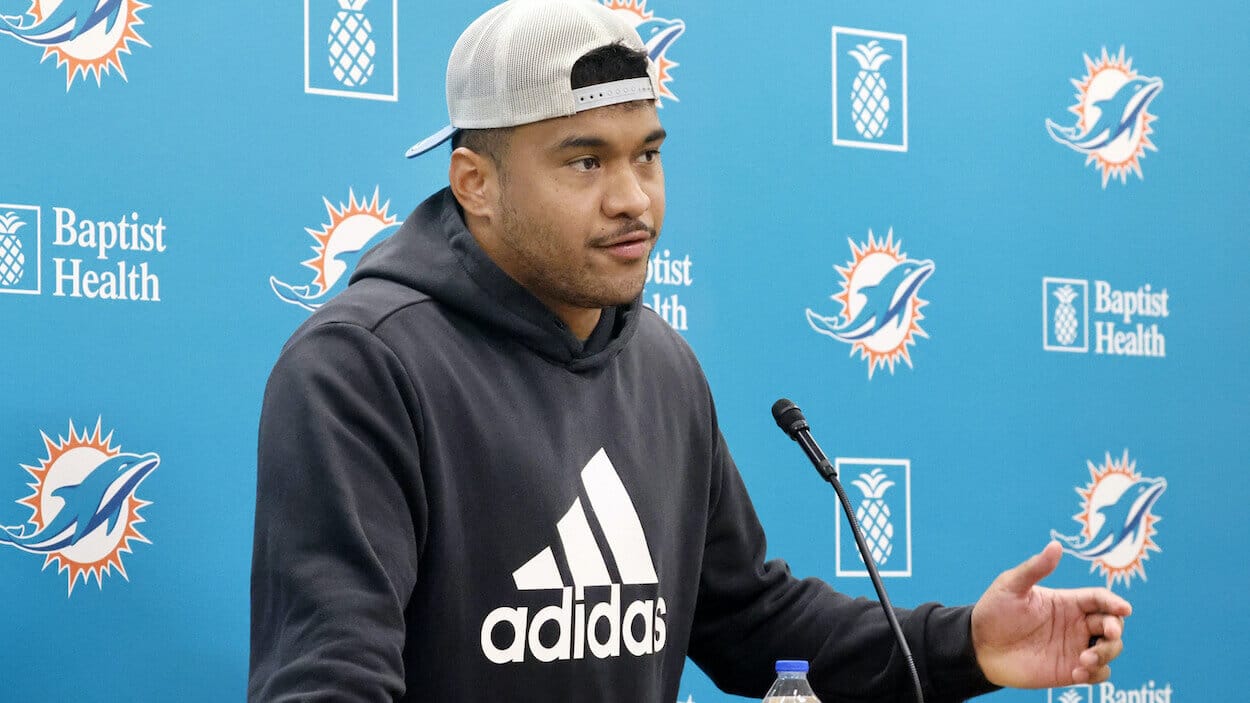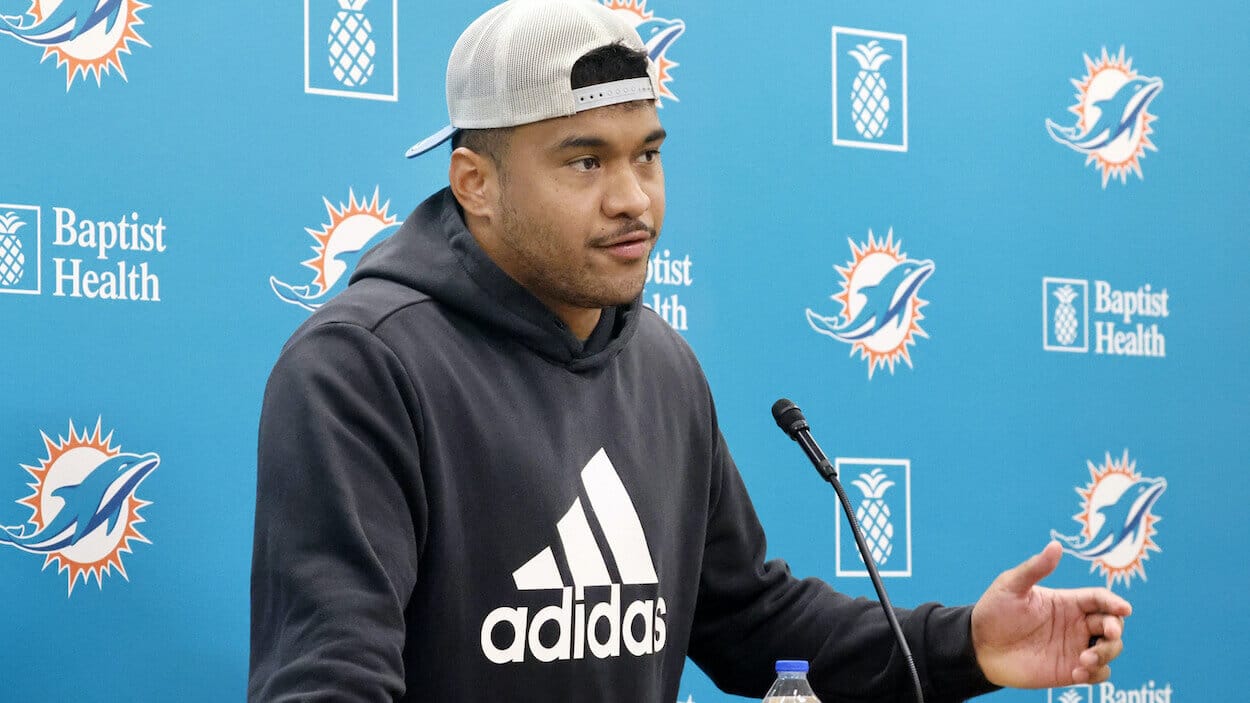 While the Dolphins will have their franchise QB under center to start the 2023 season, a Tua Tagovailoa retirement backup plan needs to be in place as soon as this offseason.
For 2023, Miami is taking steps to (hopefully) put them in a better spot than last season, when seventh-round rookie Skylar Thompson started their team's playoff game. Signing former New York Jets QB Mike White — who looked great at times in New Jersey — was one of those steps.
The problems with White are twofold.
One is that while he has had some brilliant moments, he also had some rough ones with the Jets and was never fully able to take the starting job away from Zach Wilson. Also, he has his own concerning injury history, as he's missed time in both of the last two seasons.
White and Thompson are fine for now, but the Dolphins should probably take a signal-caller in the later rounds of the 2023 NFL Draft as well.
QB prospects like Dorian Thompson-Robinson from UCLA, Tyson Bagnet from Shepherd, or even Stetson Bennett from Georgia could be low-risk, high-reward late-round signal-callers the Dolphins could consider.