Tyreek Hill Contract: Dolphins Just Cleared Cap Space for a Big Fish
It's big moves season in the NFL right now, and the Miami Dolphins may be up to something. The team just cleared a ton of Dolphins salary cap space by restructuring the Tyreek Hill contract, and NFL insider Ian Rapoport thinks that space could be room for one big swing on the free-agent market, although not the move many Dolphins fans may be hoping for.
The Tyreek Hill contract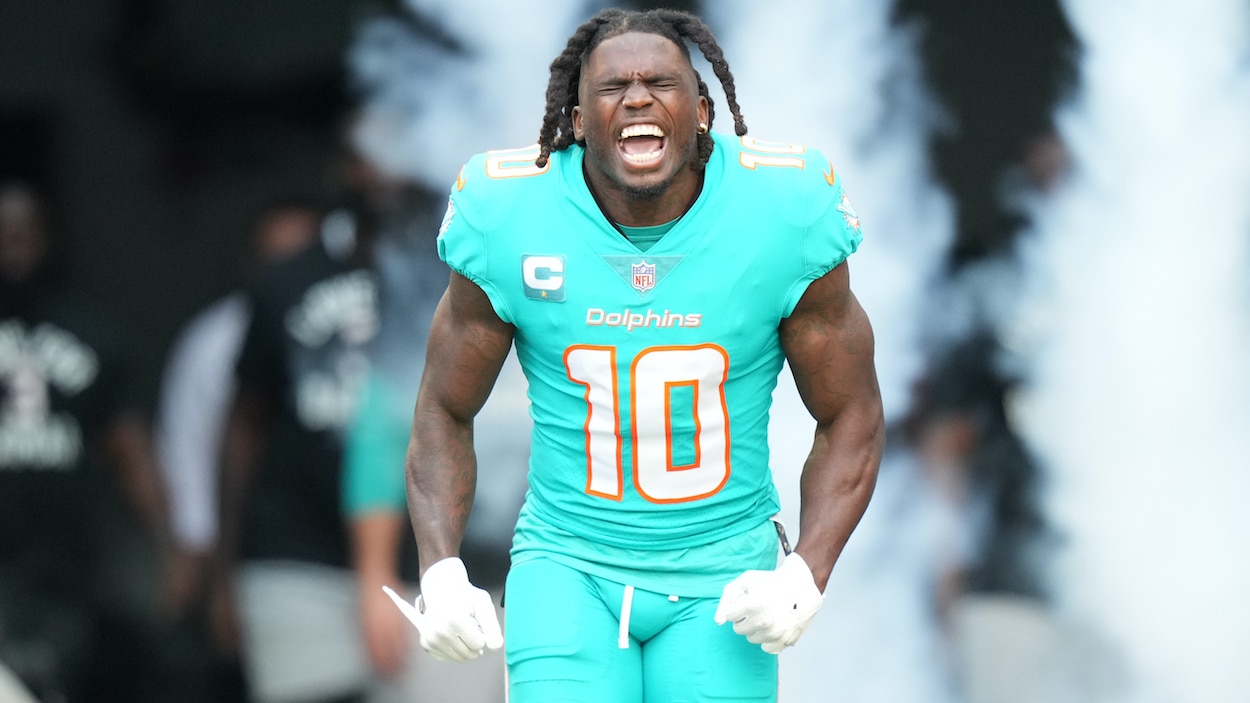 The Kansas City Chiefs traded their All-Pro wide receiver to the Dolphins last offseason because, with players like Patrick Mahomes, Travis Kelce, and Chris Jones on the books, they couldn't afford a big Tyreek Hill contract.
After giving up five draft picks for the "Cheetah," the Dolphins had no problem giving out a massive Tyreek Hill contract extension.
Last year, Hill signed a four-year, $120,000,000 contract with a $25,500,000 signing bonus, $72,200,000 guaranteed, and an average annual value (AAV) of $30,000,000. With that pact, Hill had the largest cap hit among all WRs this season at $31.4 million.
However, thanks to a Tyreek Hill contract restructuring, that cap hit is now down to $12,823,750 for the 2023 season. Miami converted $25 million of salary into a bonus, freeing up $18.6 million of space for 2023.
That means this coming season, Hill's base salary will be $1,165,000 with a restructure bonus of $24,835,000, a workout bonus of $100,000, and a dead cap hit of $46,400,000.
This type of restructuring is great for the current year, but it effectively pushes the salary cap issues down the road. Hill's cap hits in the next three seasons are now $31,073,750,
$34,243,750, and $56,308,750. It also ups his dead cap next season to $33,926,250 and $22,617,500 in 2025.
A restructured Tyreek Hill contract is pretty standard for the biggest deals in the NFL, so the real headline here is what the Dolphins do with that cap space.
A big swing with the new Dolphins cap space? 
In addition to redoing the Tyreek Hill contact, Miami also restructured the deals of left tackle Terron Armstead and pass-rusher Bradley Chubb (h/t CBS Sports), which created over $44 million cap room. The team now has $29,906,946 in cap space, good for ninth-best in the NFL right now. That's' up from 30th among all teams before these Dolphins cap space moves.
After the Tyreek Hill contract restructuring, Pat McAfee asked NFL insider Ian Rapoport on the Pat McAfee Show if the Dolphins' salary cap move is the team "gearing up to make a big signing?"
The host suggested Buffalo Bills safety Jordan Poyer and Minnesota Vikings running back Dalvin Cook as two possible targets while also hinting at Baltimore Ravens quarterback Lamar Jackson.
Rapoport explained that, first and foremost, getting on the positive side of the NFL salary cap allows the team to operate without restrictions, which is the main reason they did these deals. And he closed the door on one option and kept it open for the others.
"It's not for a quarterback. They have a quarterback. That's Tua [Tagovailoa]," Rapaport explained. "I wouldn't say they're going to be huge, huge players, but maybe one splashy signing."
When McAfee again suggested Poyer, Rapoport agreed that could be a possibility, or at least "that level of free agent."
The takeaway here is that even though the Dolphins salary cap can now support a bigger-money signing than before the Tyreek Hill contract restructuring, any 'Phins fans hoping for a Lamar Jackson move are likely out of luck.