Bills safety Jordan Poyer Reveals the 2 Reasons He Wants Out of Buffalo
Buffalo Bills safety Jordan Poyer is an unrestricted free agent heading into the NFL offseason, and the All-Pro safety may be ending his six-season tenure in Buffalo. The 10-year veteran recently shared that he's leaving the door open to return to Western New York, but there are two things about the state the Bills play in that make him want to go somewhere else.
Jordan Poyer reveals his least favorite things about Buffalo
Buffalo safety Jordan Poyer went from a borderline starter to a star after joining the Bills in 2017 (more on that below), and he's always effusive in his praise of the Bills organization and the Bills Mafia fans.
However, Poyer may be leaving in free agency this offseason, and he recently revealed that there are two major reasons he'll be happy to leave Buffalo: the cold and the taxes.
"I would love to go to a state that doesn't take half my money. That has nothing to do with the city or the fans," Poyer said on his podcast. "It's crazy to me how taxes work. Some people say, 'oh, you're already making X amount of money. Where do taxes even [matter].' Taxes play a big part in all of our lives, especially at the level that we play at. You look at some of your checks, and some places you go take half of your check away, and you're wondering where is that money even going? What are they doing with that money?"
And it's not just the taxes in New York State that bother Poyer. It's the weather as well.
"If it wasn't Buffalo, it would be nice to be warm," the safety continued. "It'd be nice to see the sun, maybe. Every week or so. Every other week at least."
These comments have led some to speculate that the Miami Dolphins, in the sunshine of South Florida and with no state income tax, is a place where Poyer would like to continue his career. 
The Bills safety went from a seventh-round pick to an All-Pro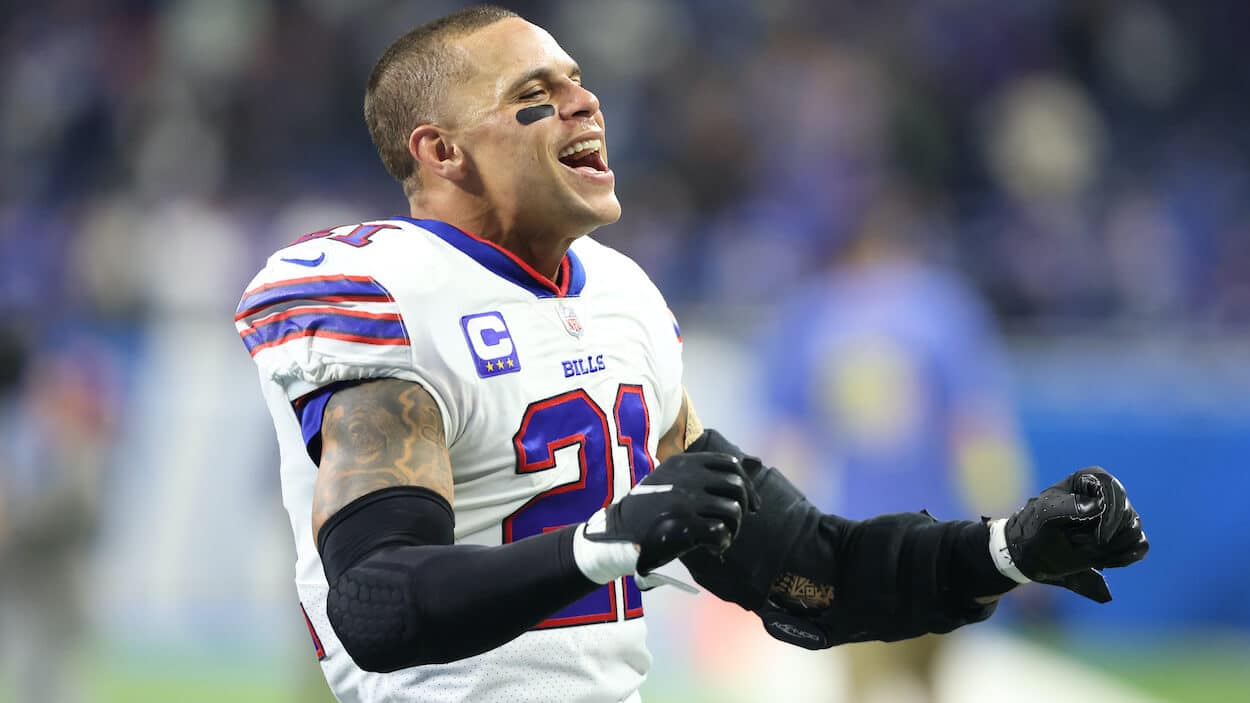 Jordan Poyer had an inauspicious start to his career. The former Oregon State defensive back was a seventh-round pick of the Philadelphia Eagles in the 2013 NFL Draft. Poyer initially made the team, but the Eagles eventually released him, and the Cleveland Browns picked him up.
Poyer spent two years as a backup in Cleveland before becoming a starter in Year 3. However, his first starting season was cut short when an illegal blindside hit on a punt return put him out for the year.
That offseason, Poyer joined the Bills as a free agent, teamed up with Micah Hyde, and the pair eventually became one of (if not) the best safety tandems in the NFL.
Now, Poyer will be 32 in April, and as great as he's been in Buffalo, it may not make sense for the team to give an older player a big deal with the current state of the Bills' salary cap.
Poyer is an exceedingly smart player, both on and off the field, so he sees the writing on the wall. Unless he's willing to take a short-term or team-friendly deal — which there is no indication he is — then he'll probably have to get his next contract somewhere outside of chilly Western New York.
And it seems as though, on a few levels, Poyer is OK with that.