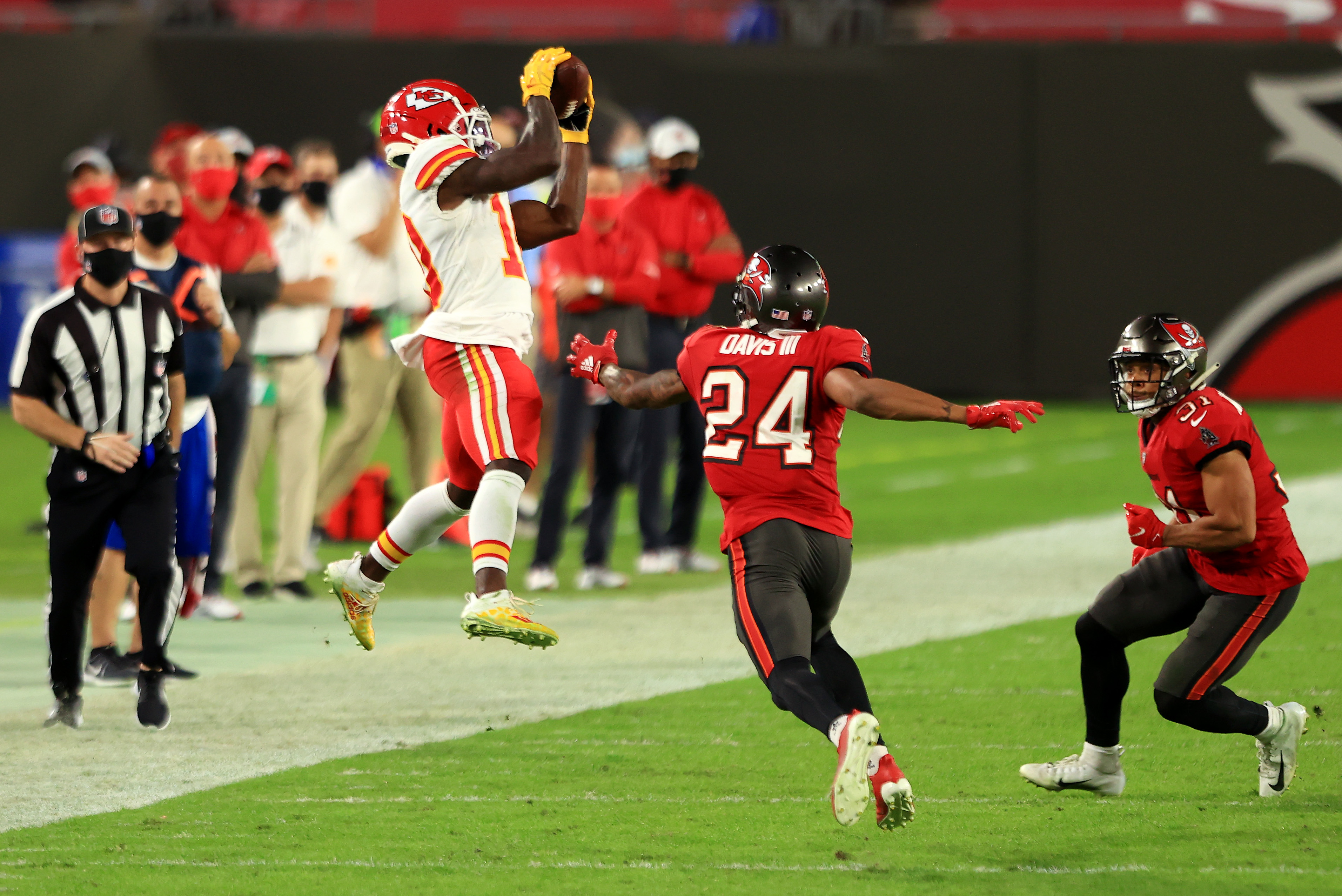 Tyreek Hill Has Already Taken a Second Job to Prepare for Life After the NFL
Kansas City Chiefs wide receiver Tyreek Hill has already taken a second job in preparation for life after the NFL.
It's never too early to begin thinking about your future. Kansas City Chiefs wide receiver Tyreek Hill is doing just that. While in the prime of his NFL career and getting ready to play in his second straight Super Bowl, Hill has already taken a second job to prep for life after the NFL.
Tyreek Hill has blossomed into one of the league's best
Tyreek Hill wanted to prove he was more than just fast. He's certainly done that. Prior to this season, Hill made it clear he has worked on his game to become a better all-around receiver. The Kansas City Chiefs receiver has made the Pro Bowl in each of his five seasons in the NFL, mostly as a special teams player. He wants to be known as a top-notch, complete wideout.
"When I first came into the league, a lot of people was like, 'Oh, he's just another fast guy,'" Hill said during a preseason interview with Mitch Holthus and Matt McMullen. "So I took it to heart and thought, 'I'm going to be different.' I wanted to be different from any other speedy guy. I wanted to be able to block, to make tough grabs, to be able to run every route on the route tree. I worked my butt off each and every offseason to grow as a player in every aspect of the game."
Hill had himself quite a year in 2020. He finished with a career-high 15 touchdown receptions and added 1,276 yards on 87 catches. He played in 15 games. Hill has become a major threat in Kansas City's prolific offense and is one of the top wide receivers in the game.
Hill's biggest game came against the Tampa Bay Buccaneers
The Tampa Bay Buccaneers certainly know that Tyreek Hill is much improved in the wide receiver department. Hill had what most receivers would call a career game in just one quarter earlier this season. It all happened when the Kansas City Chiefs defeated the Bucs 27-24 in Week 12.
In the first quarter alone, Hill had seven catches for 203 yards and a pair of touchdown catches. Hill finished with 13 catches for 269 yards as the Chiefs defeated the Bucs. In the game, Hill went over the 1,000-yard mark in a season for the third time in his career.
"It feels good, you know, but I feel like there's still a lot of work for me to do," Hill said after the game, according to ESPN. "I'm always trying to get better, got to be consistent with what you do," Hill added. "Those same people showing you love this week, you make a bad play next week, they're going to hate you."
Hill prepping for life after the NFL
During the 2020 high school football season, Tyreek Hill could be found on a different football field when he wasn't working his real job with the Kansas City Chiefs. Hill took a job as an assistant football coach at Lee's Summit North High School. Hill said coaching is what he wants to do when his playing days are over.
Jama Mozee, the head coach at Lee's Summit, was stunned when he heard from Hill's agent, Drew Rosenhaus, regarding a coaching opportunity. "I was moving into my new house here in Lee's Summit and right after I got done moving in, I was exhausted and I checked my e-mail and I got an email from an agent," Mozee told Fox2Now.com. "I called the number, and I didn't know if it was a joke," he said.
Mozee said Hill fit right in and has the right tools to be a very good coach. "He doesn't come in there like he's an All-Pro, Pro Bowler, or top 20 player in the league," he said. "He just comes in and he's a coach. He's a good communicator and he talks to them, and at the same time, gets on them. I've been very impressed."