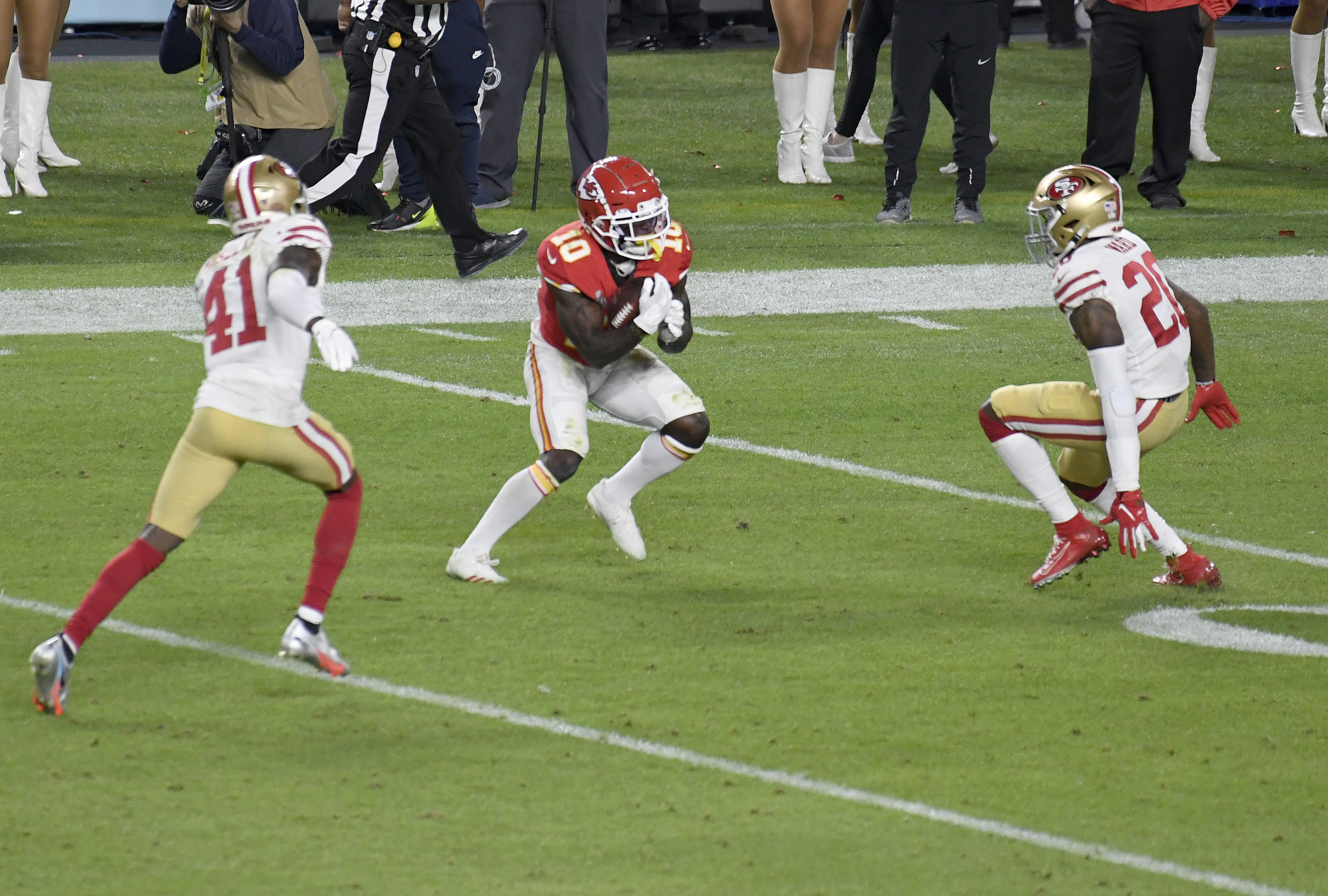 Tyreek Hill Has a Message for His Fantasy Football Owners
Kansas City Chiefs speedy wide receiver Tyreek Hill has an encouraging message for all of his Fantasy Football owners.
If you have Tyreek Hill on your Fantasy Football team, he has a message for you. The Kansas City Chiefs wide receiver hasn't quite lit it up this season with 10 catches in his first two games. Hill recently acknowledged his Fantasy Football owners and gave them some words of encouragement.
Tyreek Hill ready to break out
It's only a matter of time before Kansas City Chiefs wide receiver Tyreek Hill breaks out for a huge game or two or three. The speedy wideout is one of many offensive weapons the Chiefs boast. He tops the list of quarterback Patrick Mahomes' list of wideouts and he's due to put up some big numbers.
With defenses having to focus on the Chiefs' running game, led by promising rookie Clyde Edwards-Helaire, Hill should be able to capitalize on his speed as teams respect the run. Tight end Travis Kelce also draws much-needed attention to the middle of the field, leaving Hill with some one-on-one opportunities.
Hill does have two touchdowns this season, He's been targeted 17 times and is a major component to the explosive offense. The Chiefs offense struggled last week in a 23-20 overtime victory over the Los Angeles Chargers. Once Mahomes and his offense get clicking, Hill should put up some big numbers.
Hill wasn't satisfied heading into the 2020 season
Tyreek Hill puts a lot of pressure on himself. He always wants to get better. Hill has made the Pro Bowl every year since he came into the league as a fifth-round pick in 2016. He made it as a special teams player and has made it as a wide receiver.
Hill came into the season looking to be more of a complete wide receiver. He was sick of being known as the fast guy on the field. His goal was to become a better route-runner and a better blocker while still collecting his yardage and touchdowns.
"When I first came into the league, a lot of people was like, 'Oh, he's just another fast guy,'" Hill said during a preseason interview. "So I took it to heart and thought, 'I'm going to be different.' I wanted to be different from any other speedy guy. I wanted to be able to block, to make tough grabs, to be able to run every route on the route tree. I worked my butt off each and every offseason to grow as a player in every aspect of the game."
Hill's message to his Fantasy Football owners
Tyreek Hill knows he's good and he knows he can get better. In an interview with TMZ Sports, he spoke about the upcoming Monday Night Football game with the Baltimore Ravens. He said the matchup between the top two teams in the AFC is what he plays football for.
Hill also spoke about Fantasy Football and has a message to everyone who has him on their team. "I will give you my all every single play," he said. "Every time Pat throws me the ball, I'll make sure I'll complete the catch and I'll make sure I try my best to get a touchdown. Hey, if I'm on anybody's fantasy team this year, I'm going crazy. I promise you. I will try my best to make sure you win your fantasy (league)."
Statistics courtesy of Pro Football Reference.