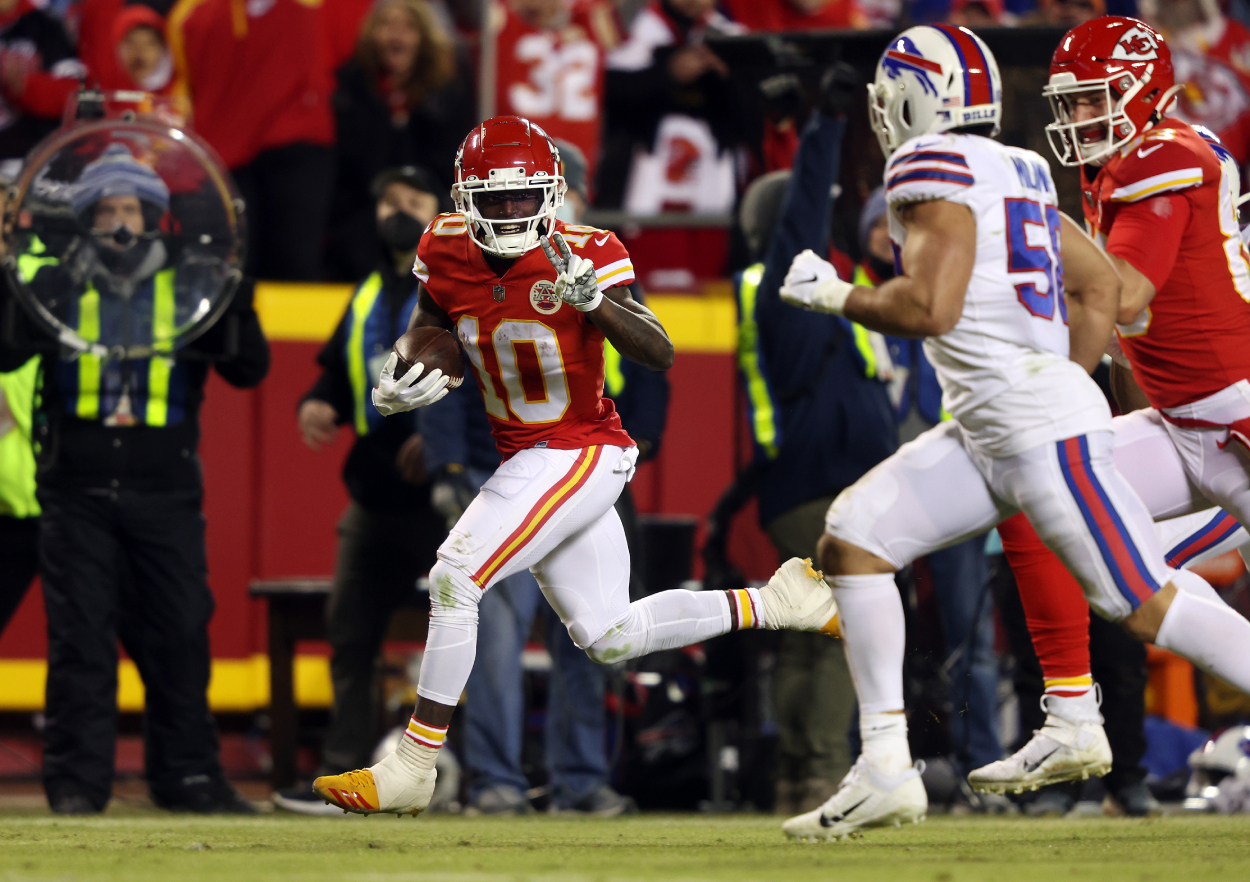 Tyreek Hill's Peace Sign Cost Him More Than $5K Per Finger, Bringing Playoff Fine Total to $23,175
Tyreek Hill keeps racking up fines, but the Kansas City Chiefs keep racking up wins.
When speedy wide receiver Tyreek Hill scampered into the end zone on a 64-yard touchdown pass with 1:02 left against the Buffalo Bills last weekend, he did more than reclaim the lead for the Kansas City Chiefs. As he scored, he taunted the Bills with a peace sign at the 15-yard line but wasn't flagged on the play.
The NFL took note of the incident and fined Hill $10,300 this week. That fine now brings his playoff total to $23,175, and it doesn't sound like the lighter wallet is going to change him.
Tyreek Hill has turned into one of the NFL's best wide receivers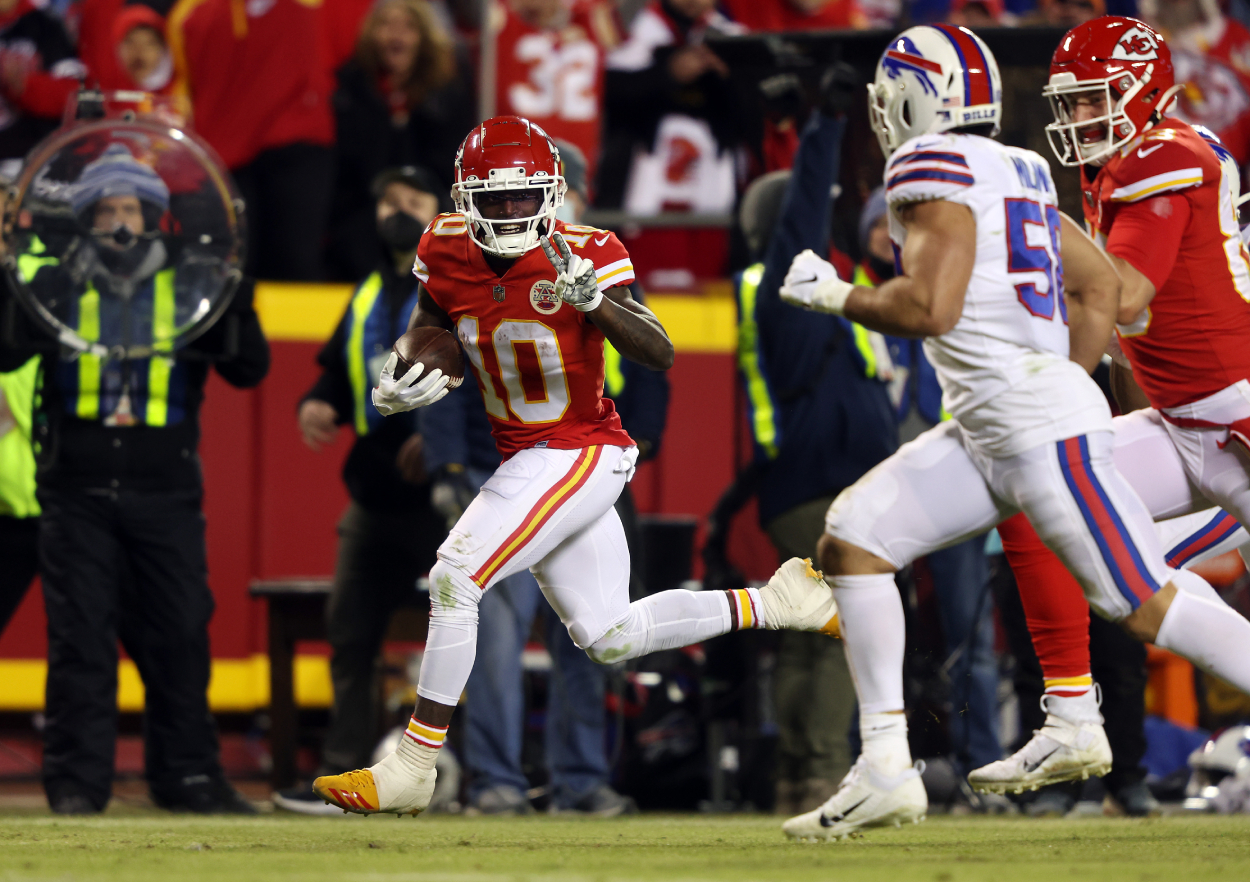 When Hill first came into the league, he was considered the fast guy. A couple of years ago, Hill made it a point to shed that label.
He wanted to become a complete player. Certainly having Patrick Mahomes throwing him the ball helps, but Hill made it a point to focus on the other aspects of being a wide receiver. He didn't just want to be the guy who could blow past defensive backs and make a catch.
"When I first came into the league, a lot of people was like, 'Oh, he's just another fast guy,'" Hill said prior to the 2020 season in a video put out by the Kansas City Chiefs. "So I took it to heart and thought, 'I'm going to be different.'
"I wanted to be different from any other speedy guy and I wanted to be able to block, to make tough grabs, to be able to run every route on the route tree. I worked my butt off each and every offseason to grow as a player in every aspect of the game."
Hill is considered one of the best in the business. He has made the Pro Bowl in all six years of his NFL career but began as a special teams specialist. Now, he's there as a top-notch receiver. He's racked up four 1,000-yard receiving years, including this season when he 1,239 yards and nine touchdowns.
Tyreek Hill fined for his peace sign on his way to a touchdown against the Buffalo Bills
Hill played a key role in the Chiefs' wild win over the Bills last weekend. Not only did he have 11 catches for 150 yards, but his 64-yard touchdown reception with 1:02 remaining gave the Chiefs a short-lived lead.
After hauling in the Mahomes pass, Hill sprinted down the right sideline and flashed the peace sign at Bills outside linebacker Matt Milano before entering the end zone. Hill's touchdown helped give the Chiefs a 33-29 lead before Josh Allen marched the Bills downfield and put his team ahead 36-33 with 13 seconds left.
Hill and the Chiefs miraculously marched into field-goal range, sending the game into overtime. Kansas City won the game in overtime.
Hill was not flagged for taunting during the game, but the NFL eventually caught up with him and fined him $10,300. That fine comes off the heels of a $12,875 hit levied by the league the weekend before when he used a cheerleader's pom-poms to celebrate a touchdown.
Hill mentioned the peace-sign fine through Snapchat, and it doesn't appear he'll be changing his ways.
"Well can't believe I got fined for this," he wrote. "One thing my momma said keep being you I'm just spreading peace baby & love."
Hill and the Chiefs seek their third straight Super Bowl appearance
The fines likely won't matter to Hill if the Chiefs can keep winning. One more victory and they're headed to their third straight Super Bowl.
The Chiefs host the red-hot Cincinnati Bengals in the AFC Championship Game on Sunday for the right to play in Super Bowl 56. The Bengals upset the Chiefs on the final week of the regular season.
Chiefs coach Andy Reid said that Bengals' victory was no fluke.
"They made big plays on us on both sides of the ball," Reid said, per Chris Roling of Bengals Wire. "They were able to slow us down and then pick it up on the offensive side. So, we've got to do a better job all the way around, special teams included. Every phase can be better.
"They beat us. It wasn't a fluke. They beat us, so they're a good football team and it's important that we have a great week of preparation here, and that's one reason why the urgency level is there even yesterday once the game was over to get busy."
Hill is 2-for-2 in the postseason. When he gets fined, they win. He'll gladly trade one more hit to the bank account for another Super Bowl berth.