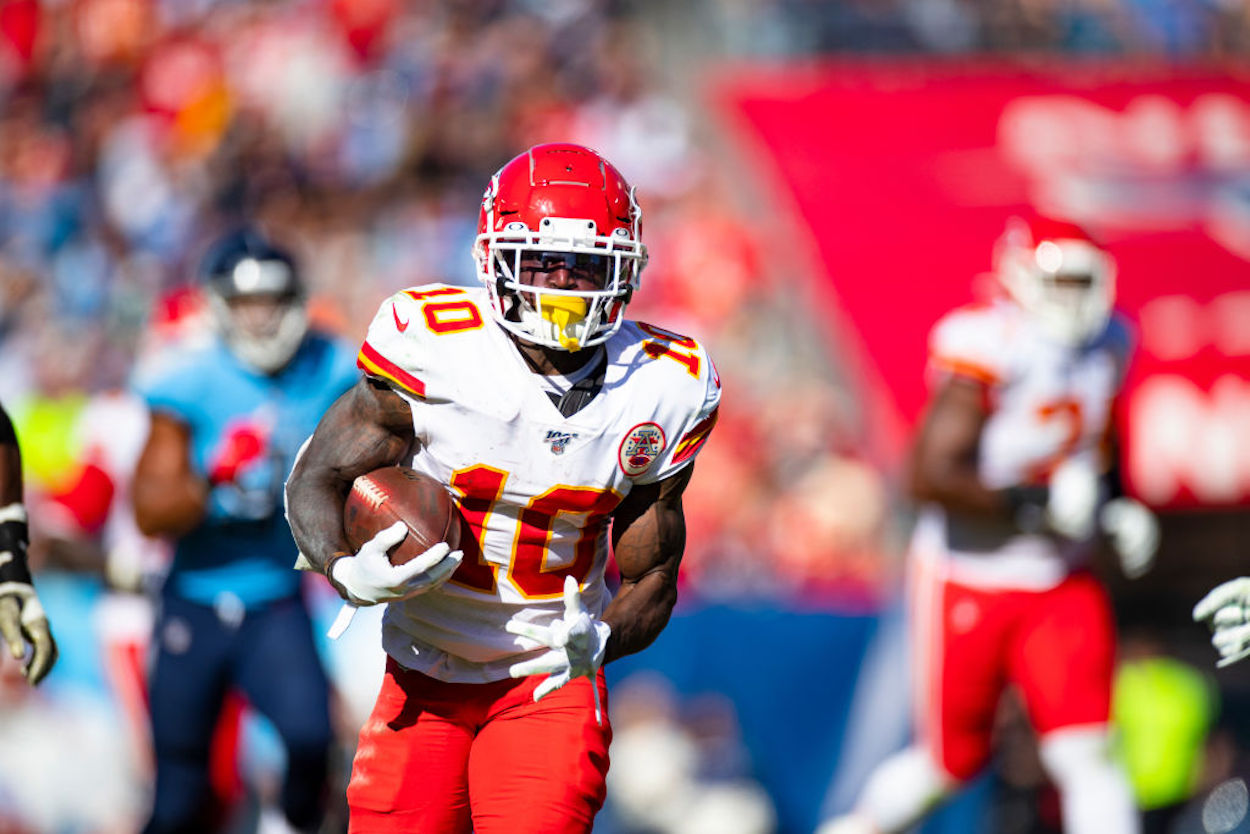 How Fast Can Tyreek Hill Run the 40-Yard Dash?
Tyreek Hill is widely considered the fastest man in the NFL today, but what was his fastest 40-yard dash time, and has anyone run it quicker?
Tyreek Hill didn't inherit the nickname "Cheetah" by accident. The mesmerizing Kansas City Chiefs wide receiver is arguably the fastest man in the NFL today, and his game-breaking speed is a big reason why the Chiefs find themselves in the Super Bowl for the second straight season.
We've seen how Hill can embarrass some of the world's best athletes on a football field with ease, but just how fast is the Chiefs' speedster, and what is his best 40-yard dash time?
Tyreek Hill's NFL career
If you haven't had the pleasure of watching Tyreek Hill jog past the NFL's best defensive backs on a weekly basis, do yourself a favor and check out his highlights on YouTube. The guy is on another planet athletically.
But unlike other downfield burners in the league, "Cheetah" produces at an elite level even with double teams and safety help shadowing him the entire game. In his first five seasons as a pro, Hill has been named to five Pro Bowls and has three First-Team All-Pro selections.
Over the last three seasons, Hill has led the NFL in yards per touch in two of them. Whether he's running a deep fly route or taking an end around out of the backfield, Hill is unstoppable in the open field. He was clocked at 21.91 miles per hour during his fastest run this season. 21.91!
He's recorded 5,391 receiving yards, 623 rushing yards, and 53 total touchdowns in 74 regular-season games. He even has a kick return touchdown and four punt return touchdowns on his resume.
Hill's elite combination of precise route running and straight-line speed makes him the most dangerous offensive weapon in the NFL.
Hill is also an Olympic-level sprinter
Hill isn't just an exceptional athlete on the football field. He used to be a world-class sprinter back in his high school days, and he's even fast enough to compete in the Olympics.
In 2012, Hill ran the 200-meter dash in 20.14 seconds when he was just 18 years old. For context, if Hill had recorded that time in the 2016 Summer Olympics in Rio, he would've come in sixth place, just 0.36 seconds behind Usain Bolt's winning pace.
Hill expressed interest in trying to qualify for the 2020 Olympics in Tokyo after last year's Super Bowl, but the event was postponed due to COVID-19.
What is Tyreek Hill's 40-yard dash time?
In today's NFL, everyone is obsessed with the 40-yard dash. A college prospect can shoot up draft boards simply by running an eye-popping 40 time. Just look at John Ross. In 2017, Ross ran a record-breaking 4.22 at the NFL Scouting Combine, and the Cincinnati Bengals drafted him with the No. 9 overall pick despite his lack of size and strength.
Hill can't say he has Ross beat for the fastest time in NFL history, but he's pretty darn close. In 2016, Hill ran a blistering 4.29 40-yard dash at West Alabama's Pro Day. Hill's time is the fourth-fastest ever recorded during pre-draft workouts.