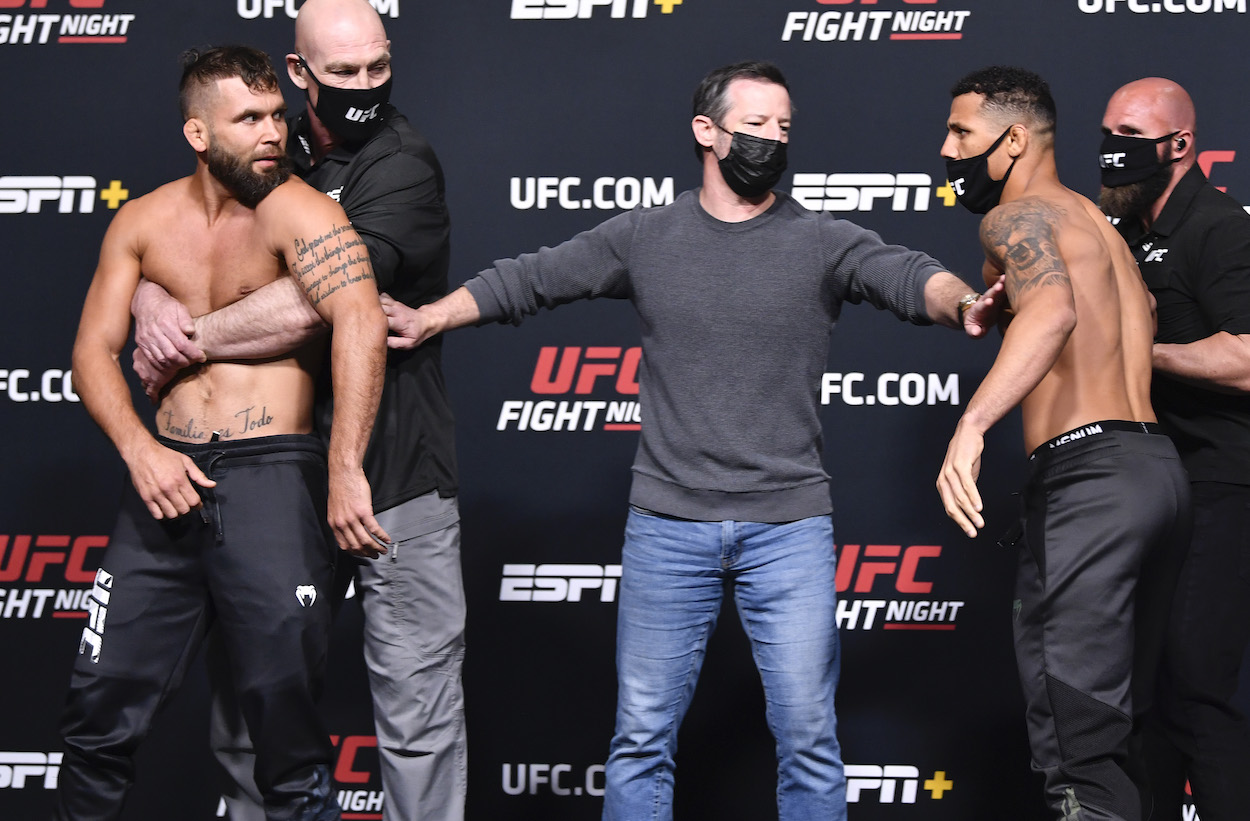 UFC Fight Called Off After Violent Weigh-In Altercation Seriously Injures Fighter and Sends Him to Hospital
UFC fight called off after one fighter seriously injured in bizarre and violent weigh-in altercation.
Weigh-ins in combat sports are typically perfunctory but, on occasion, have provided some bizarre and entertaining moments before the actual fight. See Mike Tyson vs. Lennox Lewis. This past weekend, the weigh-in before the UFC co-main event between Jeremy Stephens and Drakkar Klose took it to an entirely different level. The violent confrontation ended with one fighter injured and headed to the hospital and the fight being called off. 
Jeremy Stephens injures Drakkar Klose during violent weigh-in incident before UFC 24 Vegas
Jeremy Stephens came into the lightweight matchup against Drakkar Klose as the veteran fighter. The 34-year-old started in MMA in 2005, made his UFC debut in 2007, and holds a 28-18 record, which includes just three wins in his last 10 fights. Klose, who is just a year younger than Stephens, is a relative newcomer to UFC, debuting in 2017. He holds a professional record of 11-2, including 5-2 in the UFC. 
The pair were scheduled to meet at UFC Vegas 24 in a lightweight bout as the co-main event, along with middleweights Robert Whittaker and Kevin Gastelum. 
During the Friday weigh-in, Klose walked to the center stage and waited for Stephens after the fighters were introduced. As Stephens approached, Klose kept his hands behind his back. The two fighters stood nose-to-nose in the traditional stare-down for a couple of seconds when Stephens violently shoved Klose, who stumbled backward.
Once Klose regained his balance, he was understandably upset and attempted to charge at Stephens. 
"What the f**k, man!" Klose shouted, as both fighters were restrained. 
Drakkar Klose suffered concussion and responds to incident with Jeremy Stephens
The next day, the UFC announced the fight between Drakkar Klose and Jeremy Stephens was called off because Klose was injured as a result of the weigh-in incident. He released a statement detailing what happened. 
Klose said after the push, he immediately felt his hand go numb and neck tighten up. He sought treatment from the UFC medical staff throughout the evening and woke up the next morning with a headache and nausea. He could only get relief by lying in the dark. After he rested, then woke up and vomited, the UFC doctor determined he needed to go to the hospital.
"I'm sorry to everyone who was excited for this fight, I tried to do everything I could to stay in this fight, but these issues are out of my control." 
He was diagnosed with a concussion and a cervical sprain of the neck. 
Robert Whittaker dominated in main event of UFC Vegas 24  
With the Drakkar Klose-Jeremy Stephens co-main event off the card, the spotlight focused on the lone main event, a five-round bout between No. 1 middleweight contender Robert Whittaker and No. 8-ranked Kevin Gastelum.
The former UFC middleweight champion dominated Gastelum from the outset. While the undersized Gastelum attacked throughout much of the fight, it was Whittaker who delivered a variety of shots with accuracy. 
When it was over, the judges' scorecards showed Whittaker was the dominant fighter, with each ruling the fight 50-45 in the Australian's favor. That masterful performance should set up a rematch with Israel Adesanya for the middleweight title. 
Like Sportscasting on Facebook. Follow us on Twitter @sportscasting19.