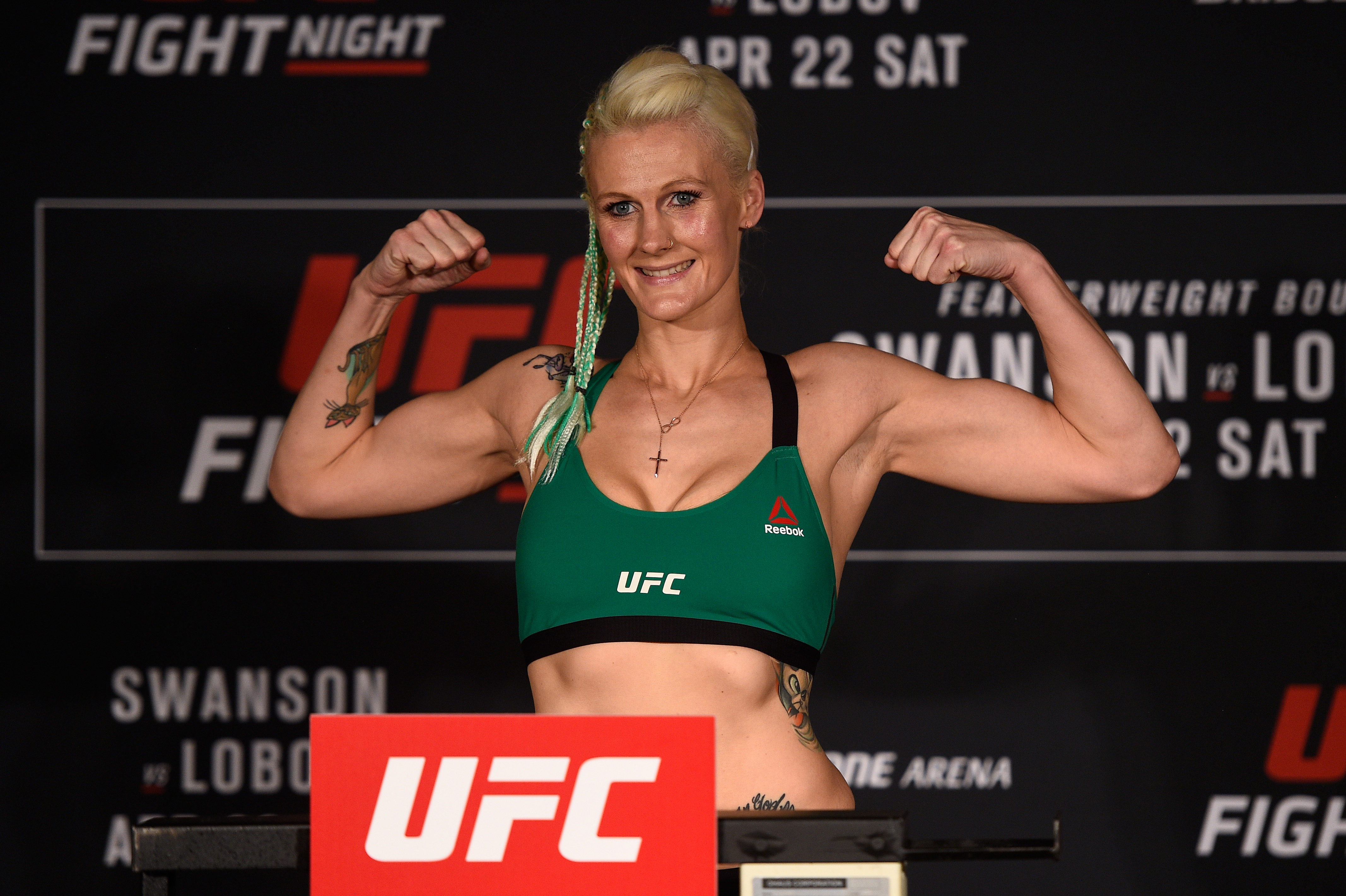 Former UFC Fighter Cindy Dandois Has Turned to Adult Site to Make Money During Pandemic
Cindy Dandois is a top female MMA fighter that has competed in the UFC. The pandemic, however, has forced her to temporarily change her career and she's now starring on an adult website.
With the COVID-19 pandemic changing the world as we know it, most of the world's top athletes have been forced to get creative in finding ways to maintain their top-level shape. For former UFC fighter Cindy Dandois, training isn't even an option. As a result, she has put her MMA career on hold and traded in her shorts, shirt, and gloves for some lingerie, a smile, and the imagination of her fans.
Cindy Dandois finds success in MMA
Cindy Dandois started her professional fighting career in 2009 in the Netherlands. The fighter from Belgium made an impressive showing early on winning her first four fights. In 2014, Dandois joined Invicta where she found success winning two of her first three fights, including an impressive win over Megan Anderson. 
In April 2017, Dandois made her UFC debut where she lost in a unanimous decision to Alexis Davis. While it was understandably a disappointing result, Dandois used that loss and subsequent exit from the UFC as inspiration to get better. And she did.
Fighting in various places in Europe and Asia, Dandois reeled off four straight victories and got an invite to Bellator MMA. Her last fight occurred in December 2019, which she won in a second-round submission and improved her overall MMA record to 16-5.  
Cindy Dandois switches to adult entertainment career
With the COVID-19 pandemic wreaking havoc on every industry, including sports, athletes have been forced to adapt and find whatever training resources they have available to them. For Cindy Dandois, that's basically the problem. She has nothing available to her in her home country of Belgium. 
"I lost my gym during this Covid-lockdown, no help from our government and fights canceled,… leaving me with big financial problems," the 35-year-old described on her Twitter account.
With no signs of her situation improving anytime soon and a desire to get back in the gym, Dandois said she's decided to temporarily pursue a new career for an adult website that charges users a monthly subscription for explicit images and videos. 
"I decided to make an Only Fans so I can collect the money to re-open the gym and give the youngsters their home back," Dandois wrote.
Cindy Dandois, who is also a full-time teacher, added on Instagram, she deliberated on the move but feels this is right for her at this time.
"If you want to support me, go and subscribe. There will be pictures and little messages and the possibility to chat with me privately … BUT don't ask for porn cause that's a no go … since I am still a full-time teacher I will not post too crazy stuff."
Dandois isn't first female athlete to switch to adult entertainment
In June, Australian Supercars driver Renee Gracie made headlines when she decided to walk away from her ride and pursue a career in the adult entertainment business. Gracie was the first woman to compete full-time in the sport.
After limited early success and the novelty wore off, Gracie struggled to find sponsors for her team. She decided to explore the possibility of working in the world of adult entertainment. Once she completed her research and understood the financial benefits, she decided to make the move. 
"It has been the best thing I have done in my whole life," Gracie told News Corp Australia. "It has put me in a financial position I could never have dreamt of and I really enjoy it. I am fine with whatever they want to call me. I am earning good money and I am comfortable with where I am at."
Desperate times call for desperate measures. And at the end of the day, if the individual can live with the choices they've made and believe they're best for them in the long run, who is anyone else to question them.