Legendary UFC Referee 'Big John' McCarthy Seriously Injured After Losing Fight to an Unlikely Opponent
John McCarthy is easily the most recognizable referee with the UFC for those fans who followed the fight promotion from its infancy. He's hard to miss. At 6-foot-3 and more than 250 pounds, McCarthy, who officiated some of the biggest fights in UFC history, including Conor McGregor vs. Nate Diaz, is bigger than most of the fighters who step inside the cage. 
Despite his mammoth size, McCarthy, who retired from officiating in 2018, never stepped inside the octagon as a competitor. However, this past weekend, the former ref found himself in a fight against an unlikely opponent — a tree. He lost and suffered several serious injuries in the process. 
John McCarthy's distinguished career in MMA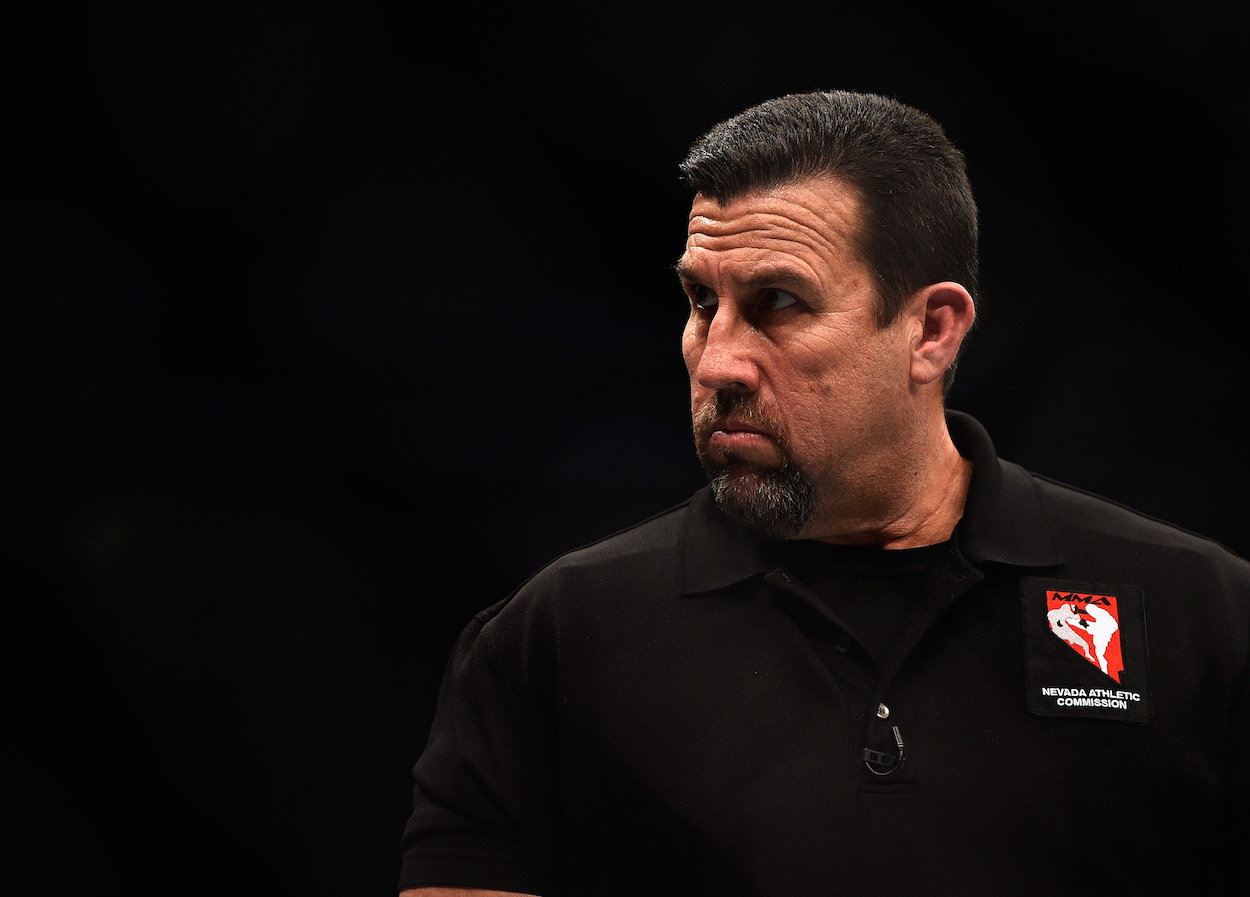 John McCarthy is synonymous with the UFC. He made his debut at UFC 2 in March 1994. What many fans don't realize is the impact McCarthy had on the fight promotion in those early days. 
Because rules were limited, his initial role was specifically to supervise the fight and make sure it ended when a competitor submitted or was knocked out. McCarthy didn't stop there and was very influential in developing rules for the organization, including the addition of referee stoppages when a fighter could not intelligently defend himself.   
In 2007, after more than 500 events, McCarthy retired to pursue a career as a commentator for The Fight Network. It didn't last long. A year later, he returned to his familiar spot inside the cage. He didn't just limit his duties to the UFC but also worked with Strikeforce, Affliction, Bellator, King of the Cage, and several other fight organizations. 
Discusses MMA on successful podcast
While McCarthy briefly pursued a career as a commentator back in 2007 only to return to the octagon a year later, he joined the world of broadcasting in 2017 when he and former world champion Josh "The Punk" Thomson launched the Weighing In podcast.
With a combined 40-plus years of experience between the pair, they provide listeners with a diverse perspective, delving into topics that ranged from the sport's history to the latest MMA news and recaps of the latest fights. 
Not surprisingly, with so much expertise, they have interviewed some of fighting's biggest stars, including Conor McGregor and Cris Cyborg on the show. And in three-plus years, they've developed a considerable following with more than 100,000 subscribers to the YouTube broadcast.
McCarthy suffers serious injuries after getting into fight with tree
On Saturday, McCarthy posted a brief video to his Twitter account that showed a bloodied forehead with several cuts and explained how a tree attacked him, and he suffered several broken ribs as a result. In the latest episode of the podcast, McCarthy provided more details of the scary incident at the start of the show.  
"I got six broken ribs, a poked hole in my lung, a kidney that's contused and not doing its job, so I feel really good. I'm happy to be sitting right here," he joked, trying not to laugh because it hurt. Near the end of the show, he provided more details on what actually happened.
"I go up on the ladder, and my feet are about eight feet off the ground. The limb, which is bigger than your body, is about 14 feet off the ground. I start cutting it. It starts to break. When it breaks, the front end dives in to the ground and shoots it back, and it just obliterates the ladder that I'm on. Immediately, my feet and head are at the same level because it has turned me horizontal. I've got a chainsaw in my hand, and I don't know where my daughter-in-law is at."
Moments later, when he hit the ground, he said the pain was excruciating and realized he couldn't breathe. He said that he eventually rolled over to his hands and knees, and blood was coming out of his forehead. After about a minute, he started getting "sips" of air and realized he was "going to live." 
McCarthy admitted he begrudgingly allowed his wife to drive him on a 40-minute trip to the hospital, where he was originally diagnosed with three broken ribs, before he was transported by ambulance to another hospital. Doctors made the final determination of six broken ribs and the injuries to his lung and kidney. Wrapping up the story, he said one light moment occurred when the doctor recognized him and uttered the famous phrase he used before each fight: "Let's get it on!"
Like Sportscasting on Facebook. Follow us on Twitter @sportscasting19.