It's Time to Give Underrated Washington Wizards GM Tommy Sheppard Credit for Reviving the Franchise
It's way too early to be talking about the NBA Executive of the Year Award. That's not going to prevent anyone from doing it anyway, of course. I mean, we're submitting NBA MVP votes for the next season less than a second after the previous season ends. Miami Heat legend Pat Riley's moves put them in a position to contend for a second NBA Finals berth in three years. But there's an under-the-radar general manager who deserves some credit because what Tommy Sheppard has done with the Washington Wizards has been almost magical.
He inherited the job in April 2019 as the interim GM at the end of Ernie Grunfeld's mostly undistinguished 16-year run. Grunfeld's efforts got the Wizards past the first round of the playoffs four times, so there's that. Sheppard wound up with the job permanently and has been reinventing the operation in DC ever since. The results are starting to show up this season.
Tommy Sheppard traded an untradeable contract
One of the most significant decisions Grunfeld made late in his tenure was to sign point guard John Wall to a max extension. The four-year, $170 contract began in 2019. The Washington Wizards received exactly nothing from Wall for that initial outlay of $38.2 million in 2019–20. That's because he missed the season with heel and Achilles' injuries complicated by a post-surgical infection.
Somehow, Tommy Sheppard found a taker for the remaining three years and $132.9 million on Wall's deal. It cost him a lottery-protected first-round pick in 2023, and Washington had to take on Russell Westbrook's remaining three years and $132.6 million.
Westbrook had the advantage of being, you know, ambulatory. He also brought the bonus of playing since $41.4 million is a steep price for an observer. With Westbrook and Bradley Beal leading a late charge, the Wizards won 17 of their last 23 games to get into the play-in tournament. There, they topped the Indiana Pacers to get the No. 8 seed.
Last offseason, Sheppard wasn't done dealing, and his work is paying immediate dividends.
The Washington Wizards surrendered a superstar for more depth
Tommy Sheppard wanted to change the dynamic of the Washington Wizards. So he shopped Westbrook and found a taker in the always-star-hunting Los Angeles Lakers. Westbrook went to LA with three second-round picks in a deal that grew into a five-team Frankenstein of a trade.
However, the only other assets the Wizards had to part with was bit player Chandler Hutchison, shipped to the San Antonio Spurs, and two second-round picks sent to the Brooklyn Nets.
Washington got Spencer Dinwiddie in a sign-and-trade from the Nets while adding Aaron Holiday and Isaiah Todd from the Indiana Pacers and a second-rounder from San Antonio. The big prize was landing Kyle Kuzma, Kentavious Caldwell-Pope, and Montrezl Harrell from the Lakers.
Sheppard also fired coach Scott Brooks after five mostly forgettable seasons. In his place, the Wizards hired a legacy, veteran NBA assistant coach Wes Unseld Jr.
He began his coaching career with Washington in 2005 before working with the Golden State Warriors, Orlando Magic, and Denver Nuggets, where he was associate head coach last season.
The son of the late Washington Bullets Hall of Famer Wes Unseld, the new coach has Washington off to a 6–3 start.
Dinwiddie is averaging 5.9 assists per game to go with 17.1 points a night. Kuzma and Caldwell-Pope are both starting and playing more than 30 minutes a night. KCP leads the club with a 40.0% mark from the 3-point range, while Kuzma puts up 14.0 points and 9.4 boards a night.
Meanwhile, Harrell is playing like the former Sixth Man of the Year he is. He's second on the Wizards with 18.0 points a game and leads the team with 9.7 rebounds a night on 63.0% shooting.
The Washington Wizards under Tommy Sheppard have a superstar and depth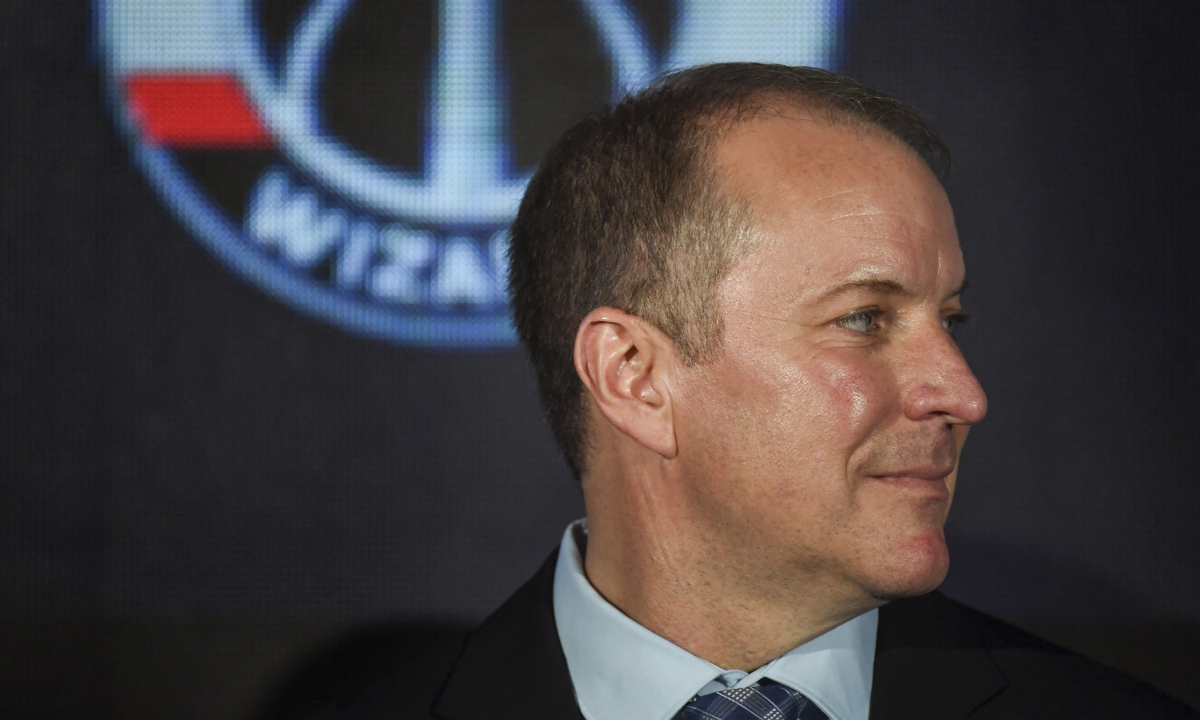 The last time the Washington Wizards advanced past the second round of the playoffs was their NBA Finals appearance in 1979. That came the year after they won their only title. Since then, it's been a conveyor belt of mediocre-to-awful in DC.
Tommy Sheppard has changed that dynamic. In Beal, the Wizards have a superstar. But for the first time in what seems like forever, Washington is pairing that star with a solid rotation and honest-to-goodness depth.
The Wizards are 6–3, with Beal shooting only 23.2% from 3-point range. Given he's a career 37.4% shooter, the odds are good he'll heat up soon. Dinwiddie is the unquestioned floor leader for a franchise after a solid run primarily as a sixth man in Brooklyn.
Harrell? He's getting playing time again. With the Lakers, Harrell was lost in the shuffle and averaged just 22.9 minutes per game. Not surprisingly, his numbers dipped substantially. And Kuzma is getting a chance to play without being compared to every Hall of Fame forward who ever wore a Lakers jersey.
The Washington Wizards have spent most of the last 40 years as a punchline in the NBA. Tommy Sheppard has them in a position to think about getting the last laugh finally. If you're looking for a sleeper pick for NBA Executive of the Year, you could do worse.
Statistics courtesy of Basketball Reference.