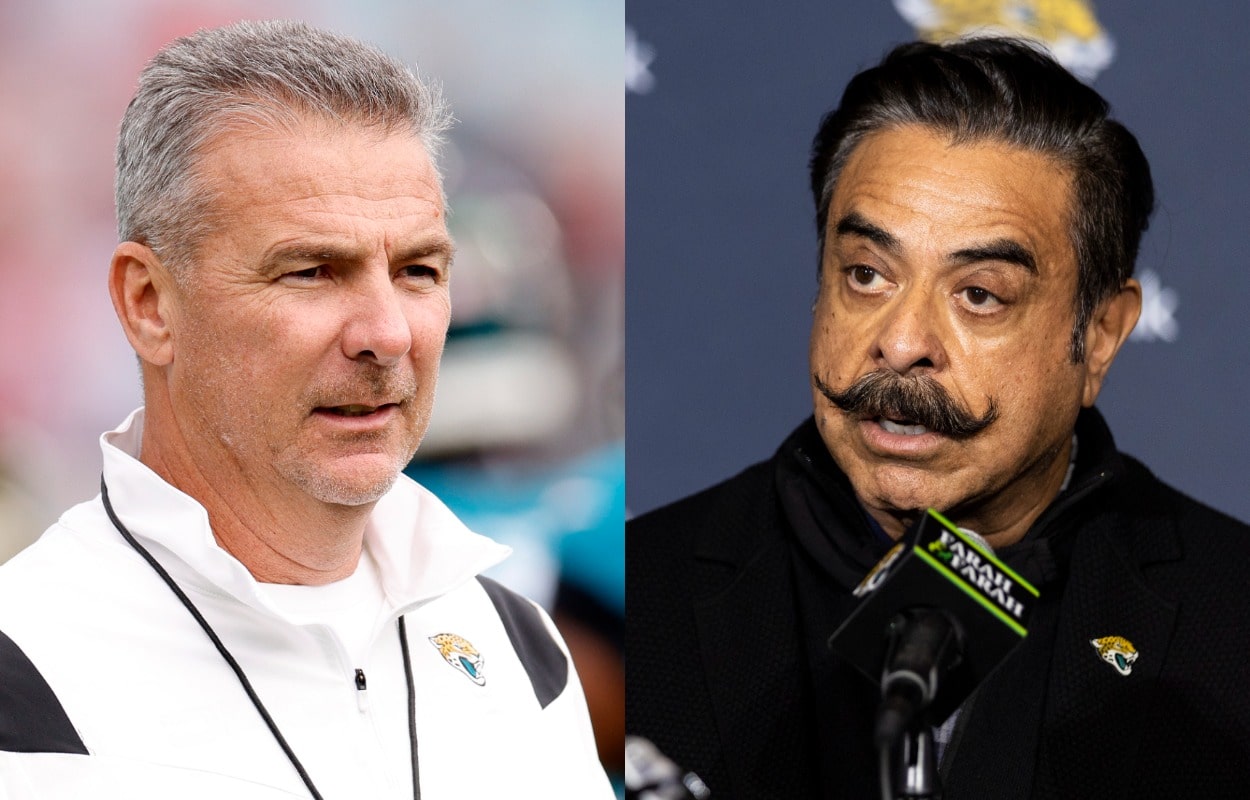 Urban Meyer Eviscerated by Jaguars Owner Shad Khan: 'How Can You Work With Someone Like That?'
Urban Meyer's Jacksonville Jaguars tenure was disastrous, to say the least. It appears team owner Shad Khan isn't a fan of Meyer, either. He recently had a lot to say.
Urban Meyer's reputation was already on thin ice when he took the Jacksonville Jaguars' head coaching job. After his short tenure with the team, the ice completely shattered, and said reputation sank to the bottom of the Ohio River.
The former Florida Gators and Ohio State Buckeyes coach had scandal after scandal after scandal during his short time in the NFL, making it easy for one to wonder how he lasted so long at the collegiate level. And with the Jags firing him after 13 games last season, team owner Shad Khan recently had a lot to say about Meyer.
None of it was good, either.
Urban Meyer was recently eviscerated by Shad Khan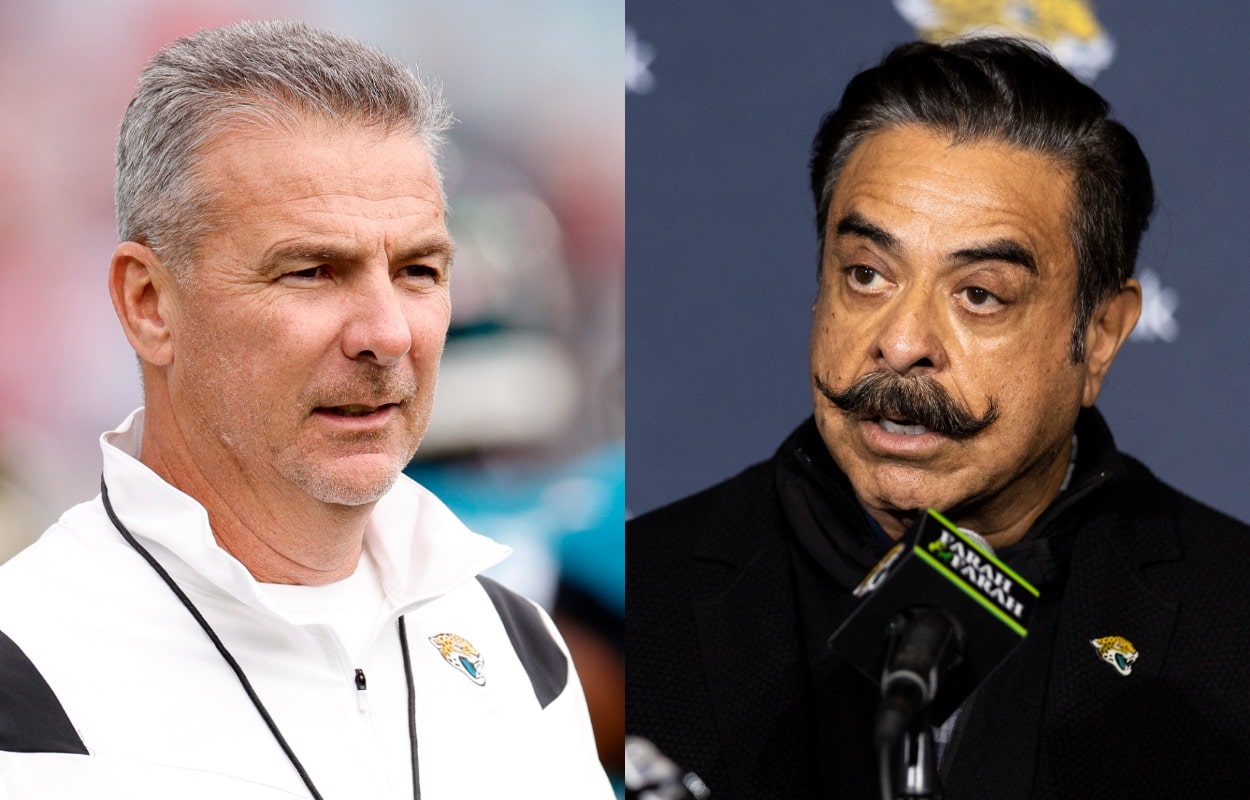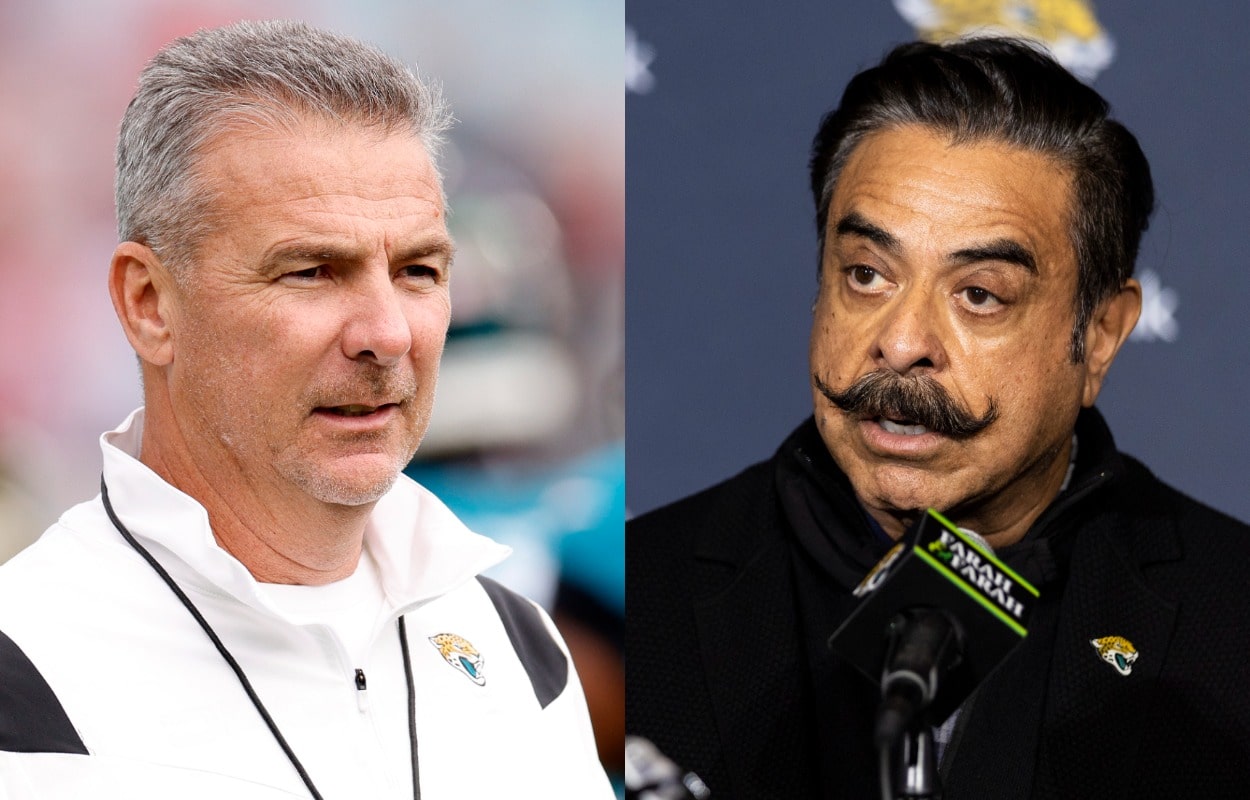 You may have lived under a rock last season. It's OK if you did. So, if that's the case, here's a quick recap of the controversial moments from Urban Meyer's Jaguars tenure.
Hired (and then parted ways with) Chris Doyle, who allegedly bullied and made racist remarks to players at Iowa while working as the program's strength coach
Gave Tim Tebow a shot in training camp
Didn't go home with the team after a loss to the Cincinnati Bengals and was later filmed at a bar with a woman who was not his wife
Accused of berating assistant coaches
Accused of kicking Josh Lambo, a former Jaguars kicker
Fired after 13 games in which the team went 2-11
Accused of not knowing some of the NFL's top stars (including Aaron Donald) and making a player cry
I might have missed something, but those are the big bullet points.
And in a recent interview with USA Today, Jaguars owner Shad Khan didn't hold back when discussing his team's former coach.
"When you lose the respect, the trust, and an issue of truthfulness, how can you work with someone like that?" Khan said. "It's not possible."
The specific moment in which Khan was referring to is unclear, but he didn't stop there.
"It was not about wins and losses," he added. "I think when you know someone is not truthful, how can you be around someone, OK? We had Doug Marrone here four years. We had Gus Bradley here four years. I have nothing but the utmost respect and friendship with them. That's why they got the time, because it wasn't a matter about respect or truth. It was a matter of wins and losses over four years. This is much bigger than that."
It sure sounds like Khan regrets even hiring Meyer. Hopefully, his team has better fortune now that Super Bowl-winning coach Doug Pederson is in charge.
What's next for Urban Meyer?
So, now that Urban Meyer is currently without a job, what's next for him?
Well, he may not get paid by the Jaguars. USA Today reported that he and the team have yet to agree to a settlement. The Jaguars reportedly don't intend to pay Meyer's full contract because they believe they fired him with cause.
Whether he gets paid by Jacksonville or not, Meyer will still likely make money elsewhere.
According to The Athletic, the three-time national champion is reportedly in negotiations to return to Fox Sports. He worked on the network's Big Noon Kickoff for two years before taking the Jaguars job.
It looks like Meyer and the Jaguars are both moving on. But that disastrous run will probably hang over both parties for quite some time.