Urban Meyer Just Inched a Step Closer To Becoming the Jacksonville Jaguars' Head Coach
Urban Meyer is reportedly already assembling a coaching staff in case he decides to become the coach of the Jacksonville Jaguars.
If Urban Meyer isn't taking the head coaching job with the Jacksonville Jaguars, he's sure going to great lengths to make people think he is…well, assuming that a report from ESPN's Adam Schefter about how he's already assembling a coaching staff is true anyway, which it likely is.
Meyer, who won national championships at Florida and Ohio State before taking a job with Fox, has been linked to the Jags' opening even before Doug Marrone was fired and all signs are pointing to him ending up in Jacksonville, although his name has been mentioned in conversations about other openings in the NFL.
But if Urban Meyer does decide to tackle the NFL ranks for the first time, which he apparently won't do unless he gets a big-money deal, the Jacksonville Jaguars make the most sense.
Urban Meyer had an insane win-loss record in 17 years as a college football head coach
Once his playing days at the University of Cincinnati were behind him, Urban Meyer began his football coaching career immediately. He spent a year as the defensive backs coach at a Cincinnati high school before spending two years as a graduate assistant at Ohio State in 1986-1987.
Meyer then spent two seasons at Illinois State, first as a linebackers coach and then as a quarterback/wide receivers coach, and then moved on to Colorado State, where he was the receivers coach for six seasons. He then went to Notre Dame for five years before finally getting his first job as a college head coach at Bowling Green in 2001.
In two seasons with the Falcons, he went 17-6 and was once named MAC Coach of the Year. From there, Meyer took a job at Utah in 2003 and also spent two seasons with the Utes, compiling a 22-2 record, including an undefeated season in 2004.
In 2005, Meyer began coaching the Florida Gators and won a national title in just his second year in Gainesville, adding another two years later. He left the program following the 2010 season citing health issues but returned to college football two years later as the head coach of the Ohio Buckeyes, with whom he won a national title following the 2014 season.
In 17 years as a head coach, Urban Meyer compiled a 187-32 record and a 12-3 mark in bowl games. He's one of just three coaches to win a national championship at two universities.
It's going to take a lot of money to get him to leave the broadcast booth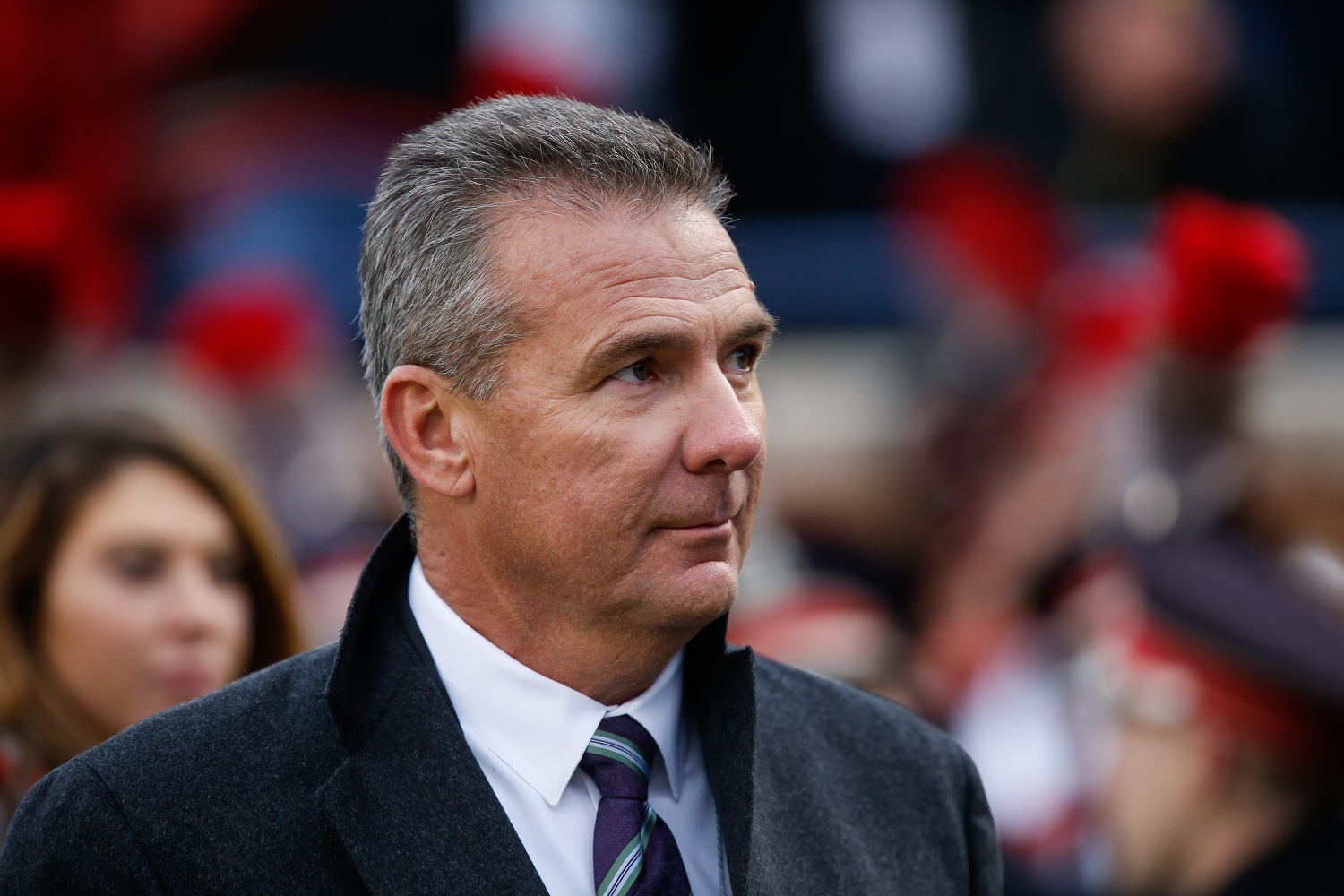 Upon leaving Ohio State following the 2018 season, Meyer promptly joined Fox ahead of the following season as a studio analyst for the network's college football coverage, a role for which he's received praise. As it always goes with former coaches, especially those who haven't been out of the game that long, his name has been thrown around in numerous conversations about various openings at both the college and pro levels.
There was recent talk of him going to the Texas Longhorns, which didn't seem like a good fit, and he's also been linked to the LA Chargers. But no other team has been mentioned as much as the Jacksonville Jaguars as far as Urban Meyer is concerned.
But if Jacksonville, or anyone for that matter, is going to get the three-time national championship-winning coach out of the broadcast booth, it's going to cost a pretty penny as Meyer is reportedly looking for somewhere in the neighborhood of $12 million per season. Luckily for Jacksonville fans, at least those that want Meyer anyway, Jaguars owner Shad Khan can afford it.
Urban Meyer is reportedly already assembling a coaching staff for the Jacksonville Jaguars
According to ESPN, Urban Meyer and the Jacksonville Jaguars have been in constant contact with one another, including a meeting on Friday night on Khan's boat in Florida.
On Saturday, just ahead of the NFL playoffs getting underway, Adam Schefter tweeted out that Meyer has already been assembling a coaching staff just in case he decides to take the job, a staff that apparently includes some assistant coaches from the college game that he dominated for so long.
A decision from either Urban Meyer or the Jacksonville Jaguars is expected in the very near future but it seems quite obvious what's going to happen here, doesn't it?