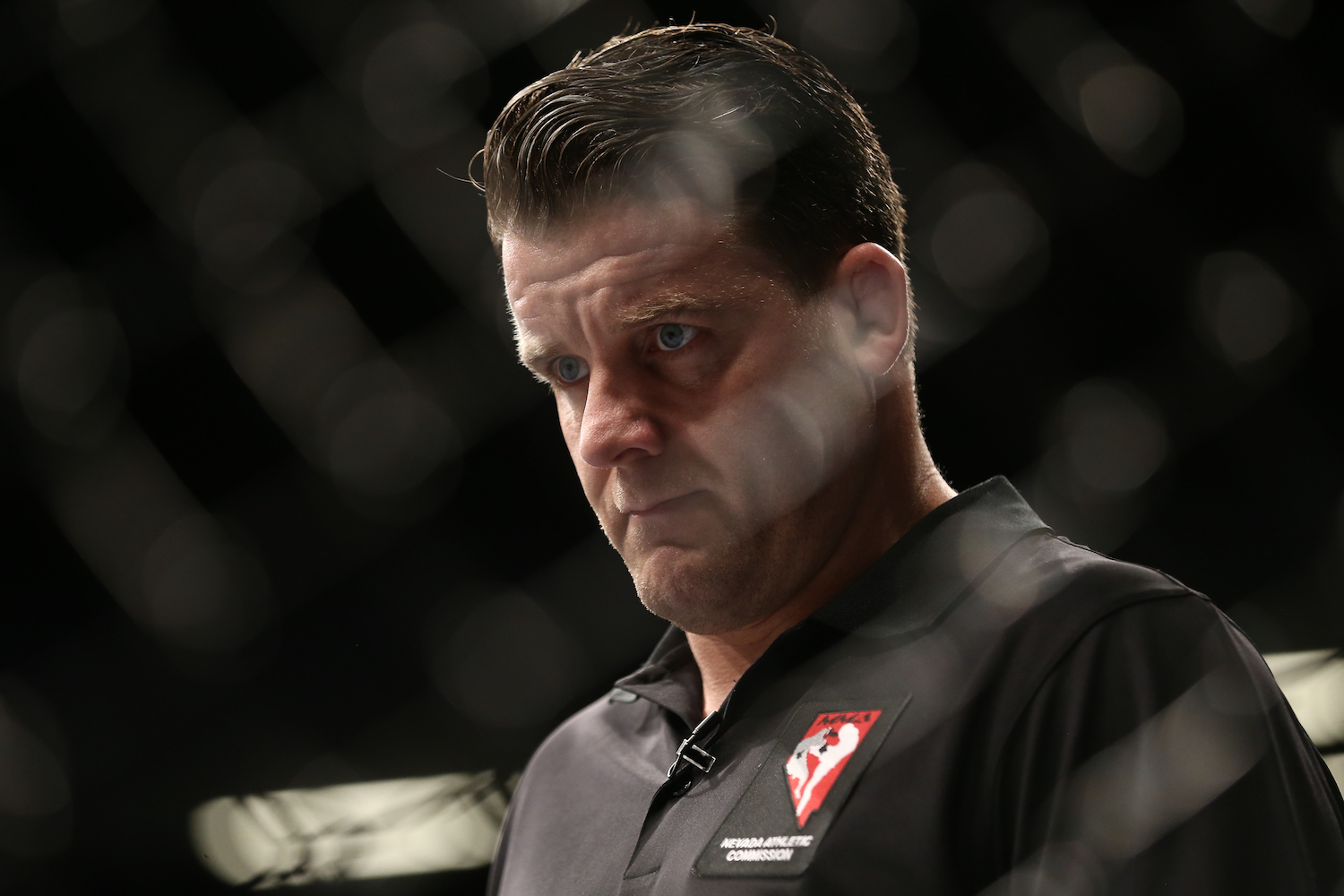 Veteran UFC Referee Marc Goddard Attacked by Fighter at Conclusion of Bout
Veteran UFC referee Marc Goddard is respected throughout the MMA world. That didn't matter to one fighter who attacked Goddard at the conclusion of his fight.
MMA referees are just one errant punch or accidental kick away from being knocked unconscious. It's one of the hazards that comes with the job. What referees never expect is to be deliberately attacked by a fighter. That's exactly what happened to veteran UFC referee Marc Goddard and it didn't end well for the fighter.  
UFC referee Marc Goddard's career
Marc Goddard is best known as the British UFC referee who has overseen numerous title fights in the last few years. He is often ranked by fighters, fans, and media as one of the top referees in the sport today. 
What most don't realize is before Goddard ever stepped into the Octagon to manage the fighters, he was once a fighter himself. Goddard made his professional debut in 2002 and proceeded to win his first three professional fights. 
After that initial streak of success, Marc Goddard ran into some tougher competition. During the next five years, Goddard would enter the cage a total of 11 times, losing six of them. In 2008, he fought for the last time and then retired with a 7-6-1 record. 
Marc Goddard's run-ins with fighters in the past
While Marc Goddard's role as a referee is to keep order between the two fighters and stay invisible as much as possible, he's found himself in the middle of the melee on more than a few occasions. 
In 2017, Conor McGregor attended a fight to cheer on his teammate Charlie Ward at a Bellator event. When Ward won, McGregor jumped inside the cage to take part in the celebration. However, McGregor wasn't a licensed cornerman for the event. Security personnel surrounded McGregor.
In a bizarre twist, McGregor's celebration turned to anger as he charged toward Goddard, who had attempted to break up the champ's embrace with Ward. Several individuals inside the cage restrained McGregor as he screamed and pointed at Goddard. 
More recently, Goddard was the target of a post-fight attack online from Colby Covington, after Goddard called an end to his title fight with Kamaru Usman at UFC 245 late in the fifth round. Many agreed with Covington that Goddard stopped the fight too soon, but that's the price of being a ref. Not everyone is going to be happy even when the ref is trying to protect the fighter from serious injury.
Marc Goddard gets attacked by fighter
Marc Goddard has no fear of confrontation, or else he would have never stepped into the Octagon as a competitor all those years ago. And he's clearly not bothered by fighters who challenge him and his decisions. What Goddard experienced at his most recent fight, however, caught him completely by surprise.
Goddard was refereeing a featherweight bout between Ahmad Al Darmaki and Bogdan Kirilenko at UAE Warriors 12 in Abu Dhabi when Al Darmaki secured a rear-naked choke at the close of Round 1. Moments before the round ended, Kirilenko tapped out. Surprisingly, Al Darmaki refused to release the deep hold. 
Goddard leaned down and tried to pry apart Al Darmaki's arms from his opponent's neck. He wouldn't release. After a few seconds, the Abu Dhabi-based fighter released, then stood up and started attacking Goddard, shoving him repeatedly and grabbing his shirt. 
The fighter eventually released and backed away, with Goddard following close behind and giving him an earful. Al Darmaki was disqualified, and Kirilenko was declared the winner. It was a strange turn of events rarely seen in MMA. For Goddard, it was just another controversy notch to add to his belt. And it won't be the last.