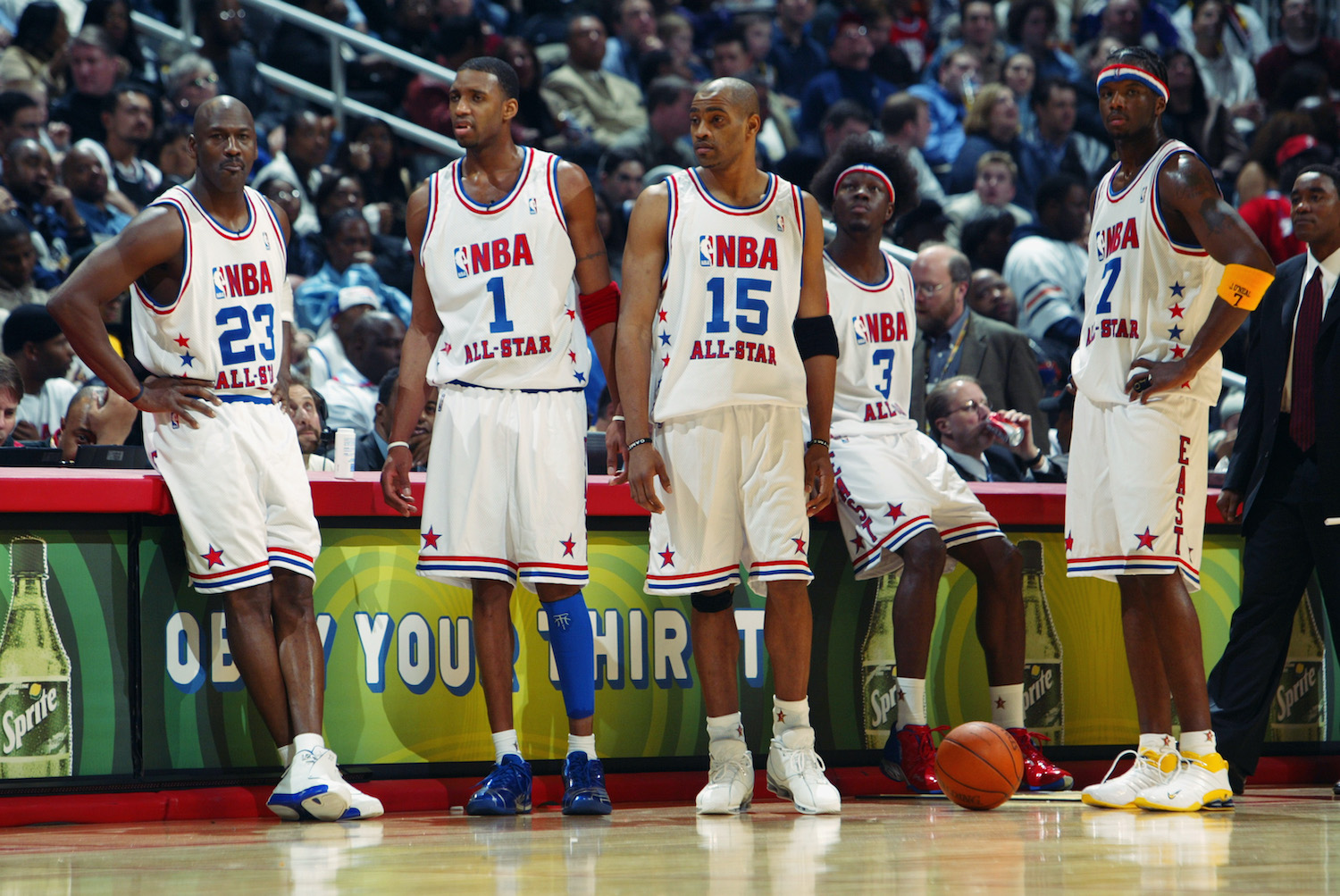 Vince Carter Was 'Encouraged' by the NBA to Give Michael Jordan His Starting Spot in the 2003 All-Star Game: 'I Ain't No Fool'
Ahead of the 2003 All-Star Game, Vince Carter got some encouragement from the league to let Michael Jordan start in his place.
While Michael Jordan may be a living legend, he was clearly coming to the end of his career in 2003. With that in mind, His Airness had somewhat of a retirement tour, receiving tributes and standing ovations as his Washington Wizards traveled around the country. That year's All-Star Game, it seemed, was the perfect place to honor the departing star. In reality, though, there was a catch. MJ didn't receive enough votes to be in the starting lineup.
Thankfully for basketball fans everywhere, Vince Carter stepped up and volunteered his starting spot to Jordan. The Toronto Raptors star didn't come to that decision on his own, though. If the NBA veteran is to be believed, the league also "encouraged" him to cede the spotlight to MJ.
Michael Jordan didn't receive enough votes to start in the 2003 NBA All-Star Game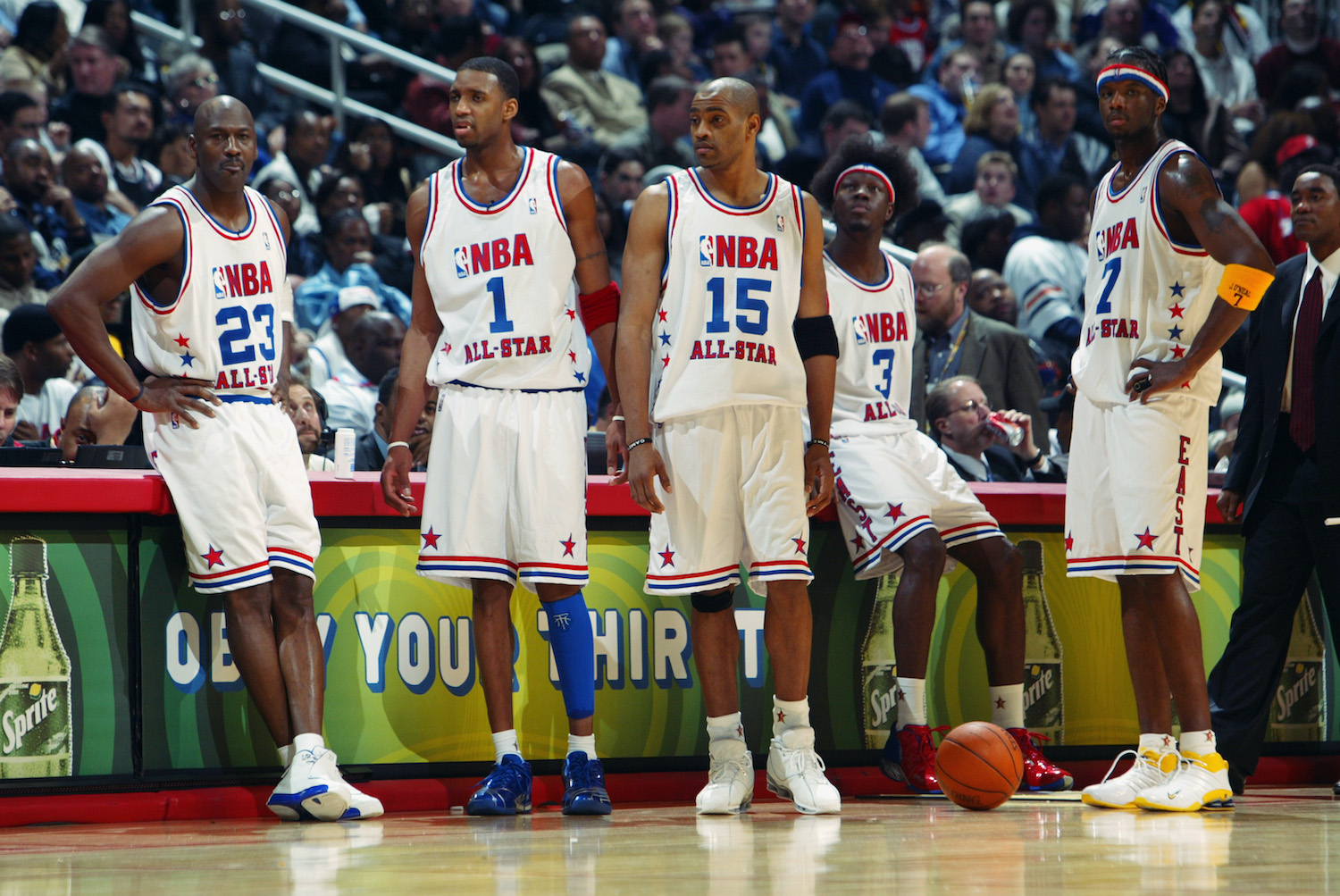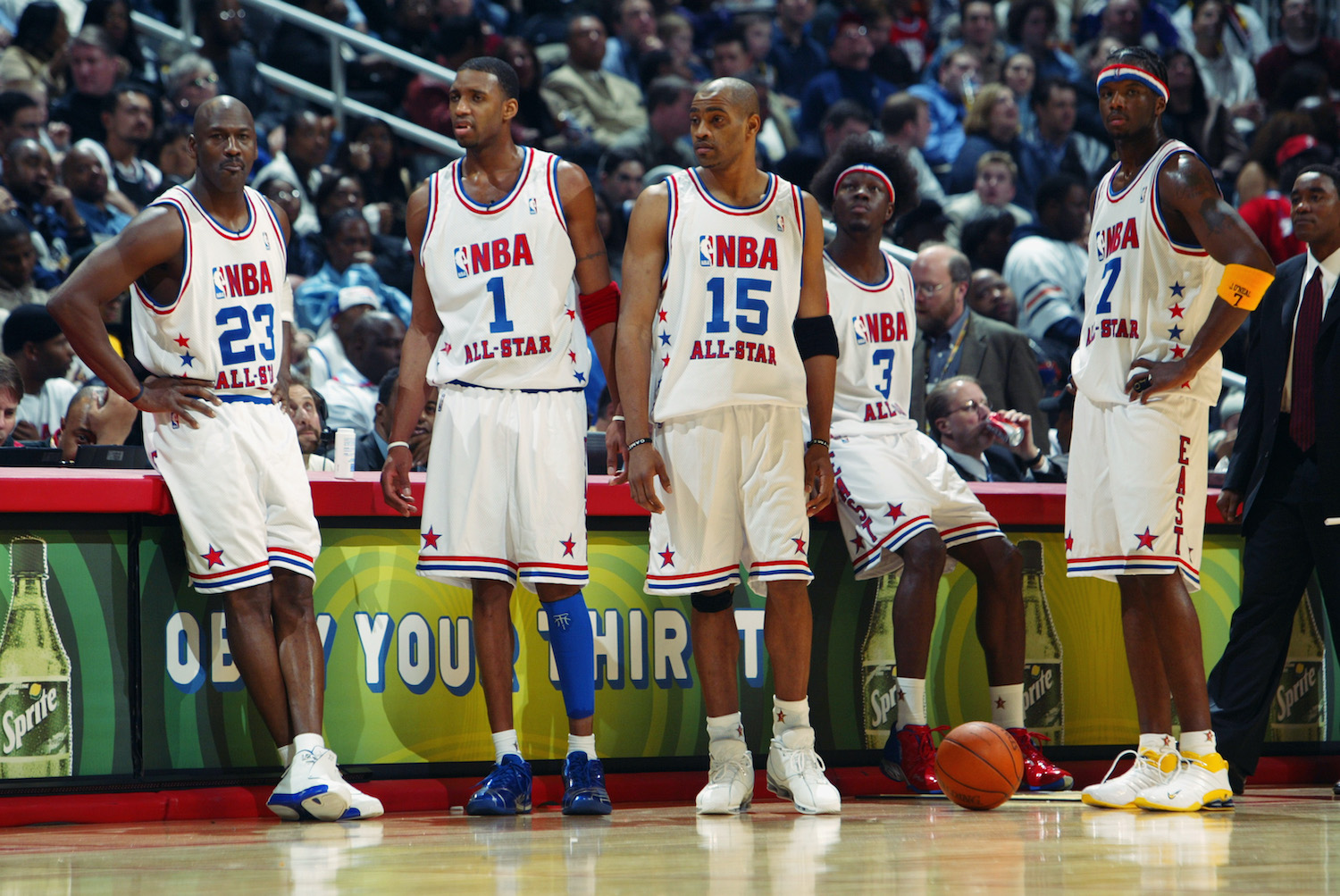 These days, it seems impossible to imagine someone like LeBron James failing to receive an eye-watering amount of all-star votes. During his final NBA campaign, however, Michael Jordan couldn't reach the top of the list.
In fairness to MJ, though, he did face some stiff competition. As spelled out in The Undefeated, the top vote-getters in at each position claimed the starting spots. In the Eastern Conference, that meant Tracy McGrady and Allen Iverson earned a place as the top two guards. Carter and Jermaine O'Neal slotted in as forwards, and Ben Wallace occupied the center position.
Jordan, for all of his success, only received 1,082,909, which was more than 73,000 less than A.I. He booked a trip to Atlanta, but would arrive as a reserve player.
Given his historical significance, it didn't seem right for Jordan to start the game on the bench. Both McGrady and Iverson offered to cede their spot to the living legend, but he wasn't interested.
Vince Carter gave up his starting role with some encouragement from the NBA
While Jordan wouldn't accept Iverson or McGrady's spot, the living legend eventually made it into the starting lineup. Vince Carter took a place on the bench, allowing MJ to take the floor as the East's small forward. That gesture, however, wasn't entirely his call.
In the Undefeated story, we learn that Isiah Thomas, who was coaching the Eastern Conference squad that year, spoke to Carter ahead of the game. The veteran guard explained that, as a player, he had let Dr. J start ahead of him in the 1987 All-Star Game. He also let the Raptors star know that, given the situation, he "thought Jordan would truly appreciate" the gesture.
That wasn't the only guidance Carter received, though. During an appearance on the All The Smoke podcast, he explained that the NBA had also encouraged him to step aside for the night.
"I decided, but it was encouraged by the league that it was a good idea," he said. "By the powers that be. It was probably a good idea that MJ starts in his last All-Star Game. I ain't no fool, you know what I'm saying? Yeah, I ain't no fool."
In the end, everything worked out for both Michael Jordan and Vince Carter
Given the lead-up to the game and the entire saga over the starting spot, it would have been understandable if Carter or Jordan had a less-than-ideal experience. On the whole, though, things worked out fairly well for both men.
MJ, of course, started the game and received the recognition that he richly deserved. He also played rather well, potting 20 points in what turned out to be a surprisingly competitive exhibition. In a way, seeing him take the court alongside the likes of Kobe Bryant, Allen Iverson, and the next generation of basketball stars seemed like a fitting way to pass the torch forward before leaving the NBA stage.
While Carter didn't have the greatest night — he saw 25 minutes of action but only scored nine points — he had multiple chances to make up for lost time. The high-flying guard appeared in eight All-Star games during his career, with four coming after he gave up his starting spot. Vinsanity also spent 22 seasons in the Association, giving him plenty of chances to write his own basketball story.
If nothing else, Carter also left Atlanta on that fateful night with quite a story. For better or worse, he'll always be the guy who took a back seat to let Jordan have one last (All-Star Game) Dance.
"That's a memory that nobody else can talk about," he explained on All the Smoke. "That can't be duplicated. Bro, I got a story. Like I can tell this story forever, like you'll be like, 'Oh man.' Nobody else can say that."
Stats courtesy of Basketball-Reference.