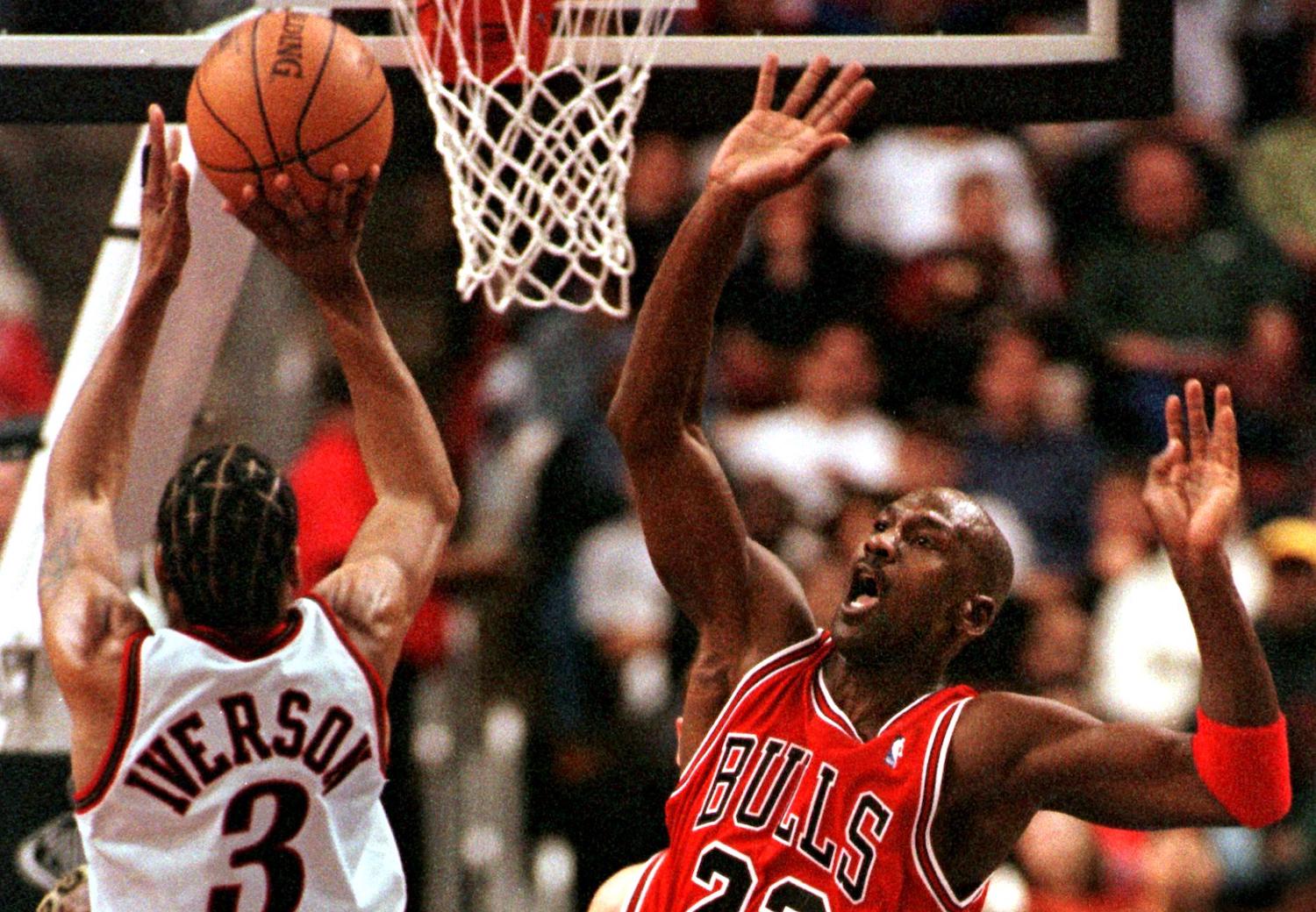 Michael Jordan Had No Problem Cursing Out Allen Iverson When They First Met: 'What's Up, You Little B*tch'
When Allen Iverson first met Michael Jordan, the NBA legend had some harsh words for the rookie.
For NBA fans of a certain age, meeting Michael Jordan would be a life-changing experience. Meeting any celebrity—let alone His Airness—doesn't always live up to the hype, though. Just ask Allen Iverson about that.
During his rookie season, Allen Iverson crossed paths with Michael Jordan. MJ, however, wasn't in the mood for pleasantries; instead, he greeted AI by calling him a "little b*itch."
Michael Jordan was a living legend when Allen Iverson arrived in the NBA
These days, both Michael Jordan and Allen Iverson are both confined to the NBA history books. In the 1990s, though, things were much different.
After making a name for himself at Georgetown, Iverson entered into the 1996 NBA draft. He joined the Philadelphia 76ers as the first-overall pick; despite his diminutive stature, the guard took the NBA by storm. Even if you were a fan of another team, AI's silky ball-handling and scoring touch was something to behold.
When Iverson arrived in the NBA, though, there was a much bigger man on campus: Michael Jordan. At the time, His Airness had come back from his brief stint in minor league baseball. He had already established himself as a modern great and won three championships with the Chicago Bulls; now, he was back looking for more.
It was in that context that AI and MJ first met.
Michael Jordan called the young Philadelphia 76ers star a 'little b*tch' when they first met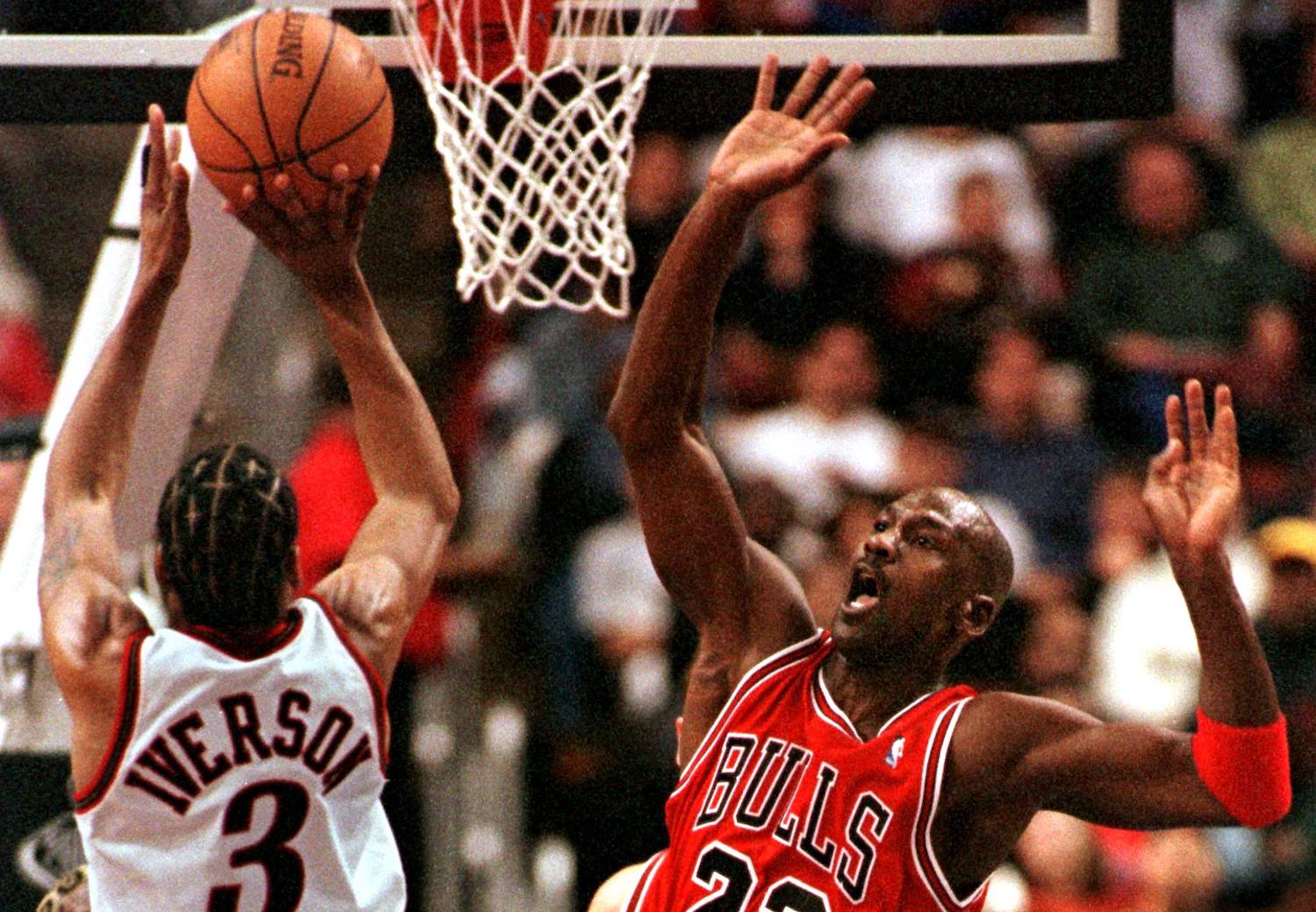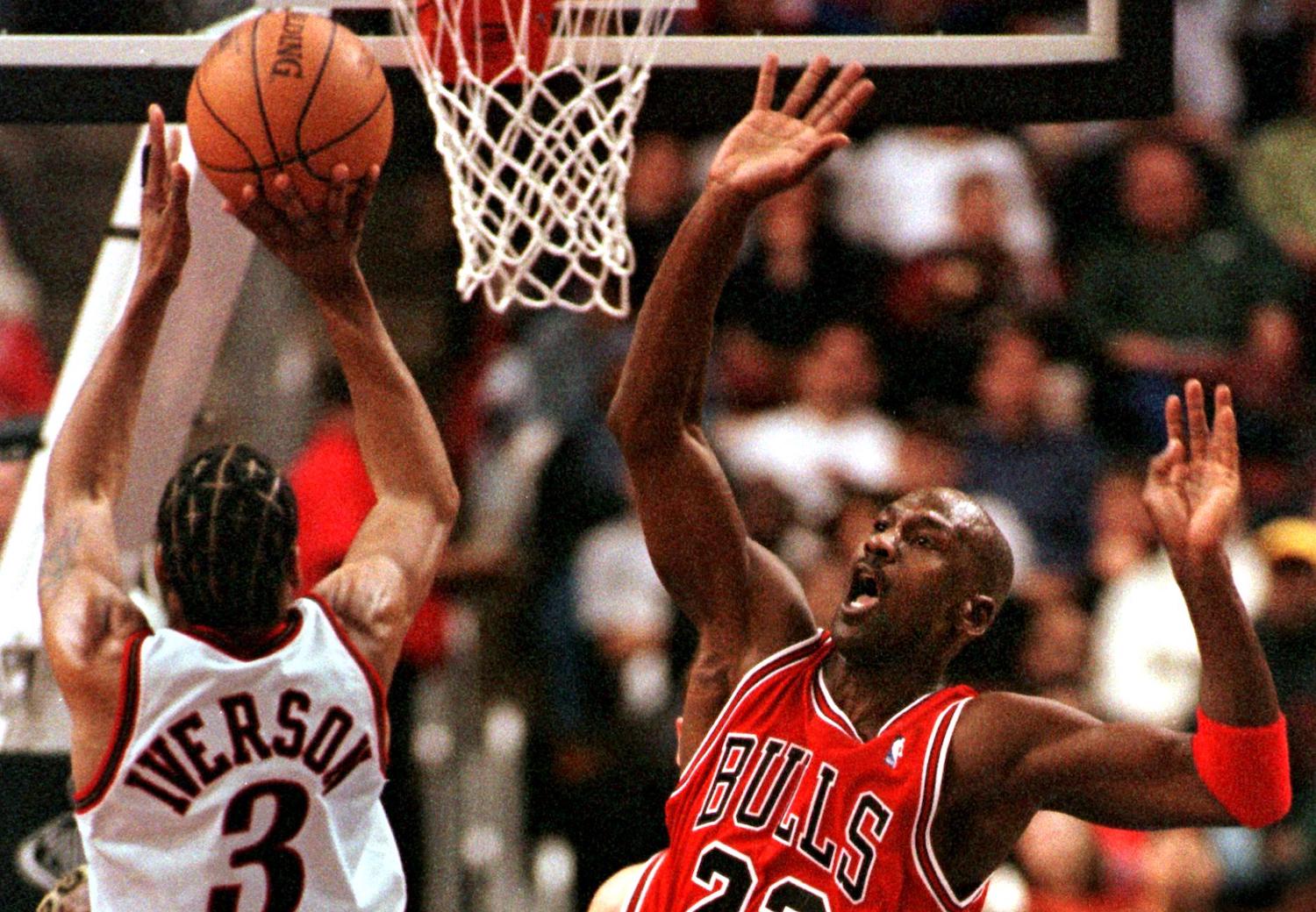 During his first NBA campaign, Allen Iverson showed enough talent to earn a place in the All-Star break's Rookie Challenge. While the guard wasn't getting to face off against Michael Jordan directly, it still put him in a position to cross paths with the Chicago Bulls star.
"The first time I ever talked to him was that year, playing in the Rookie Game," Iverson explained during a Complex Sports interview. "That was the year they did the Top-50 of all-time … when they had the jackets on and all that. And I saw him."
As someone who grew up in the 1980s, it's safe to assume that Iverson held Jordan in pretty high regard. His Airness, however, didn't exactly give the rookie a warm greeting.
I'll never forget it because he said, 'What's up, you little b*tch.' I'll never forget it. I looked at him like, 'Alright, man.'

Allen Iverson remembering his first meeting with Michael Jordan
Allen Iverson eventually got some revenge on His Airness
It goes without saying that Allen Iverson's first meeting with Michael Jordan didn't exactly go according to plan. AI, however, managed to get a bit of revenge on His Airness.
Later that year, Iverson captured the attention of the basketball world by beating Jordan with a silky crossover. MJ, it seems, filed that moment away in his memory bank.
"And then one time, I was telling [Jordan] how much I rocked with him," Iverson continued during the Complex Interview. "He was like, 'Man, you wasn't rocking with me like that cause you wouldn't have crossed me like that."
Not only did Allen Iverson break MJ's ankles that evening, but he went on to have quite the career. He spent 14 seasons in the association, taking home 2001 NBA MVP honors and earning a place in the Basketball Hall of Fame.
That's not bad for someone who Michael Jordan called a "little b*tch."
Stats courtesy of Basketball-Reference