Vince Carter Said He Was a Better Dunker Than Michael Jordan: 'You Can't Give MJ Everything'
When comparing Michael Jordan and Vince Carter, you're not likely to get much of a debate on who was the better overall player. When it comes to who was the better dunker, however, Carter would certainly get many more votes than he would in the other argument. And that includes one from himself as Carter once stated in an interview that while Jordan might take "everything else," he doesn't hold the title of the best dunker to come out of the University of North Carolina.
Vince Carter and Michael Jordan each won the NBA Slam Dunk Contest
There's a reason Michael Jordan was given the "Air" nickname back in the day as he truly was one of the greatest dunkers of all time, both in the Slam Dunk Contest and actual games in both college and the NBA. What some might not remember, however, is that Jordan actually lost the first Slam Dunk Contest he entered in the NBA as he was beaten by Dominique Wilkins as a rookie in 1985, although MJ still wowed with dunks like his "Rock the Baby" one-handed cradle reverse.
After missing the 1986 contest with a broken foot, Jordan won back-to-back titles in 1987 and 1988, finally getting revenge on Wilkins (who missed the '87 competition) in the latter by scoring a perfect 50 on his final attempt of the evening, which, of course, was his famous dunk from the free-throw line that gave him a two-point victory.
As there was no contest in Vince Carter's rookie season due to a lockout, he had to wait until his second season to make what would turn out to be his only appearance in the Slam Dunk Contest. And what an appearance it was. Many believe his performance in 2000 is the greatest in the competition's history and it's hard to argue that point.
Kicking things off with an incredible 360 windmill and closing things out with a never-before-seen elbow dunk (he was spectacular in between as well), Carter didn't even give anyone else a chance to win as he dazzled those in attendance and everyone watching at home.
Both were incredible in-game dunkers as well
While both had incredible performances in the Slam Dunk Contest, both were also incredible in-game dunkers as well. Neither had any problem taking on much bigger opponents at the rim and while Carter may not have had as many iconic dunks in NBA games as Jordan did (see MJ's oft-played highlight-reel jam over Patrick Ewing), he did have arguably the best in-game dunk of all time. And you likely know which one we're talking about.
On September 25, 2000, at the Summer Olympics in Sydney, Carter and Team USA were matched up against France in the preliminary round. With just over 16 minutes to play in the second half, VC stole a pass in the backcourt and made his way toward the rim. But standing in front of him was 7'2″ French center Frederic Weis, which turned out to be a non-issue as Carter simply jumped over him and forcefully stuffed the ball home, sending the crowd into a frenzy.
And Carter was plenty pumped himself as he screamed and pumped his fist, nearly knocking out Kevin Garnett in a truly memorable scene that will be replayed as long as the game of basketball exists.
Carter once stated he was a better dunker than Jordan, saying 'you can't give MJ everything'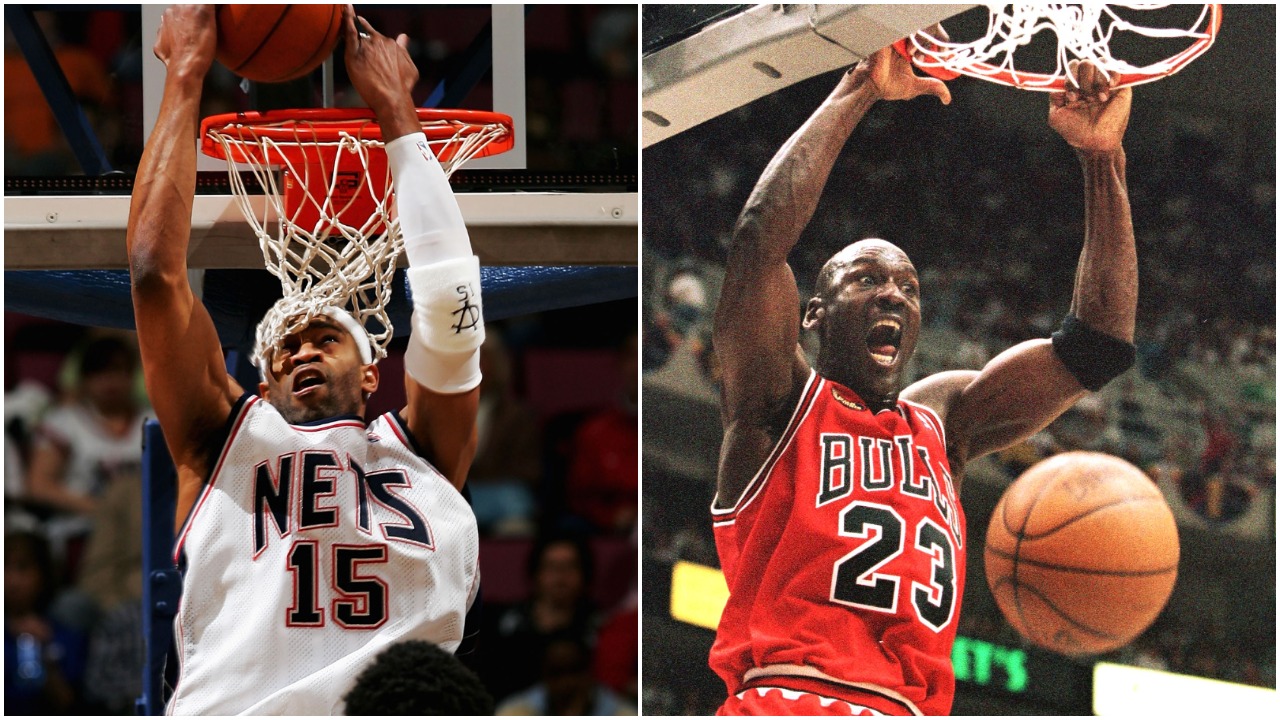 In a past interview on The Dan Patrick Show, Carter was asked who he would consider to be the greatest dunker to come out of North Carolina, which was essentially Patrick asking him, "Who's better, you or Jordan?" And this was his response:
"I'll take that. You can't give MJ everything. He's got everything else."

Vince Carter on if he or Michael Jordan is the best dunker from North Carolina
That's about a perfect answer, isn't it? When it comes to dunking, one could easily argue that Carter has no equal, which is the same argument a lot of people make on Jordan overall.
Carter continued by saying that while he may never have accomplished the things Jordan did, such as the six NBA titles or five NBA MVP awards, he made his mark on the game with that Slam Dunk Contest appearance, saying it "was my moment in time where I said I'm gonna shock the world and wild up the crowd for years to come," which it certainly did as that performance is still talked about two decades later.
At this time, we don't have word on whether or not Jordan took Carter's comments about being a better dunker personally.