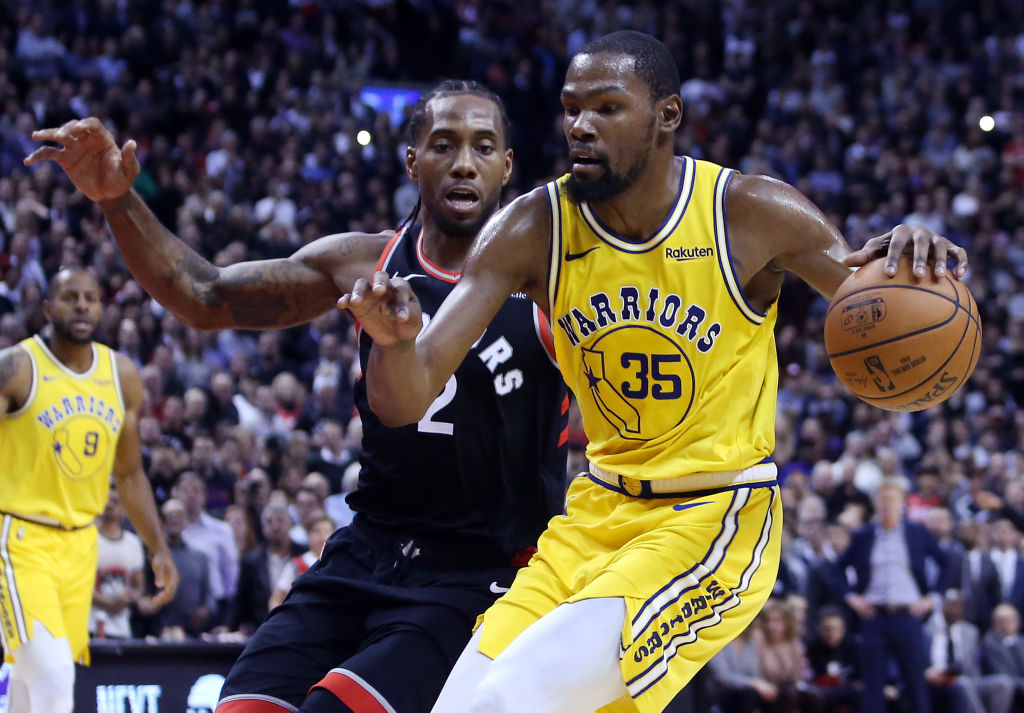 Golden State Warriors vs Toronto Raptors: An NBA Finals Preview
The 2019 NBA Finals features a dynasty (Golden State Warriors) vs. a relative upstart (Toronto Raptors). So who wins the series?
After the Toronto Raptors put up dominant performances in the last four games of the Eastern Conference Finals, they booked the franchise's first trip to the NBA Finals.

They get the opportunity to become NBA champions for the first time if they can dethrone the basketball dynasty in the Bay Area, the Golden State Warriors. This is the fifth straight season that Golden State is in the Finals, and they could capture their fourth championship in five seasons before potential roster changes during the offseason.

Kevin Durant's injury will be a major factor in this series, and we'll see how that factors into the matchup and determines who will hoist the Larry O'Brien trophy.

NBA Finals TV schedule
Game 1: Golden State at Toronto, Thursday, May 30, 9:00 p.m. ET, ABC
Game 2: Golden State at Toronto, Sunday, June 2, 8:00 p.m. ET, ABC
Game 3: Toronto at Golden State, Wednesday, June 5, 9:00 p.m. ET, ABC
Game 4: Toronto at Golden State, Friday, June 7, 9:00 p.m. ET, ABC
Game 5 (if necessary): Golden State at Toronto, Monday, June 10, 9:00 p.m. ET, ABC
Game 6 (if necessary): Toronto at Golden State, Thursday, June 13, 9:00 PM EST, ABC
Game 7 (if necessary): Golden State at Toronto, Sunday, June 16, 8:00 p.m. ET, ABC
Regular season head to head
The Warriors and Raptors faced off two times this season, and Toronto won both. The Raptors edged the Warriors 131-128 in overtime in Canada in late November, then went to Oakland two weeks later and won 113-93.
Kevin Durant scored 51 points in the first meeting, but all five Toronto starters reached double figures in the win.
Kawhi Leonard didn't play in the rematch, but once again all five Toronto starters scored in double figures in the blowout win.
Starting five
Trading for Kawhi Leonard has proven to be an incredible improvement over former star DeMar DeRozan. DeRozan was highly regarded around the city, but he could not help the team get over the hump the same way Leonard has.
The Raptors got a determined Kawhi Leonard, and he has played like an MVP this season. Kyle Lowry continues to be playoff Kyle Lowry, and he's averaging just 14 points and six assists per game during this run. We also can't forget about the league's probable Most Improved Player in Pascal Siakam, who can put up 20 points per game on any night.

As we head over to the Warriors starting lineup, their success could depend on how healthy Kevin Durant will be for the series. Golden State coach Steve Kerr gave Durant some high praise when he went on a tear early in the postseason. While watching the Warriors revert to a pre-Durant style of play with their ball movement and constant switches and screens has been fun, there's just something great about knowing you can give the ball to a player in the fourth quarter and he can take it over.

The back-to-back NBA Finals MVP is still dealing with a calf injury that saw him miss the Western Conference Finals and the last two games of the semifinals. If Durant is healthy, it would make things easier on Stephen Curry and Klay Thompson on the perimeter. If he misses the first game or two, then look for Golden State to ask Draymond Green to continue his excellent postseason play. Green has taken his game to another level and will be one of the key reasons the Warriors have a good shot at winning the championship.

Edge: Warriors

Bench depth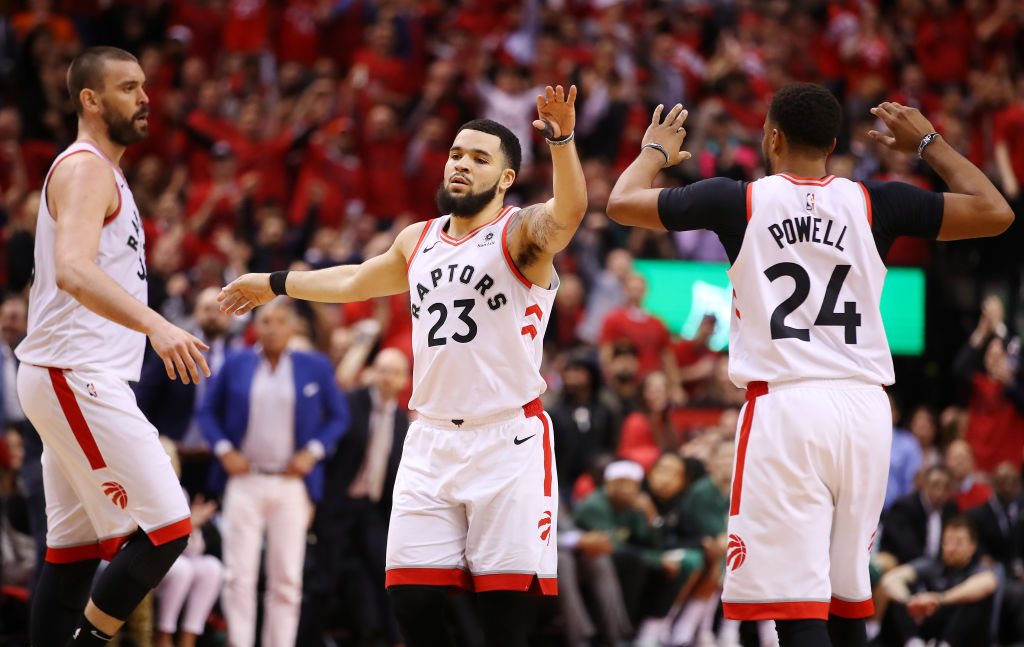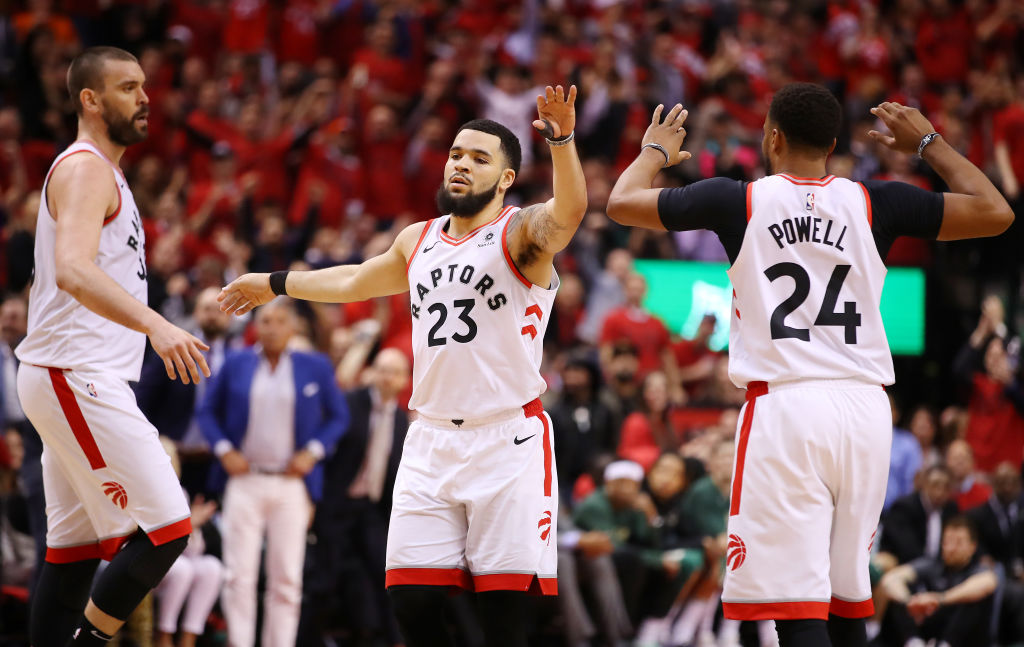 The Raptors' bench star is Fred VanVleet, who put up 21 points in a Game 5 victory over Milwaukee. He is a sneaky threat from deep after hitting seven 3-pointers in that game, and he is a reliable option from the second unit. VanVleet is a potential Sixth Man of the Year Award winner, which is something the Warriors don't have on their bench,

The Warriors bench has looked the same pretty much for the last three seasons and is headlined by Andre Iguodala. The former NBA finals MVP can still provide quality minutes from placing him into the death lineup in place of Kevin Durant.

Edge: Warriors

Coaching
Toronto head coach Nick Nurse is in his first year, and while many fans and players were outraged that Toronto fired Dwane Casey after leading the Raptors to the No. 1 seed last year, it's safe to say Nurse was the best hire for the job. He was able to get Kawhi Leonard back to the level of play we had been accustomed to from his time in San Antonio.

Nurse also developed a great game plan to shut down the Milwaukee Bucks star Giannis Antetokounmpo in the Eastern Conference Finals. However, he is untested in a series of this magnitude, and he's going up against one of the best coaches in the NBA.

Steve Kerr took a good Warriors team and turned them into a dynasty. He's coached MVPs, All-NBA players, and countless All-Stars. The Warriors may grow tired of hearing him at times, but there's no doubt that if you need a coach to win you a game, then Kerr is on the shortlist of ones you would want to pick.

Edge: Warriors
Who wins the NBA Finals?
If Kevin Durant is healthy, the Warriors make it relatively easy and win in five games. Before his calf injury, Durant averaged more than 30 points per game in the playoffs, and he looked primed to win another NBA Finals MVP. If Durant misses the first two games, we still think the Warriors will win, but it will be in either six or seven games instead.

Edge: Warriors

Are you ready for the Finals?
The NBA Finals mark the climax of the NBA season before fans turn their attention to the draft, free agency, and NBA summer league. What kind of sendoff will this series be? The only time a Finals opponent pushed the Warriors to seven games was when the Cavalier won it all in 2016.