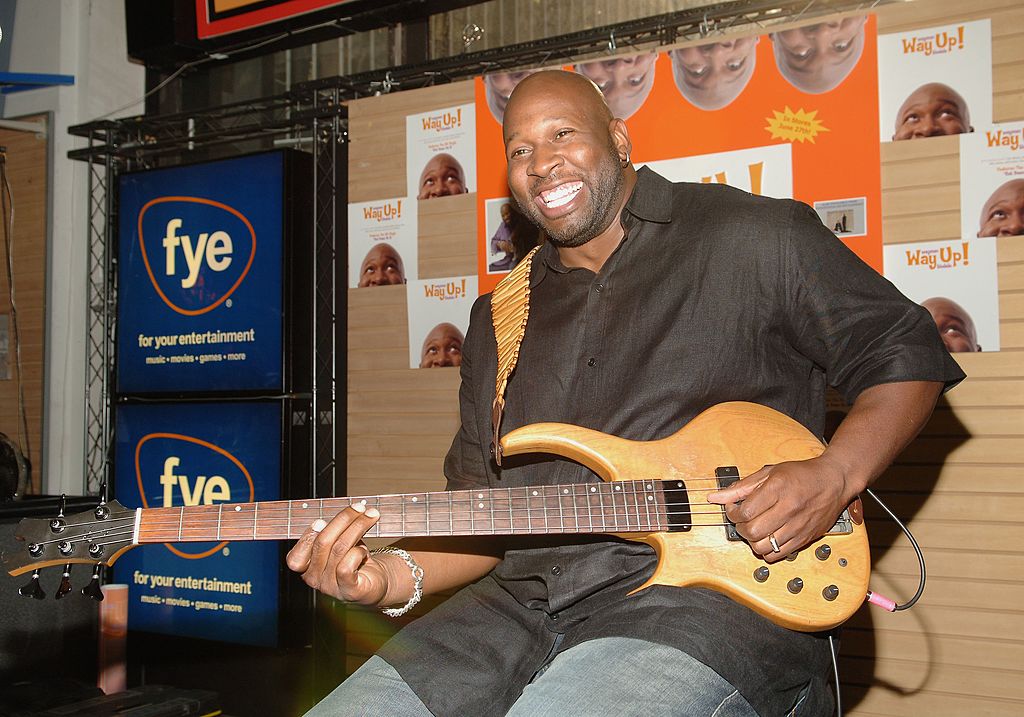 Wayman Tisdale's Smile Shined Through Basketball, Music, and Even the Cancer That Took Him at Age 44
Former NBA player Wayman Tisdale lived life to its fullest before cancer took him away at the young age of 44.
Wayman Tisdale accomplished more in his 44 years of life than many could possibly do in two lifetimes. Tisdale, a 6-foot-9 forward was the second overall pick in the 1985 NBA draft, taken by the Indiana Pacers. He is a member of the College Basketball Hall of Fame after a standout career at Oklahoma. After his playing days were over, Tisdale launched a music career, releasing eight jazz albums with one climbing to No. 1 on Billboard's contemporary jazz chart. Tisdale's life, however, was cut short in 2009 when he died from cancer.
Wayman Tisdale's basketball career
Wayman Tisdale was a three-time Big Eight Conference Player of the Year at Oklahoma. Tisdale dominated in his three seasons as a member of the Sooners, averaging 25.6 points and 10.1 rebounds for his career. In all three years, he was a consensus first-team All-American. His No. 23 jersey is retired by the school.
In the 1985 NBA draft, Tisdale was the second player taken. He was selected by the Indiana Pacers after the New York Knicks took Georgetown's Patrick Ewing. For three-plus seasons with the Pacers, Tisdale was very solid, averaging 15.2 points and 6.4 rebounds per game. During the 1988-89 season, Tisdale was traded to the Sacramento Kings.
With the Kings, Tisdale spent six seasons and had his best years. His best season came in his first fill season with the team when he averaged a career-high 22.3 points and pulled down 7.5 rebounds per game. Tisdale was never an NBA All-Star but was a better-than-average player during his 12-year career. He finished with career averages of 15.3 points and 6.1 points per game.
Tisdale's love for music
Wayman Tisdale's first love was not basketball. He loved music. When he was young, he began playing bass guitar at his father's church and that continued through his days of playing basketball. Even before his NBA days were over, Tisdale had already begun his jazz recording career, beginning in 1995.
Singer and actor Jamie Foxx, in an interview with Rolling Stone in 2005, was asked what singers he would like to back him up if he could choose his own group. "Wow, that would be incredible," Foxx said. "Sheila E on the drums, Herbie Hancock on the keys, Earth, Wind and Fire singing backup vocals, Prince and Slash on guitar, Randy Jackson on percussion, Wayman Tisdale on bass, Kenny G on the sax with Branford Marsalis, and Wynton Marsalis on trumpet."
Tisdale recorded eight albums. His 2001 hit Face to Face climbed all the way to No. 1 on Billboard's contemporary jazz chart. His final release, titled Rebound, was written after he was diagnosed with cancer back in 2007.
Tisdale's ever-present smile
Even when Wayman Tisdale found out he had cancer in 2007, his bright smile that was always present never left him. Tisdale fell down some stairs at his house, broke his leg, and during X-rays, doctors found cancer in the leg. "I told myself, whatever this is, it ain't gonna take me out," Tisdale told ESPN in 2008. "I never ran away from a war, never shied away from a player, so this isn't gonna scare me away. I knew that God would take care of me."
He never stopped smiling when the doctors had to amputate his right leg.
"Cancer might've taken my leg, but it can't take my smile," he said. Tisdale may have been known for his basketball. Maybe he was known for his music. Anyone who ever saw Tisdale always noticed that ear-to-ear smile.
Wayman Tisdale died on May 15, 2009. Before he died, Tisdale said he was blessed with something special and it wasn't shooting a basketball or making music. "I've been blessed with this great gift, but I think it's not music or basketball," Tisdale said. "My greatest gift is to make other people feel better. What better tool than to have gone through something like this? If you see me smile, you see the genuine love. That's me."