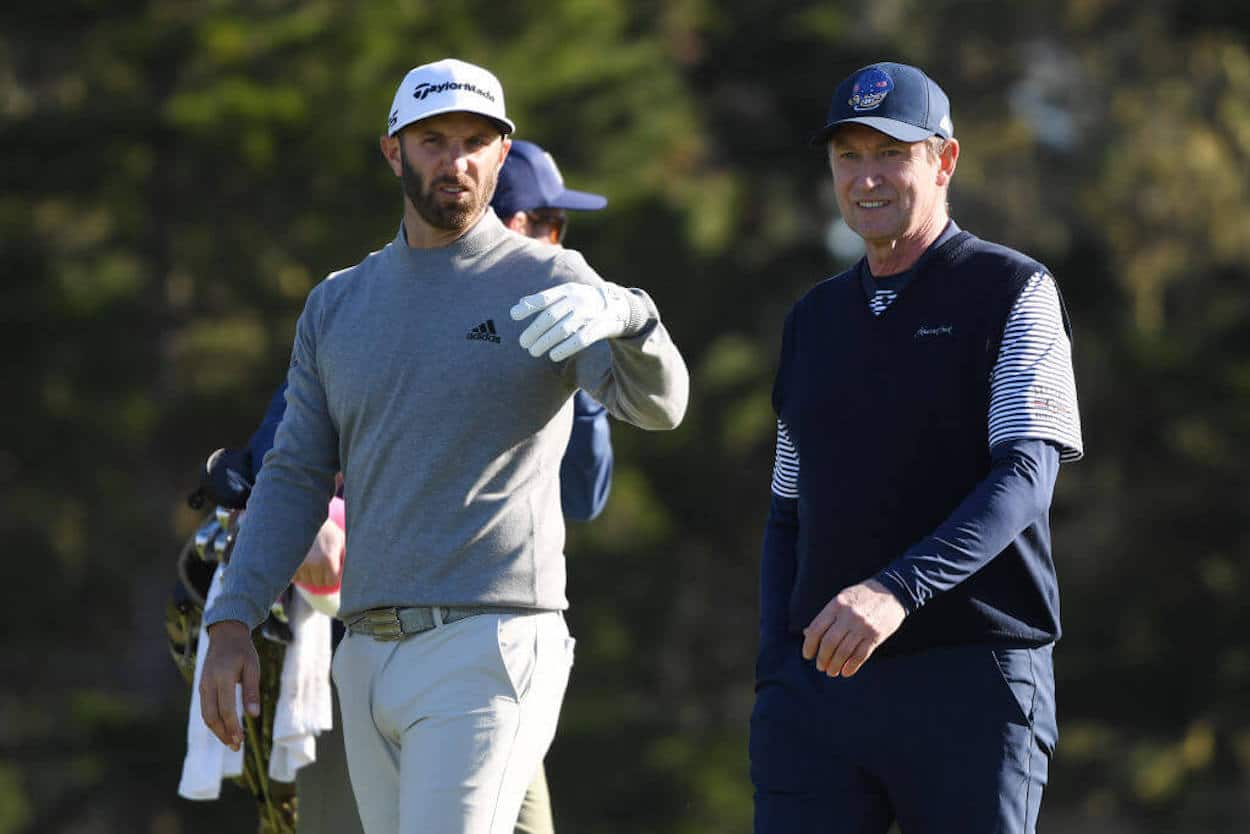 Wayne Gretzky Has Given Dustin Johnson Some Advice, but Don't Call Him a 'DJ Whisperer'
While Wayne Gretzky has some perspective to share with Dustin Johnson, don't expect him to be secretly coaching his son-in-law behind the scenes.
For better or worse, most NHL players don't have the highest profile. Guys like Steven Stamkos and Cale Markar may be known by hockey fans, but they probably wouldn't be recognized away from the rink. Wayne Gretzky, however, is the exception to that rule. The Great One is a legitimate celebrity, and meeting him would be a pretty cool experience for any sports fan.
Dustin Johnson has done more than meet No. 99, though. Gretzky is his father-in-law, and the two have understandably shared more than a few moments together over the years.
And while it might be easy to imagine the living hockey legend giving Johnson all sorts of professional advice, that apparently isn't the case. Gretzky has dished out some perspective on occasion, but, by and large, he insists that he's not a "DJ whisperer." Instead, they're simply friends.
Let's hear what the Great One has to say.
Don't expect Wayne Gretzky to be secretly coaching Dustin Johnson behind the scenes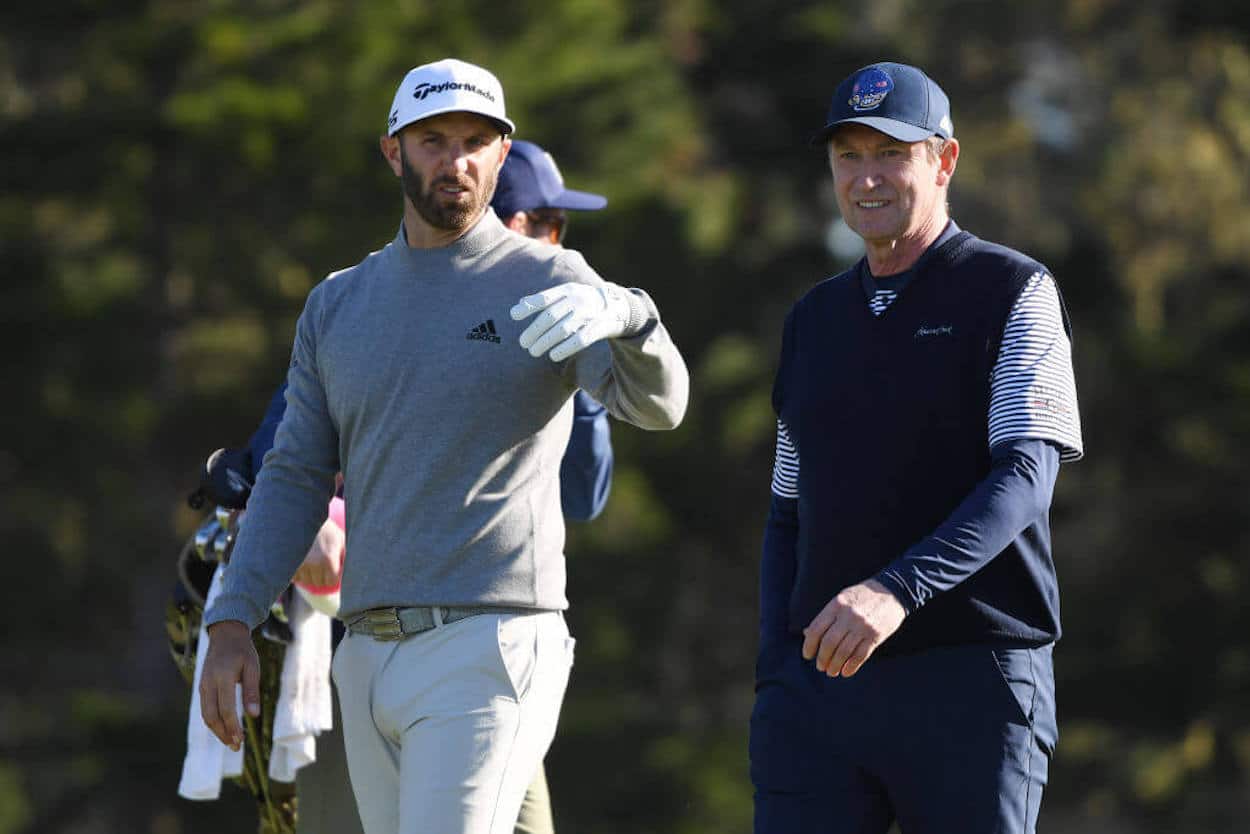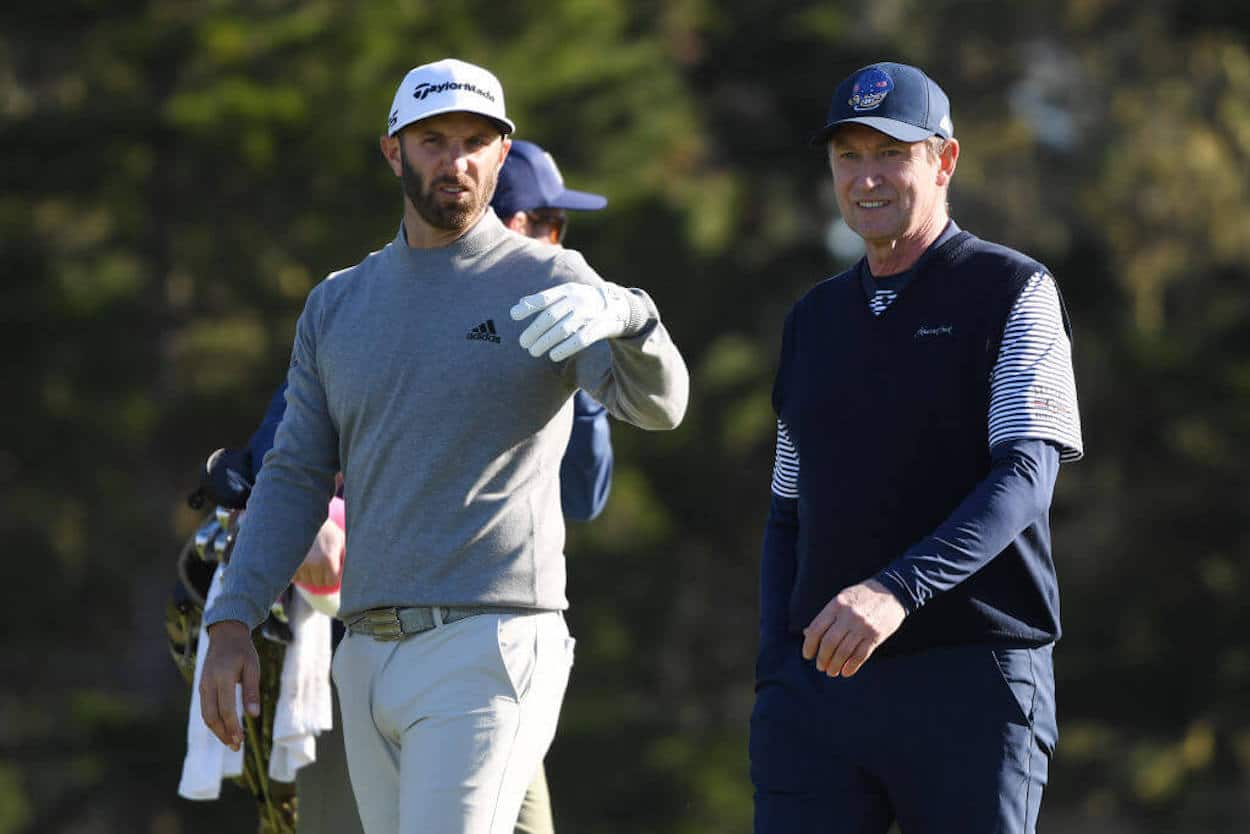 Given that Wayne Gretzky essentially rewrote the NHL record books during his time on the ice, it's reasonable to assume that he has gained a valuable perspective on handling fame, fortune, and pressure. And while it's also easy to imagine the living legend passing those insights onto Dustin Johnson — the golfer has married Paulina Gretzky, Wayne's daughter — that apparently isn't the case.
In 2021, Steve DiMeglio of USA Today's Golfweek penned a seven-part series about Johnson. Within the first few paragraphs of part three, No. 99 had made his relationship with the 2020 Masters champ clear.
"I am not the DJ Whisperer. I'm not some guru or anything like that for Dustin," Gretzky explained. "People think I give him advice all the time. I don't. I'm more like a grandfather, a father-in-law, a big brother."
That doesn't mean that the pair sit in awkward silence whenever they're together, though. If we take the former Edmonton Oiler at his word, they're able to discuss completely normal topics.
We just talk about the family, the kids, scheduling, TV shows, sports, just things most people talk about," No. 99 continued. "We're friends."
And while that might crush some sports fans' dreams — it would be pretty cool to imagine Gretzky walking Johnson through his NHL career and sharing some secret knowledge about becoming a legend — it sounds like a rather healthy relationship.
With that being said, though, we do know that Gretzky has provided Johnson with some small pieces of guidance
Within the world of hockey, players are generally taught to be modest and avoid taking too much credit for their accomplishments. In retirement, Gretzky could be still be following that training. Despite his insistence that he isn't a Dustin Johnson whisperer, we do know that the Great One has helped point his son-in-law in the right direction.
"I've encouraged him to raise the bar, sure, to set higher goals, and I've talked to him about the commitment to pay the price to be the best," Gretzky said. "He's in his own world in golf and I'm not a golfer by any means, and he was top 10 before we ever met. I've never given him a lesson plan."
To further drive that point home, let's consider some of DiMeglio's previous reporting. In 2018, he wrote the following:
Johnson has credited Gretzky's guidance and advice for his ascension up the world rankings. Johnson often picked the NHL icon's brain and said Gretzky's support and belief did wonders for his confidence. The two quickly became regular golf partners and talked for hours about how to handle sports fame, pressure, and expectations, with Gretzky, in his mentoring ways, always stressing to never settle.

Steve DiMeglio, USA Today
Or, if you prefer No. 99's own words, he told GOLF Magazine in 2016 that Johnson had to be a bit more like Tiger Woods and explained that he'd been sharing an athlete's perspective on what it meant to be hungry for more.
"If I scored 50 goals in a season, I wanted 70 the next year. If I got 70, I wanted 90. Never, ever settle," the Great One explained at the time. "Dustin just won three tournaments and a major. That's a great year. Now go win five tournaments and two majors. I want him to see that only he can put limits on himself."
So, as the cliche says, the answer is somewhere between two extremes. Does Gretzky pull Dustin Johnson aside for secret, day-long coaching sessions ahead of tournaments? No, but that doesn't mean he can't give his son-in-law a bit of perspective from time to time.