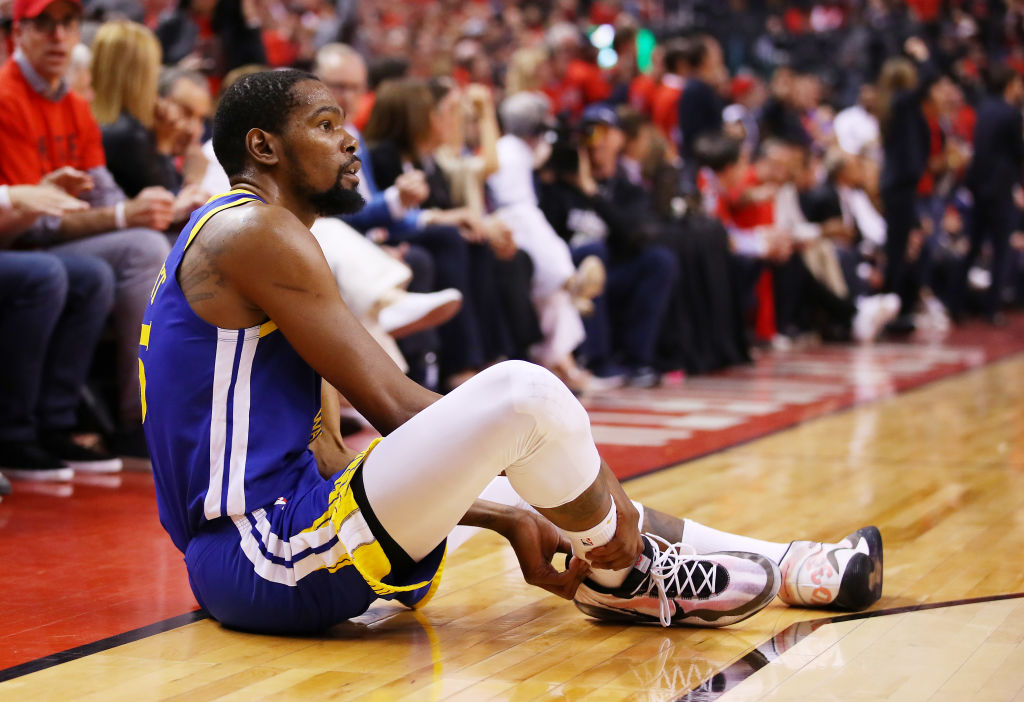 What Are the Most Common Injuries in the NBA?
The NBA is one of the most competitive and fast paced sports leagues in the world. So it's no surprise a fair amount of injuries happen.
If you watch an NBA game, you are bound to see players get injured. We have seen some devastating injuries over the last couple of seasons, but the common ones are the ones that can drag a team's efficiency down.
Today we will look at the five most common injuries NBA players face when they step on the court.
Ankle injuries
A player's ankles are probably the most used part of their body during an NBA game. The constant starting, stopping, and changing directions can leave a lot of wear and tear on ankles.
This can lead to low and high ankle sprains, which generally can keep a player out of action for a few weeks. If it continues to linger, then the timetable is normally extended by team officials.
Sometimes these injuries can happen through nefarious means, such as a player putting his foot under the legs of a jump shooter. 
Knee injuries
Unfortunately, we have seen knee injuries devastate players' careers over the last couple of seasons. These can range from mild knee sprains to torn ACLs and MCLs. A player falling to the ground with a torn ACL is their worst nightmare, as the timetable for return is normally anywhere between six months to a year. 
Most recently, we saw Warriors superstar Klay Thompson go down with a torn ACL in Game 6 of the NBA Finals, and fans shouldn't expect him back until the end of March at the earliest.
A player picking up a Grade 1 or Grade 2 knee sprain will normally recover within two to four weeks if rehab goes smoothly.
Finger injuries
Players are routinely poking for the ball or trying to swat it out of an opposing players' hand. This can lead to jammed and broken fingers or sprained ligaments. Depending on the severity of the break and whether it is on a players' shooting hand, the recovery time for a broken finger could be between two and eight weeks.
If it's simply a sprain, the timetable is only a week or two.
Facial injuries
Elbows get thrown, players throw their bodies around in the paint, and hustle plays can all lead to facial injuries. The injuries can range from busted lips, teeth knocked out, or stitches from a cut. Most recently, we saw Houston Rockets guard James Harden get poked in the eye during a playoff game, severely impairing his vision. 
Harden would deal with the issue for a few games before fully healing from the injury.
Foot fractures
Just like ankle injuries, foot fractures are all too common in the NBA. When a player goes down with a broken foot, the general timetable for their return ranges from four to six weeks.
Most teams will gradually ease a player back into the lineup to avoid another serious injury. Over a 17-year study, nearly 1% of all injuries were foot fractures, which ranked 24th, but the total amount of games missed (2,169) was sixth-highest.
Notable injured players heading into the start of the season
Key players that won't be suiting up for their respective teams at the start of the 2019-20 season include Klay Thompson, Kevin Durant (torn Achilles) and John Wall (torn Achilles). Durant and Wall have both dealt with multiple injuries throughout their respective careers, and it will be interesting to see how they play once they return to an NBA arena.