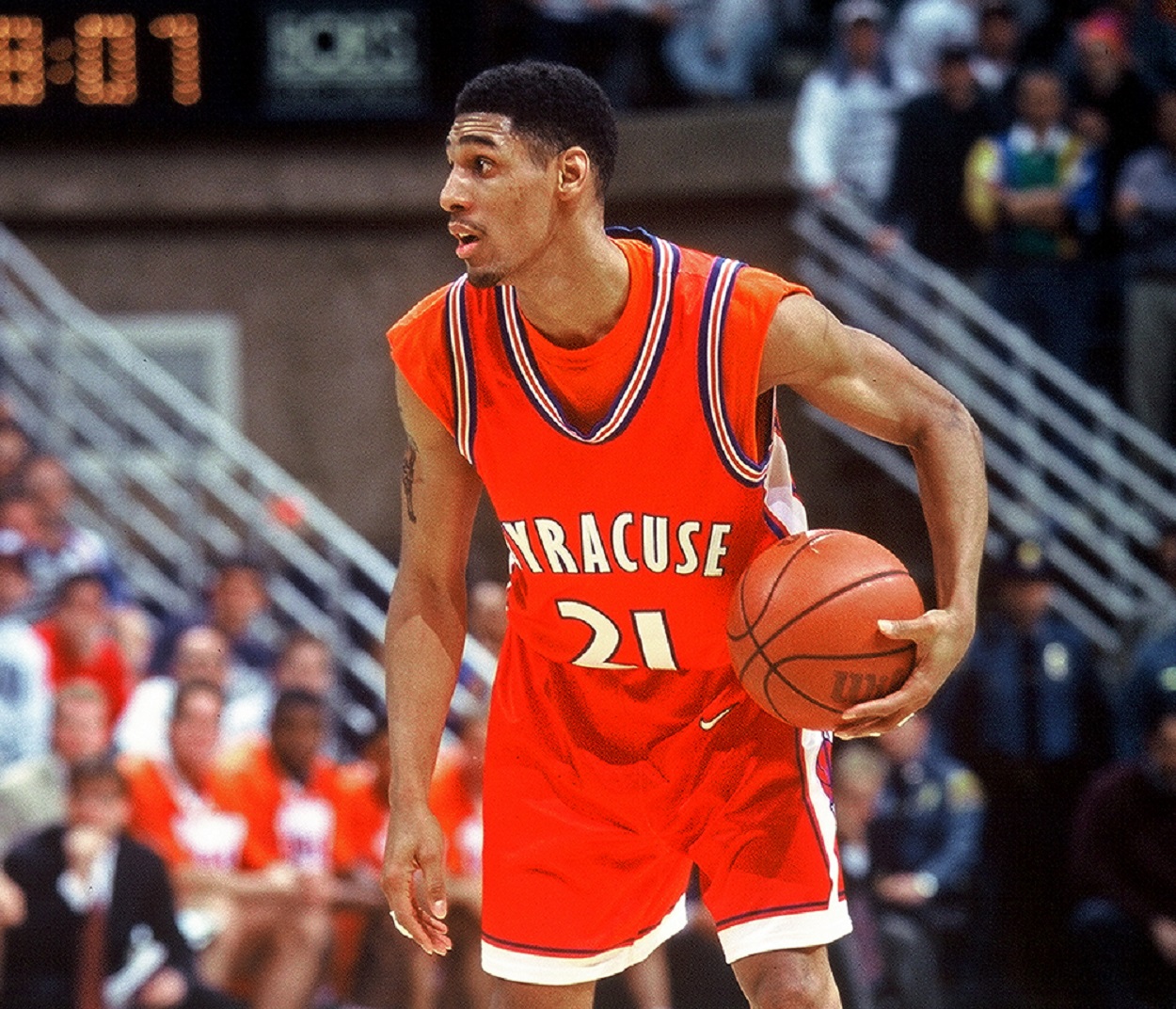 What Happened to Former Syracuse Superstar Shooting Guard Lawrence Moten?
A look back on the basketball career of Lawrence Moten and where the former Syracuse star is today.
As it happens with so many elite college basketball players, former Syracuse superstar shooting guard Lawrence Moten was one of those guys who simply didn't find success in the NBA. And that's certainly not meant to be an insult as the Washington, D.C. native truly possessed a ton of talent and set a number of school records for the Orange in the early-to-mid 1990s. But things just didn't work out at the next level and he was out of the NBA after just three seasons and finished his playing career bouncing around different leagues before finally hanging up his sneakers in the mid-2000s.
So what is Lawrence Moten up to these days?
Lawrence Moten is the all-time leading scorer in Syracuse history
After splitting his prep career between Archbishop Carroll High School in Washington, D.C. and the New Hampton School in New Hampshire, Moten began his career at Syracuse in the fall of 1991 and started 30 of 32 games for Jim Boeheim as a true freshman. He was the second-leading scorer on the team, averaging 18.2 points per game, earning him Big East Rookie of the Year honors as well as a Third Team All-Big East selection.
The following season, Moten's scoring average dipped slightly to 17.9 points per game but he still earned First Team All-Big East honors, which he did again as a junior in helping Syracuse to the Sweet 16, averaging 21.5 points per game. He earned his third consecutive First Team All-Big East selection as a senior in 1994-95, averaging 19.6 points per game, and was also named a Third Team All-American.
Moten ended his career as Syracuse's all-time leading scorer with 2,334 points, a record that stands to this very day. He also held the record for the most points scored in Big East games with 1,405, a mark that stood for nearly a quarter-century until it was broken in February 2020 by Marquette's Markus Howard.
He played just three seasons in the NBA
Moten was taken in the second round of the 1995 NBA draft with the 36th overall pick by the then-Vancouver Grizzlies, just the franchise's second-ever pick behind first-round selection "Big Country" Bryant Reeves.
Moten appeared in just 44 games for the Grizz as a rookie, starting three of them, and averaged just 6.6 points. He upped that total the following year to 6.7, starting 18 of the 67 games in which he appeared, but his shooting percentages went the other direction. He shot 38.8% from the floor in 1996-97, down from 45.3% his rookie season, 29.1% from the 3-point line, down from 32.7%, and 64.6% from the foul line, down from 65.3%. These aren't exactly the numbers you want to see from a shooting guard.
Without an NBA team to play for at the start of the 1997-98 season, Moten began the year playing in Greece before signing with the La Crosse Bobcats of the CBA. In February 1998, he signed a 10-day contract with the Washington Wizards but averaged just over one point per game in eight appearances while shooting a dismal 23.1% from the floor and wasn't offered another.
He then returned to the CBA for the 1998-99 season, playing for the Idaho Stampede, averaging 13.3 points in 26 games. Moten later played for the Maryland Mustangs of the USBL, the Saskatchewan Hawks of the CBA, the Mobile Revelers of the NBDL, and the Maryland Nighthawks of the ABA.
Moten later became a coach and is now back in Syracuse serving as a mentor to children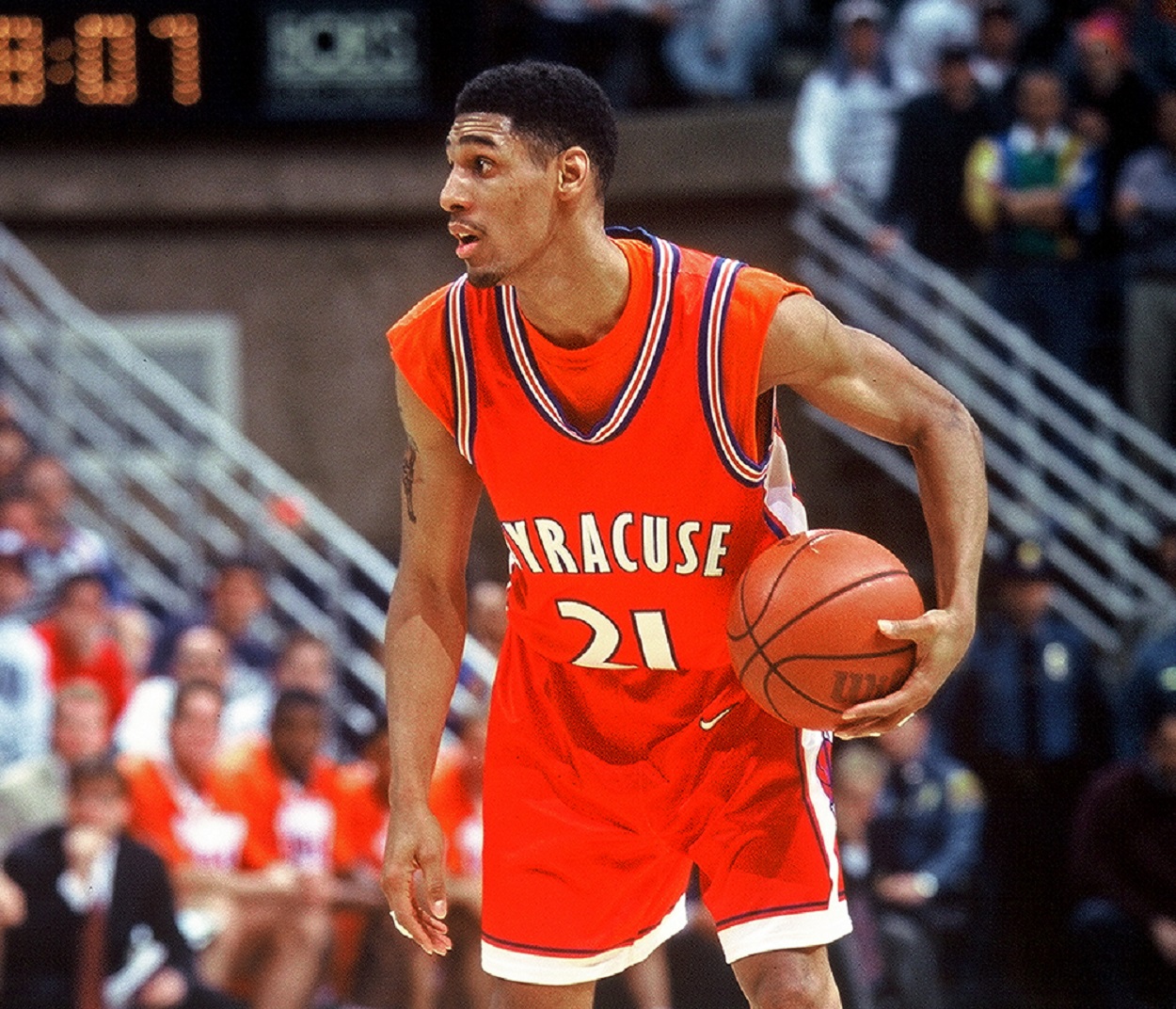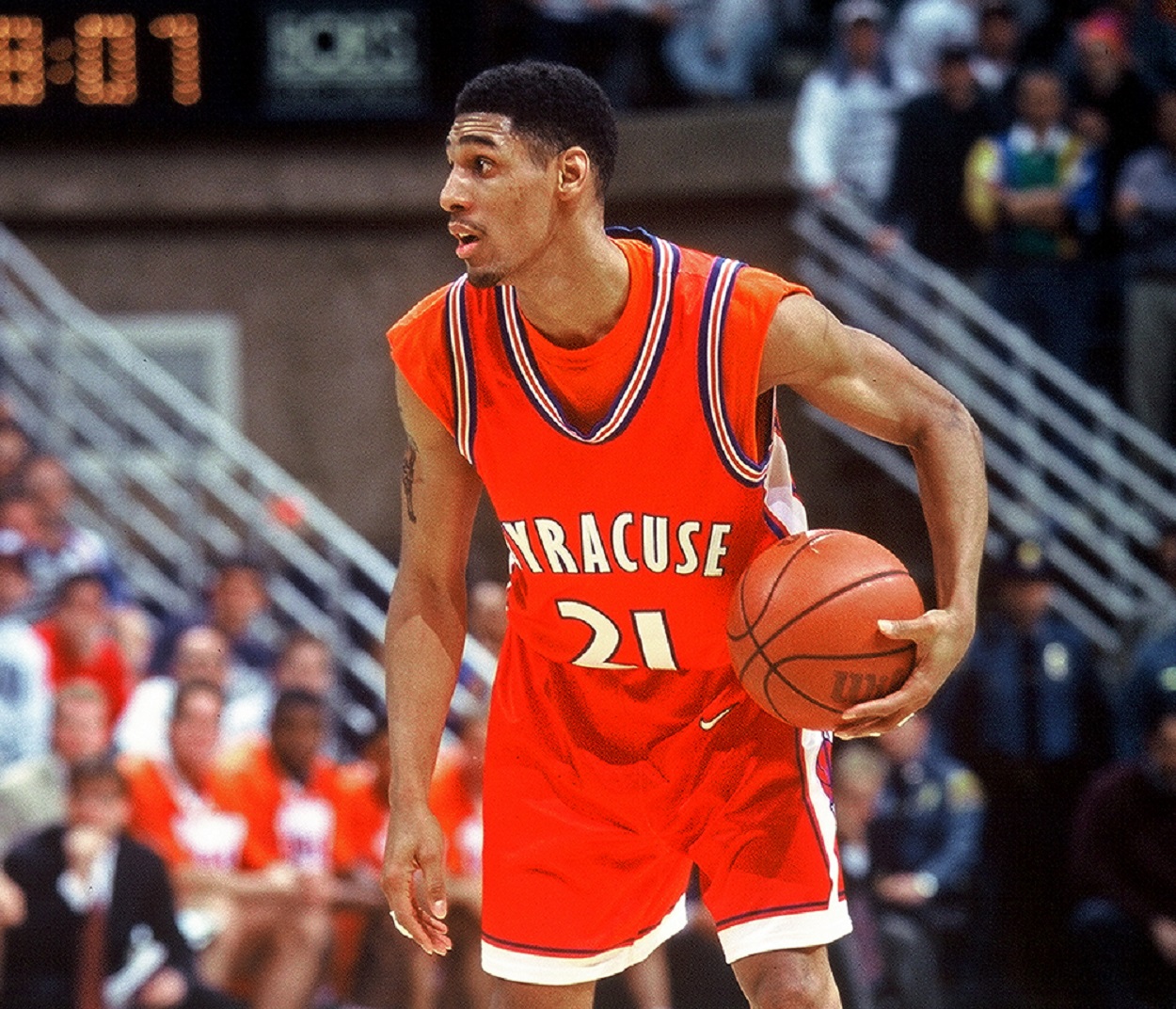 After his playing career ended in 2006, Moten began his career on the other side of the ball, serving as the vice president of player development for the Nighthawks, also becoming the team's head coach shortly following the franchise's move to the now-defunct Premier Basketball League in 2008. He also later coached the PBL's Rochester Razorsharks, helping the team to a 17-1 record and a championship in 2014.
In 2015, Moten was offered and accepted an assistant coaching position at Division III Gallaudet University in his hometown of Washington, D.C., a private institution for deaf and hard-of-hearing students, while also serving as a fill-in physical education teacher for elementary schools in Prince George's County, Maryland.
These days, Moten is back in Syracuse working with middle-school kids, not just in a basketball sense but with life in general. Working for CCSI Coordinated Care Services as a mentoring specialist, the now-49-year-old splits his time between the Boys & Girls Club and Clary Middle School, not only offering counsel and guidance but also often taking on the role of a father figure, a role far more important than any he ever played on a basketball court.
Stats courtesy of Sports Reference