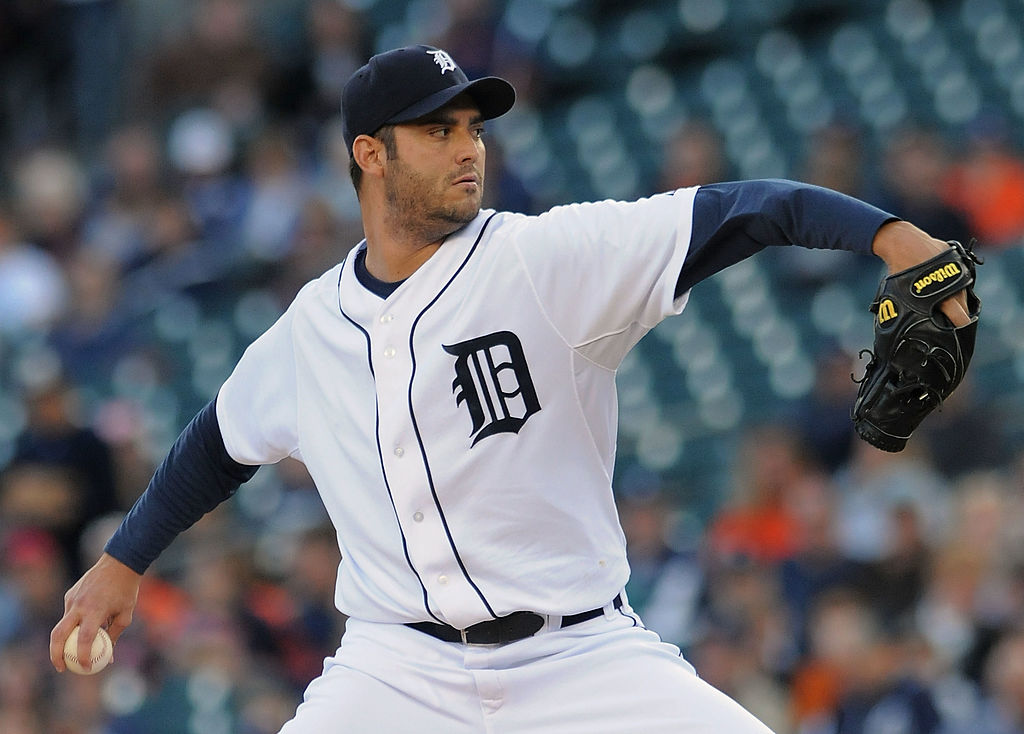 What Happened to Armando Galarraga After He Was Robbed of a Perfect Game 10 Years Ago?
Former Detroit Tigers pitcher Armando Galarraga was robbed of a perfect game 10 years ago today. What happened to him after that fateful day?
June 2 is a date that will forever haunt Armando Galarraga. Not because of a family tragedy or an embarrassing moment when he was a teenager. June 2 is the date 10 years ago Galarraga was destined to etch his name in the MLB record books, but, in the cruelest way possible, he couldn't. After pitching a perfect game through 26 at-bats, Galarraga got the final batter of the game to ground out. But somehow, someway, he was ruled safe at first base.
Galarraga should be one of the 23 pitchers in MLB history to have thrown a perfect game, but instead, he's a largely forgotten name today. What happened to the most unlucky pitcher in baseball history after that fateful day?
Armando Galarraga threw a near-perfect game 10 years ago, today
June 2, 2010, should be Armando Galarraga's most memorable day. Instead, it's a source of pain and a whole lot of what-ifs. Through 8 2/3 innings, Galarraga was perfect. He had thrown just over 80 pitches to this point. The Cleveland Indians didn't have a single base runner all day. No hits, no walks, nothing.
As Jason Donald stepped to the plate with two outs in the ninth inning, reality set in. Galarraga was one out away from history. The pressure didn't faze the Tigers starter in the slightest, though.
On a 1-1 pitch, Donald poked a grounder to Miguel Cabrera on the right side of the infield. Galarraga ranged over to first base to cover the bag, and Cabrera fired a strike. As he caught the ball with his foot on the base, Galarraga rejoiced. That was until he turned around and saw umpire Jim Joyce signal Donald safe.
Even Donald himself was shocked. He knew he was out, as did everyone in the ballpark that day. Everyone except Jim Joyce. Galarraga got Trevor Crowe to ground out a few pitches later, but the damage had already been done.
What happened to Galarraga after the infamous game?
Armando Galarraga returned to the field seven days later against the Chicago White Sox. This game went a bit differently, as the righty gave up seven hits and two runs. The Tigers went on to win, 7-2, but Galarraga didn't earn a decision.
Galarraga finished the year with a 4.49 ERA and a 4-9 record. It was an unremarkable season with a remarkable blunder that cost him a place in baseball history forever.
After the 2010 season, Galarraga signed with the Arizona Diamondbacks. He started just eight games and went 3-4 with a 5.91 ERA. It only got worse from there. Galarraga finished his MLB career with the Houston Astros in 2012, where he went 0-4 in five starts and recorded a 6.75 ERA.
From almost perfect to out of the league in less than two years, Galarraga's swift decline shouldn't be how he's remembered today.
Where is Armando Galarraga today?
After his failed stint with the Astros, Galarraga bounced around in the minor league system. He went from the Reds to the Rockies and finally the Rangers before calling it quits in 2014.
Galarraga moved to the Chinese Professional Baseball League shorty after. He played in 10 games for the Chinatrust Brother Elephants before changing leagues again. Galarraga finished his professional career in 2015 with the Pericos de Puebla of the Mexican League.
In retirement, Galarraga has decided to give back to the youth. He started his own training program called the Galarraga Training Academy in Austin, Tx., and he works as a full-time baseball coach and instructor.
Although the history books might not say so, Galarraga was perfect on June 2. Today should be a day of celebration for the former pitcher, but instead, it's a haunting memory.
All stats courtesy of Baseball Reference