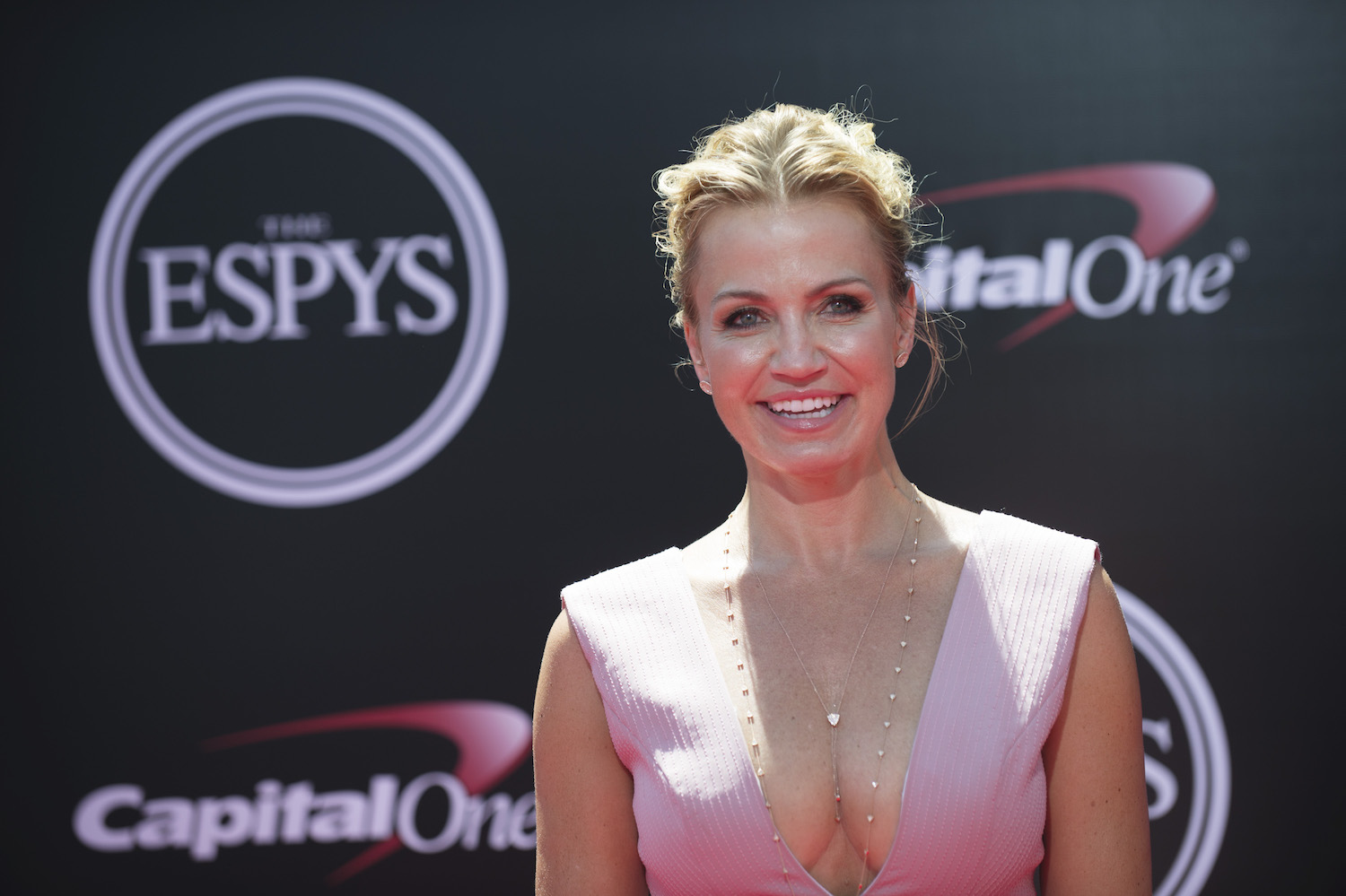 What Happened to ESPN's Michelle Beadle?
Michelle Beadle was a popular personality at ESPN covering the NBA and other general topics. She quietly left the network in 2019. What happened to Michelle Beadle?
For years Michelle Beadle was a familiar face on a variety of shows at the Worldwide Leader in Sports. However, during her time at ESPN, she encountered more than a few controversies. Things appeared to be heading in the wrong direction for Beadle last year when she was replaced on NBA Countdown. Months later, she was gone from ESPN. What happened to Michelle Beadle?  
Michelle Beadle before she worked at ESPN 
Michelle Beadle started her sports career as an intern with the San Antonio Spurs. She landed her first sports reporting gig with the regional Fox Sports Net before landing a job with TNN as a sideline reporter for the Professional Bull Rider's Series. 
During the next several years, Beadle cross-trained in a variety of sports. She worked for Major League Baseball for a short time, then worked with the YES Network and covered the New Jersey Nets. She also worked for NFL Films and their Under the Helmet show. While Beadle enjoyed working in sports, she branched out into other areas.
Michelle Beadle also worked for the Travel Channel, The Discovery Channel, and she became a regular contributor for People.com, where she appeared on The Today Show, Entertainment Tonight, Access Hollywood, and Extra.
Michelle Beadle starts at ESPN, leaves, then returns
In 2009, after working as the SportsCenter anchor for ESPN Radio's The Michael Kay Show in New York, Michelle Beadle joined the ESPN television network as a co-host with Colin Cowherd on SportsNation. During her first stint in Bristol, she also worked with Marcellus Wiley on Winners Bracket on ABC, and substituted as a guest host on the Mike and Mike in the Morning Show. 
Beadle remained at ESPN for three years before she left for NBC. At the home of the Peacock, she worked primarily as a host for the NBC Sports Network, with her biggest role coming in 2012 when she anchored the daily studio coverage of the 2012 London Olympics. She also hosted a short-lived show on sports, pop culture, and entertainment called The Crossover. As had become her pattern in the past, Beadle didn't stay long. In 2014, she left NBC and returned to ESPN.
She returned to ESPN and a familiar spot co-hosting the show she had started on five years earlier. Not long after her return, she found herself embroiled in a controversy with fellow ESPN personality Stephen A. Smith. She criticized Smith for his comments on the Ray Rice domestic abuse case. Smith received a week-long suspension. 
In 2016, Beadle found herself in a higher profile position when she was named as a host of the NBA Countdown show. It was there where Beadle's popularity grew as she previewed each night's NBA games.
Michelle Beadle leaves ESPN
Michelle Beadle hosted Countdown for two years. Behind the scenes, ESPN brass wanted her to also work on the morning show Get Up! with Jalen Rose and Mike Greenberg. Initially, Beadle refused. Then, the network proposed an offer that would pay her $5 million per year. It was an offer she couldn't refuse. She started in April 2018. 
It didn't work. The chemistry between Beadle and Greenberg never materialized. It didn't help when she announced she was boycotting college and professional football, called Urban Meyer a "liar," and said the sport "marginalized women." Five months later, the network announced she was going to focus her efforts on covering the NBA.
A year later, in August 2019, rumors swirled that ESPN was buying out Michelle Beadle's contract. While there was never an official announcement of her departure, the network named Maria Taylor and Rachel Nichols as the new hosts on Countdown. 
Since her quiet departure from ESPN, Beadle has kept a low profile. She's posted to her social media accounts on a variety of topics, including her trip to England where she took in her first soccer match, as well as countless pictures of her dog. She's also been active in encouraging people to get out and vote and wear masks during the pandemic. 
Beadle's brash personality and outspokenness clearly created an untenable situation at ESPN. Interestingly, it's those same qualities that set her apart from other talking heads at the network. It's only a matter of time before another media outlet takes a chance and hires her. And when it happens, you can expect she'll have a lot to say.