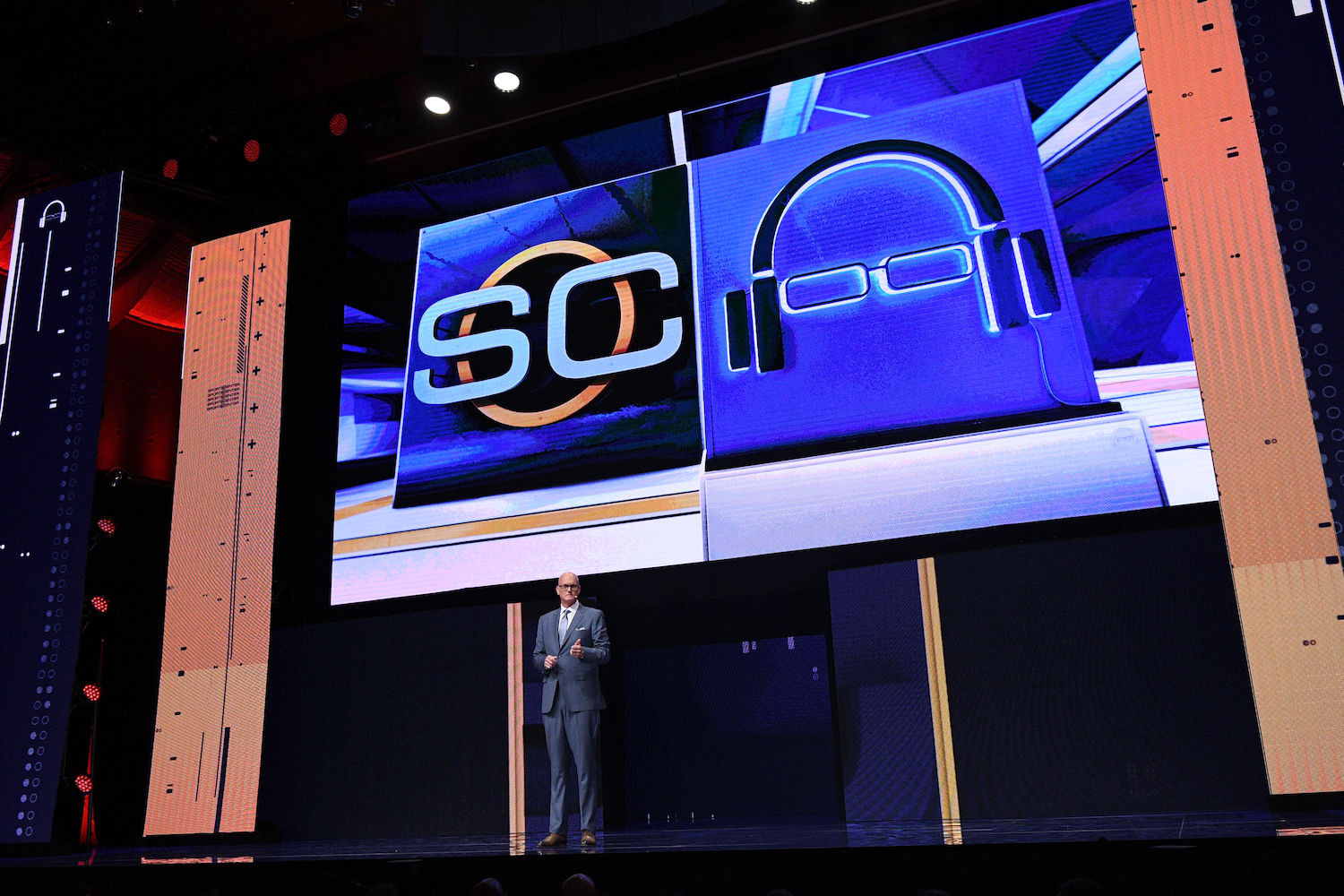 What Happened to ESPN's Scott Van Pelt and Why Isn't He Hosting SportsCenter?
Scott Van Pelt has worked at ESPN since 2001. He's hosted the midnight edition of SportsCenter since 2015. Where is he and why isn't he doing the show?
For years, fans looking to get their nightly dose of sports highlights have turned on ESPN and watched Scott Van Pelt on the late-night edition of SportsCenter provide a thorough and entertaining rundown of the day in sports. Van Pelt was on-air last week, and now he's gone. What happened?    
Scott Van Pelt hosts midnight SportsCenter
Scott Van Pelt joined ESPN in 2001 as the network's top golf reporter. He didn't wait long before adding other responsibilities on TV and radio, which included becoming a co-host on ESPN Radio of the Tirico and Van Pelt Show each weekday afternoon.
In 2015 and after years of working with ESPN Radio, Van Pelt decided to solely focus on the TV side of his career as the host of the midnight-edition of SportsCenter, with his own unique spin. He begins each show with the best thing he saw that day in sports, and then follows it with highlights, commentary, and interviews in his own unique conversational tone. 
This summer, Scott Van Pelt disappeared off the air for weeks. During that time, ESPN showed its commitment to Van Pelt by building a studio and relocating the show to Washington D.C. so the Maryland native could be closer to family.
Scott Van Pelt out with COVID-19
When the sports world came to a sudden halt in March, Scott Van Pelt acted. He and his ESPN team created a new segment called "Senior Night," where for weeks he highlighted numerous athletes — both high school and college — whose careers had been disrupted by the pandemic. 
Now, Van Pelt has had COVID-19 personally touch his life. He announced last week he tested positive for the virus. 
"Won't be doing shows for a bit after a positive Covid-19 test," he announced to his more than two million followers on Twitter. "Thankfully, no fever & I feel fine. Just can't smell or taste anything which was my clue to go get a test. So, I will hunker down and hopefully can be back at it before too long."
Joins other sports broadcasters who have missed time
The pandemic touched the world of sports early on with the positive test of Utah Jazz center Rudy Gobert, whose diagnosis shut down the NBA and was the first of many sports dominoes to fall. Outside of athletes, only a few sports announcers have publicly acknowledged testing positive for the virus.
Scott Van Pelt's former ESPN colleague, Adam Amin, who now works for Fox Sports, detailed his bout with the virus back in November. In addition to Amin, the Fox Sports college and NFL teams have both been affected by the virus.
The "Big Noon Kickoff" college football show and the "NFL Sunday" show were both disrupted when numerous personalities were sidelined due to COVID-19 protocols.
NBC's Al Michaels has also reportedly been off the air in recent weeks due to COVID-19 protocols. 
Scott Van Pelt is just the latest sports broadcaster to announce his positive test diagnosis. Chances are, with the pandemic still raging, he won't be the last. 
Like Sportscasting on Facebook. Follow us on Twitter @sportscasting19.