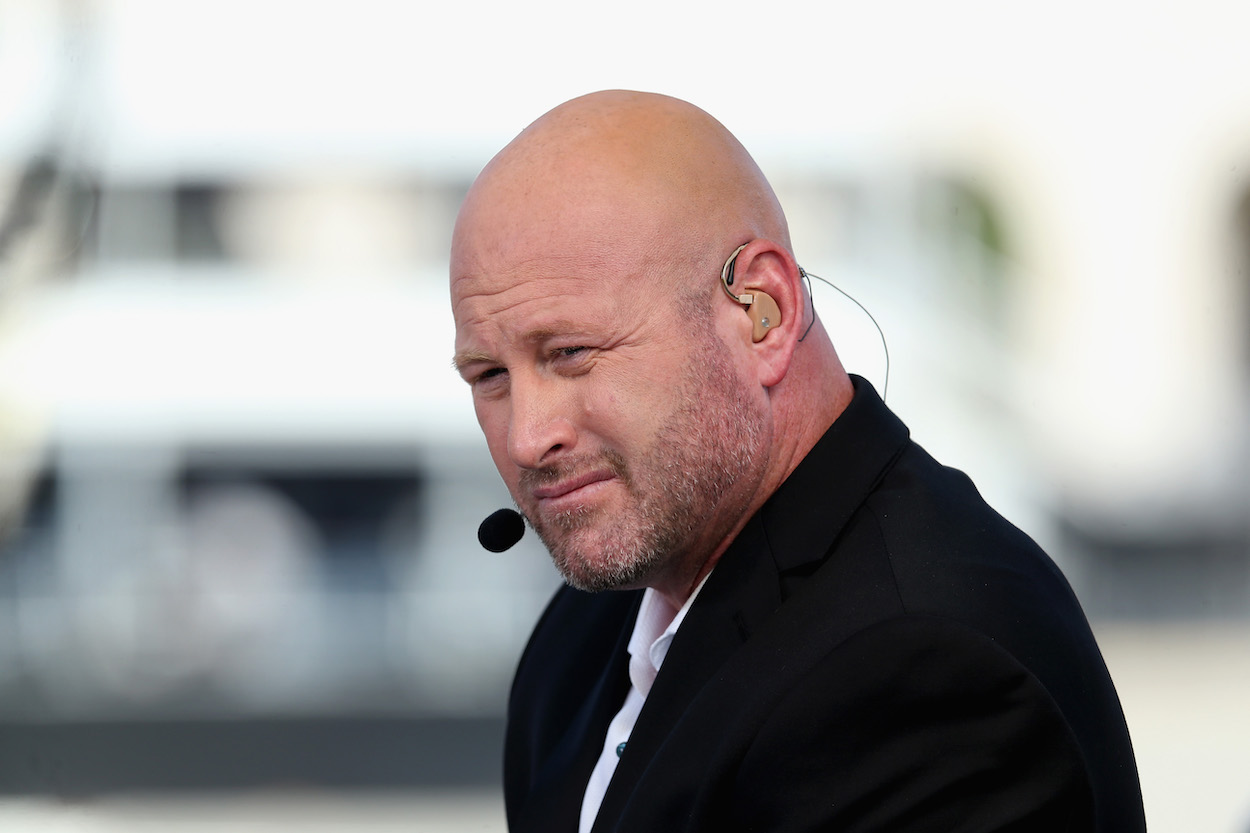 What Happened to Super Bowl-Winning Quarterback Trent Dilfer?
Trent Dilfer played six seasons in Tampa Bay before joining the Baltimore Ravens for one season where he won Super Bowl 35. After working at ESPN for years, he disappeared. Where is he today?
Tampa Bay hosting a Super Bowl is nothing new. The Cigar City has hosted the big game four times. Twenty years ago, Raymond James Stadium was the home of Super Bowl 35, featuring the Baltimore Ravens and New York Giants. 
After starting six seasons in Tampa, quarterback Trent Dilfer joined Baltimore as a backup for his one and only season in 2000, where he took over mid-season and led the Ravens to a Super Bowl victory. He retired from playing after 2007 and then worked as an NFL analyst for years at ESPN before he vanished off the airwaves. Where is Trent Dilfer today?
Trent Dilfer wins Super Bowl
The Tampa Bay Buccaneers selected Trent Dilfer with the No. 6 overall pick in the 1994 NFL draft. After limited action his rookie season, Dilfer took over the reins of the Tampa Bay offense in his second year, and it wasn't pretty. He finished the year throwing for 2,774 yards, with four touchdowns and 18 interceptions.
The following season Dilfer threw a career-high 19 picks before turning things around in 1997, when he led the Bucs to a 10-6 record and the playoffs, where they lost in the divisional round to the Green Bay Packers. Dilfer also earned the lone Pro Bowl bid of his career that season.
After a couple of less successful seasons in Tampa, Dilfer signed with the Baltimore Ravens as a backup to starter Tony Banks for the 2000 season. Dilfer took over the Ravens offense in Week 9, suffered a loss to Pittsburgh, then led the club on a seven-game winning streak to finish the season and make the playoffs as a wild-card team. 
Trent Dilfer and the Ravens defense cruised through the postseason, eventually winning the Super Bowl 34-7 over the New York Giants in Dilfer's former home stadium in Tampa Bay.
Retires and moves into broadcasting
Following the Super Bowl-winning season, Trent Dilfer was persona non grata, as the Ravens opted not to re-sign him, making him the first-ever quarterback to be let go after winning a Super Bowl.
Dilfer joined the Seattle Seahawks as a backup for four seasons and concluded his career playing one season in Cleveland and his final year in San Francisco.
After working a couple of stints with the NFL Network as an analyst, Dilfer signed with ESPN in 2008. He worked a variety of jobs, which included mainly NFL coverage, but he also served as a coach for the network's Elite 11 show. 
Trent Dilfer stayed with ESPN until 2017 when he was one of several high-profile personalities released as a part of a big round of layoffs. 
Where is Trent Dilfer today?  
For several years Trent Dilfer hung out in his home in Austin, Texas, playing golf and following his three daughters in their high school and college volleyball games. He would make his regular radio appearances and work the 40 days a year required of the Elite 11 camp.
In late 2018, former Seattle Seahawks teammate Matt Hasselbeck called Dilfer on behalf of a friend asking if he would be interested in coaching Lipscomb Academy, a small Christian high school in Tennessee. Dilfer said yes. 
Trent Dilfer took over a program that had won three games the previous two seasons and turned it around overnight. In his first season, he took Lipscomb all the way to the state semifinals. 
Last season, Dilfer's Lipscomb Academy team made it to the state championship game for the school's first appearance since 2007, where they came up just short, losing 35-28 in the Division II-AA championship game to the same team that had knocked them out the previous year.
Lipscomb didn't finish the season the way it hoped, but the progress under Dilfer's leadership in just two short years has been remarkable. And based on his past success in the NFL, if there's anyone who knows what it takes to get a team to the top, it's Trent Dilfer.
Like Sportscasting on Facebook. Follow us on Twitter @sportscasting19.