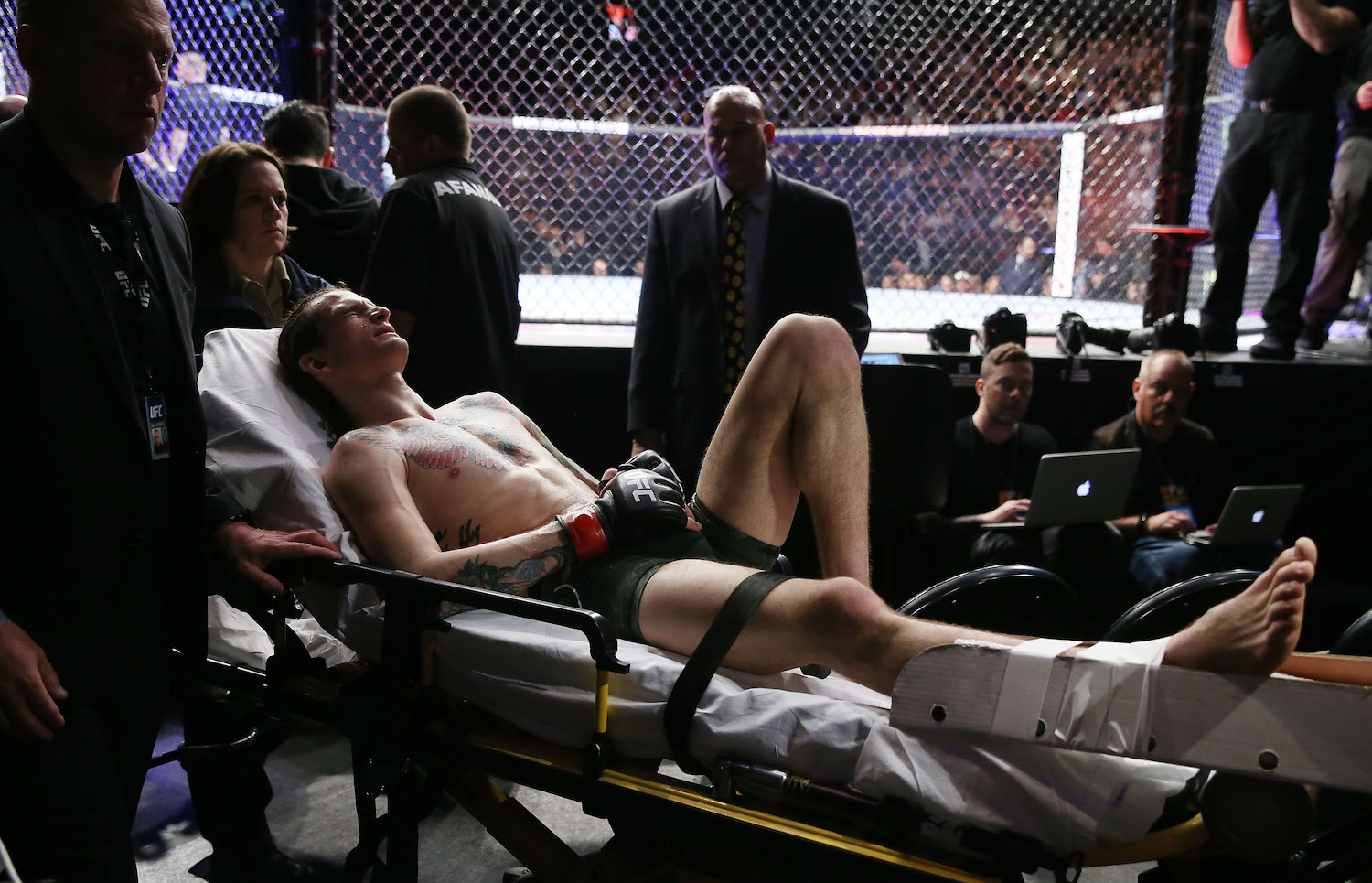 What Happened to UFC Fighter Sean O'Malley's Foot and Could His Career Be Over?
Sean O'Malley suffered his first UFC defeat to Marlon Vera. More concerning, he suffered a serious foot injury for the second time. Could this be the end of O'Malley's career?
While Daniel Cormier and Stipe Miocic were the main event at UFC 252, there's a reason Sean O'Malley's matchup with Marlon Vera was the co-main event. O'Malley's star has been skyrocketing to the top of the UFC bantamweight division with an undefeated 12-0 record and one highlight-reel knockout after another. On Saturday night, it all came crashing down with a single misstep. 
O'Malley suffered a serious injury to his right foot deep into the first round and was never the same after. Vera, recognizing the injury, pounced on his wounded opponent, and referee Herb Dean intervened, stopping the fight with just a few seconds remaining in the round. The final result left more questions than answers. The biggest question now is—could Sean O'Malley's injury, which is reportedly similar to the one he had in 2018, signal the end of his promising career? 
Sean O'Malley's rapid rise to the top
Sean O'Malley made his professional MMA debut in 2015 with the Intense Championship Fighting promotion in his native Montana. He won his first five fights with ICF and a couple of fights with other promotions when he got an invite to Dana White's Contender Series. 
In his first fight with DWCS, O'Malley introduced himself to the MMA world in a big way with a stunning first-round knockout of his opponent Alfred Khashakyan. That single performance earned him a contract with the UFC. 
Sean O'Malley made his UFC debut in December 2017 against Terrion Ware on The Ultimate Fighter 26 Finale. He won the fight via unanimous decision. O'Malley won his next fight in March 2018 and then didn't return to the octagon for two years while he recovered from hip surgery and served out a pair of suspensions for doping violations. 
Sean O'Malley first injures foot in 2018
In 2018, in Sean O'Malley's second fight on a much bigger stage at UFC 222, he faced Andre Soukhamthath. The Glendale, Arizona-based fighter dominated the first couple of rounds. Then, in the third round, O'Malley suffered an injury to his right foot.
Realizing O'Malley was noticeably limping and trying to avoid putting any weight on the leg, Soukhamthath attacked, specifically going after the injured leg. For two minutes, O'Malley fended off the attack and held on to win the unanimous decision. 
After the fight, Sean O'Malley offered details to MMA Fighting about the injury. 
"They said it wasn't broken, but they said I've got a previous fracture in there from before the fight, so I'm gonna figure out what's wrong with it. It's hurt pretty much nonstop, so we'll see. I didn't (know it was previously fractured). Every fight I'm in I throw a lot of kicks. I land with my feet a lot. I've had a lot of foot issues because of that. I've had a lot of foot injuries so I wasn't surprised."
"It was a super weird feeling. I couldn't feel my whole foot when I put it on the ground. Every time I put pressure on it, it wasn't there — it was super weird. It sucked."
O'Malley suffers second foot injury and first defeat
When Sean O'Malley stepped into the ring against Marlon Vera on Saturday night, no one watching was thinking about the foot injury of two years ago. Most fans were envisioning another spectacular knockout like his previous two fights, including his most recent detonation of Eddie Wineland in the first round of their fight at UFC 250 back in June.
The opening round started off well for O'Malley and included several kicks to Vera's body. Then, with just under three minutes remaining in the first round, he stumbled awkwardly on his right foot. A few seconds later, another stumble that was more pronounced and caught by the cameras. Both of the stumbles appeared to be similar to what O'Malley had described in 2018 when he "couldn't feel my whole foot."
With just over 30 seconds remaining in the first and the foot obviously bothering him, Sean O'Malley fell down. Vera capitalized, throwing a flurry of elbows and punches before referee Herb Dean intervened and stopped the fight.
Following the fight, Megan Olivi briefly caught up with O'Malley before he left to receive medical treatment. She said in the post-fight commentary that O'Malley indicated it was the same injury he had in 2018. 
While O'Malley has been quiet on the injury since Saturday's fight, his comments in 2018 don't bode well for his future. He is a fighter who likes to use his feet with kicks. And if this injury has already happened twice in a two-year period, what's going to prevent it from happening again in the future? 
Sean O'Malley's future in the UFC and MMA remain uncertain. What is certain is O'Malley, like every other fighter, has learned that this is a cruel and violent sport. It has no regard for fighter, his success, or the length of his career. And sometimes, as painful as it is, fighters have to just walk away.