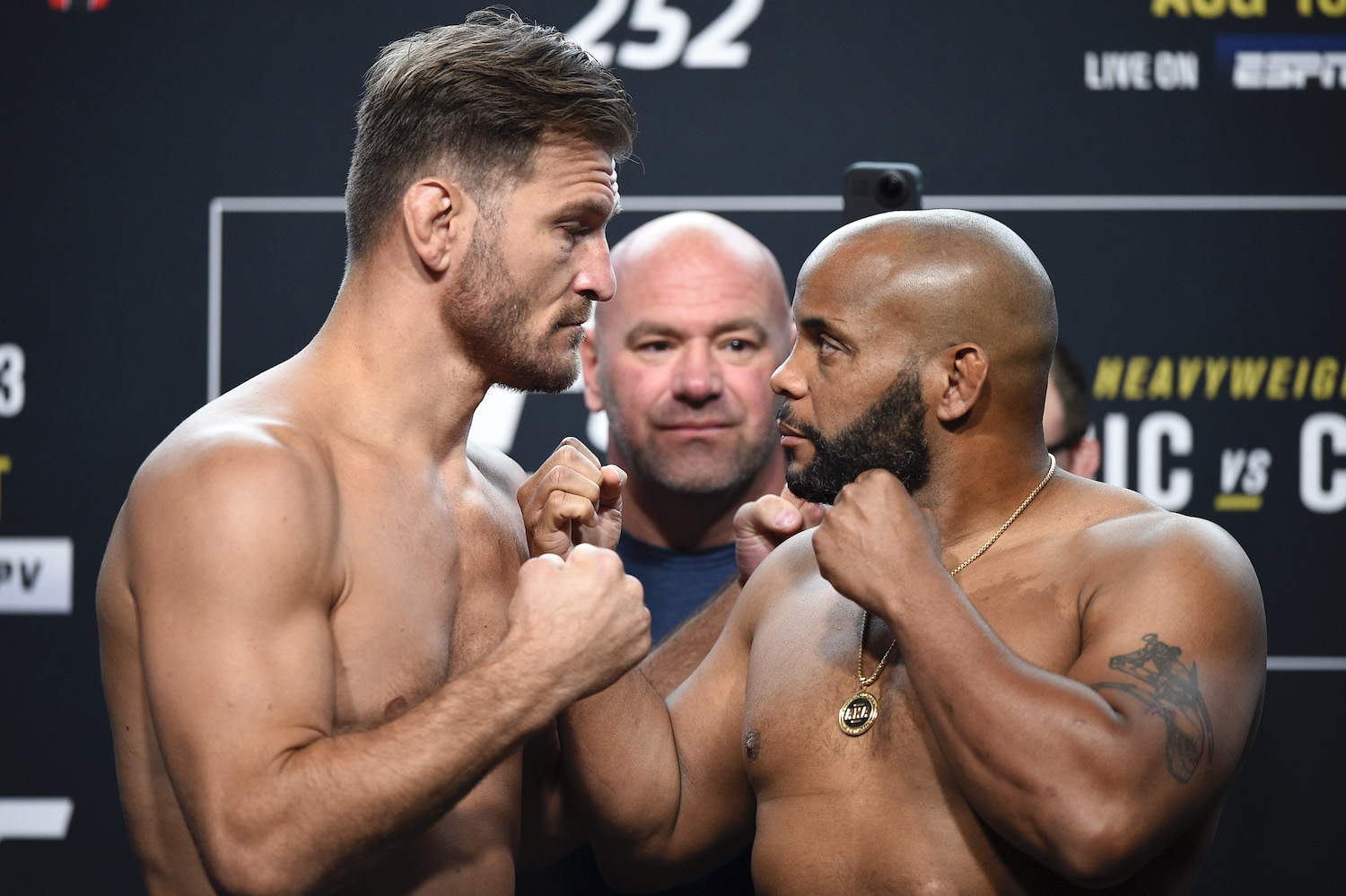 Daniel Cormier Defeated Stipe Miocic in 1 of the Greatest UFC Fights of His Career
Daniel Cormier and Stipe Miocic battle it out at UFC 252 in a fight for the heavyweight championship and a special place in UFC history.
Daniel Cormier and Stipe Miocic have delivered some of the best UFC fights in heavyweight history. It was a year ago the pair last met and Miocic walked out the champion with a fourth-round TKO. Miocic's victory avenged a stunning first-round knockout he suffered in their initial fight in July 2018. The rubber match and main event of UFC 252, which features a loaded card, promises to conclude a memorable night for UFC fight fans and one that will be historic no matter who walks out of the octagon the victor. 
Daniel Cormier's early success as a light heavyweight UFC fighter
Daniel Cormier has been successful from the start of his professional MMA career. After making his debut in 2009, he won the XMMA Heavyweight Championship in Australia, and incredibly, just two weeks later, captured the heavyweight crown in King of the Cage. 
In 2013 with an 11-0 record, which included eight victories fighting with Strikeforce, Cormier made his UFC debut against former UFC heavyweight champ Frank Mir. Cormier won in an unanimous decision. He would go on to win his next three fights and set up a match with Jon Jones for the UFC light heavyweight title. The fight went the distance and Jones won in an unanimous decision. 
However, when the UFC suspended Jones after a hit-and-run accident, Cormier won the vacant light heavyweight title. He successfully defended it multiple times. 
Daniel Cormier vs. Stipe Miocic battle in epic UFC fights
In 2018, Cormier moved up to the heavyweight division to fight against the defending champion Stipe Miocic, who entered the contest on a six-fight win streak, which included capturing the crown and successfully defending it three times. 
Cormier stunned Miocic and the UFC world with a flurry of punches and a devastating elbow late in the first round that knocked out the champion. Just 13 months later after Cormier had successfully defended his title against Derrick Lewis and became the first fighter to defend titles in two different divisions, the pair met in a rematch.
Daniel Cormier opened the UFC Heavyweight Championship fight with a strong first round. Miocic responded in the second, and the fight appeared to be even on the judge's cards. In the third, both fighters traded punches, but Cormier finished strong with a big right hand before the bell. 
Stipe Miocic came out the aggressor in the fourth delivering multiple body shots to his opponent. With less than a minute remaining, Miocic connected with a stiff right to the face that staggered Cormier, who drifted to the side of the cage. Miocic followed, pounded away, and finished him off to reclaim the heavyweight strap.   
UFC 252 features loaded card
Daniel Cormier and Stipe Miocic meet in the trilogy fight that UFC president Dana White says the winner will be considered the heavyweight GOAT. The champion Miocic is confident and even called his loss in the first fight a fluke. Cormier said anyone with a pair of eyes could see he was the dominant fighter in both fights. 
"When you look at the time we've spent in the octagon, I've won the vast majority of it," Cormier said during an interview on the weekend broadcast of Lewis vs. Oleinik. "For him to think that me beating him is crazy, it's honestly good for me to hear that kind of attitude coming from him because that makes me feel that the win he got gives him an unbelievable amount of confidence. And I believe it's a confidence that's not warranted."
The main event is must-see television and is just part of a much larger must-see event featuring a card loaded with some heavy hitters. The co-main event features the colorful head of undefeated Sean O'Malley at 12-0 facing off against Marlon Vera at 15-6-1. And the lead-up before the co-main event features former UFC heavyweight champion Junior Dos Santos battle against an impressive Jairzinho Rozenstruik with a 10-1 record.
To White's credit, he's put on several top-notch cards since the UFC resumed action after months off due to the pandemic. But make no mistake about it, this card isn't just great; it's history-making. All that's left to decide is who comes out on the winning side and has his legacy forever etched in the annals of UFC history.