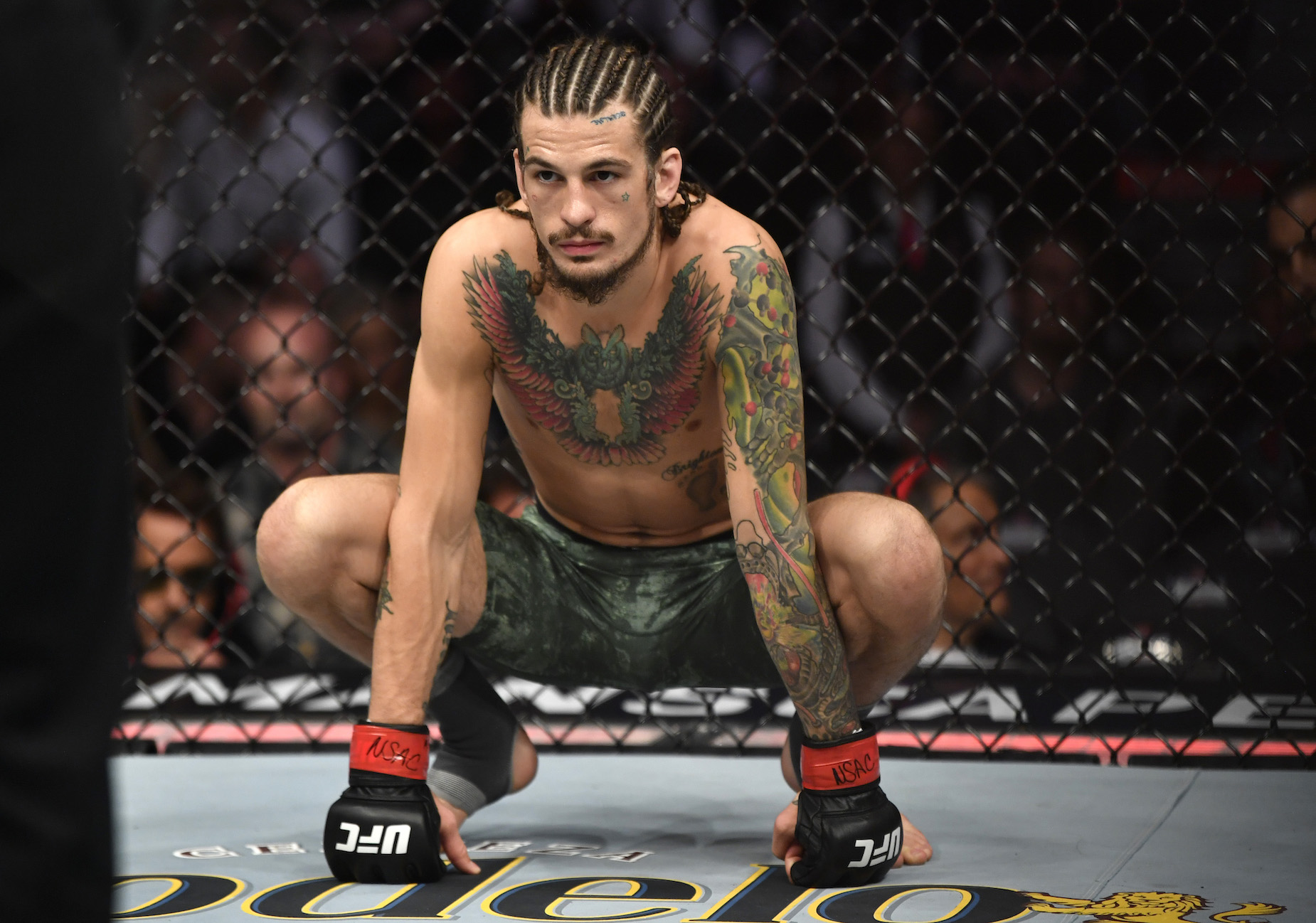 Sean O'Malley's Latest Hairstyle May Be Throwing Shade at Marlon Vera Ahead of UFC 252 Fight
While Sean O'Malley is certainly a colorful character, his latest hairstyle might be a mind game in addition to a fashion statement.
While every competition features some element of trash-talking, things are a bit more intense in the world of UFC. Given the realities of the sport—you're literally trying to beat your opponent into submission—that's not surprising, but some fighters go to extreme lengths to mess with their opponents. Sean O'Malley may be trying a colorful tactic to get in Marlon Vera's head.
As any MMA fan can tell you, O'Malley is has been known to sport some unique hairstyles during his time in the octagon. The fighter's latest dye-job, however, may be specifically designed to give him an edge at UFC 252.
Sean O'Malley has shown talent when he's been able to fight
It's often said that half of success is showing up. Looking at Sean O'Malley's career, that cliche seems to ring true.
Sugar Sean made his MMA debut in March 2015 in Intense Championship Fighting and immediately made a name for himself by dispatching Josh Reyes with incredible ease. After piling up a 7-0 record, he earned a slot on Dana White's Contender Series; there, the hits kept on coming.
After defeating Alfred Khashakyan, O'Malley inked a UFC contract. While he won his next two fights by unanimous decision, his career then came to a screeching halt. Due to a combination of injuries and suspensions, the bantamweight missed more than two years of action.
Since returning to the octagon, though, Sean O'Malley has picked up where he left off. He appeared in both UFC 248 and UFC 250, winning both bouts in the first round; he also took the Performance of the Night award home after both victories.
A colorful character in and out of the octagon
From Conor McGregor to Mike Tyson, plenty of fighters are colorful characters. Sean O'Malley, however, takes things a bit more literally.
While the fighter has sported various hairstyles during his career, things have gotten a bit more colorful lately. Ahead of UFC 250, the bantamweight dyed his curly hair the colors of a rainbow, not unlike a stereotypical clown wig. When it came time to square off against Eddie Wineland, though, he rocked rainbow cornrows.
In a conversation with Ariel Helwani, O'Malley explained that his hairstyle took about 12 hours across three different sessions with his girlfriend, who happens to be a stylist. Despite that time commitment, don't expect Sugar to give up his new look anytime soon.
"I don't know if I'll ever have normal hair again," he explained. "It's too sweet."
Sean O'Malley's latest hairstyle could be trolling Marlon Vera
Ahead of UFC 252, it seems like Sean O'Malley will still be rocking his new signature hairstyle. The colors, however, may be an attempt at trolling his opponent.
While O'Malley's locks were previously red, purple, yellow, and green, it seems like he's switched to yellow, blue, and red. That may seem like an ordinary color palette, but it happens to match the Ecuadorian flag. Marlon Vera, the bantamweight's next opponent, happens to hail from the South American country.
If O'Malley is attempting to troll his opponent, though, it doesn't seem to be working thus far. "The truth is that the fans have always supported me, and it's something very gratifying to my country that he dyed his hair those colors," Vera said in Spanish on "Hablemos MMA," according to MMA Junkie. "He already knows who's going to dictate the fight."
At this point, though, we'll just have to see what happens in the octagon. If Sean O'Malley defeats Marlon Vera while rocking Ecuadorian-inspired hair, that might add some insult to injury.