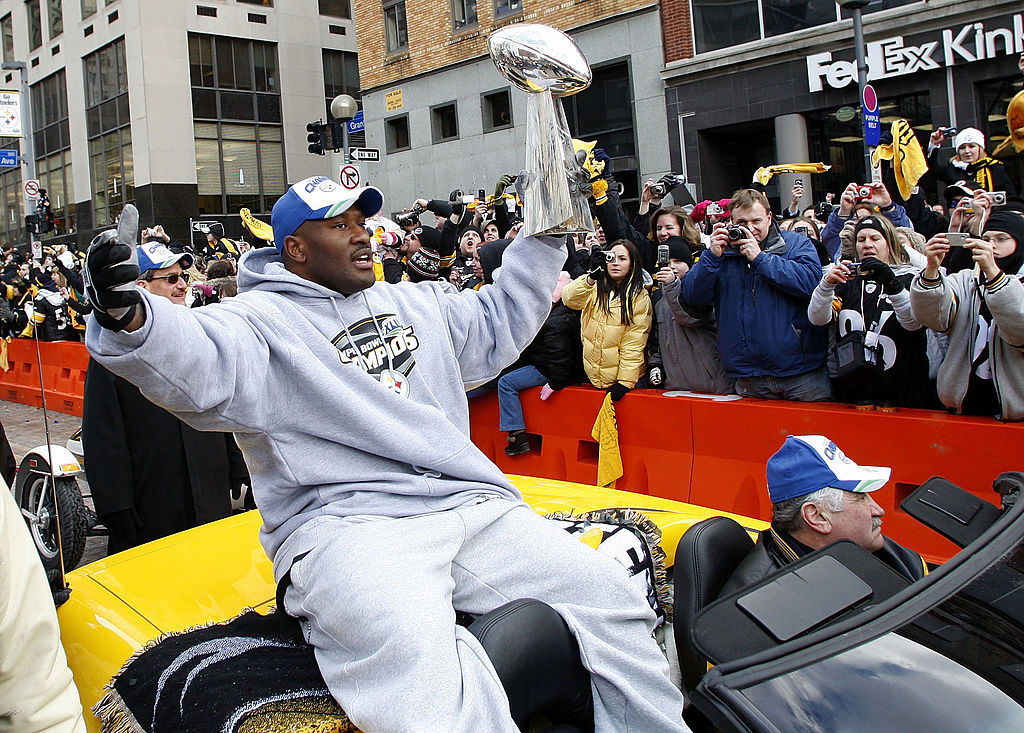 What Is James Harrison's Net Worth After Winning 2 Super Bowls With the Steelers?
During his time with the Pittsburgh Steelers, James Harrison went from a practice squad player to a star. Unsurprisingly, he also built up an impressive net worth.
For better or worse, some NFL franchises have developed specific reputations. The New England Patriots, for example, have built themselves into a modern dynasty; depending on your bias, you'll either think of them as serial winners or cheaters. Elsewhere in the AFC, the Pittsburgh Steelers have a history of tough defenses, with players like Mean Joe Greene, Troy Polamalu, and James Harrison laying down the law.
While he's since retired, Harrison spent 14 seasons with the Pittsburgh Steelers, claiming two Super Bowl titles in the process. His success, however, wasn't confined to the football field.
James Harrison's impressive NFL career
As we all know, James Harrison eventually developed into an elite NFL player. His relationship with football, however, was far from straightforward.
As Elizabeth Merill spelled out in a 2009 ESPN profile, Harrison's high school football career was a study in contrast. While he displayed incredible talent, he also found himself in trouble; one incident, in which the linebacker shot a BB gun in the locker room, cost him a chance at earning a scholarship from a big name college.
Harrison walked onto the team at Kent State, but didn't do enough to be drafted; he ended up signing with the Pittsburgh Steelers as an undrafted free agent in 2002. The linebacker didn't see much action, though, and was cut on more than one occasion.
In 2004, however, James Harrison finally stuck with the Steelers. While there would be a few separations—the linebacker briefly joined the Bengals and Patriots at various points—he would go on to play 177 games in black and gold. He piled up 772 total tackles and 80.5 sacks during his 14 NFL seasons with the Steelers, claiming two Lombardi Trophies and one Defensive Player of the Year title.
Making and spending plenty of money in the NFL
By normal standards, James Harrison didn't have the most conventional road to the NFL. While that reality was reflected in the linebacker's early salaries, he eventually made up for lost time and brought home plenty of money.
According to Spotrac, Harrison didn't make more than $305,000 during his first four seasons in the pros. By 2006, he did enough to break the $1 million mark for the first time; in 2009, he took things even further, cashing on on a $10 million signing bonus.
While James Harrison took home almost $44 million in total salary, he also spent some of those earnings keeping himself in playing shape. As explained in a 2017 ESPN article about NFL fitness regiments, the linebacker spent $300,000 per season keeping himself in shape. He was known to hire "an acupuncturist, a dry needlist, three massage therapists, two chiropractors and 'a person who does cupping" and paid to fly them to Pittsburgh at least once a week.
James Harrison's attention to detail helped him build an impressive net worth
While James Harrison's fitness expenses may seem a bit over the top, it's safe to say they were a smart investment. The linebacker's longevity helped him earn almost $44 million in total salary, building a fortune that CelebrityNetWorth estimates at approximately $12 million.
Harrison might not be playing professional football anymore, but he isn't resting on his laurels in retirement. The former Steeler still appears on sports television, talking about the NFL, and recently landed a gig on Starz' upcoming series, "Heels."
All told, that's not a bad career for someone who was cut several times and landed in NFL Europe.
All stats courtesy of Pro-Football-Reference.