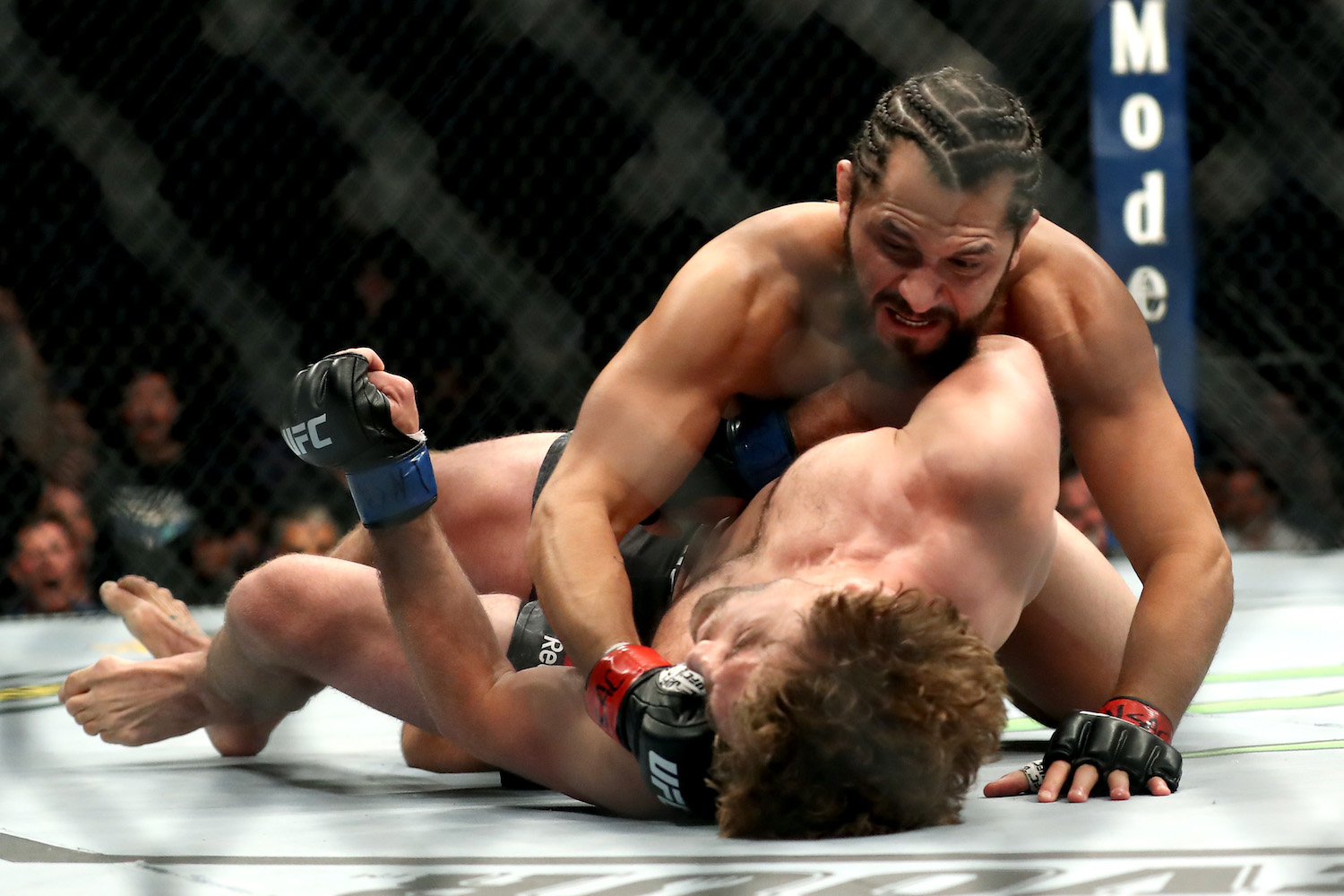 What Is the Fastest Knockout in UFC History?
The fastest knockout in UFC history sent the careers of its two participants in very different directions. One is fighting for a title while the other is out of MMA altogether.
The UFC has been around for more than 25 years and has delivered more than a few spectacular knockouts. On July 6, 2019, UFC fans witnessed one of the most spectacular knockouts between Jorge Masvidal and Ben Askren and it was delivered in historic fashion. It was the fastest knockout in UFC history and a record that will likely never be surpassed. Here's a look back at that incredible night and how it dramatically changed the careers of its two participants.
The fastest knockout in UFC history
UFC veteran Jorge Masvidal entered the welterweight bout with a 33-13 record. He faced an undefeated opponent in Ben Askren, who entered the contest with a 19-0 record, including an impressive first-round submission of former UFC welterweight champion Robbie Lawler in his previous fight.
Following fighter introductions and the face-off in the middle of the cage, both fighters returned to their respective corners. After referee Jason Herzog confirmed both fighters were ready, he motioned his hand indicating the start of the fight. Both men headed straight toward each other prepared to engage in battle. 
Masvidal took a few steps and lunged forward with a flying knee. At the same time, Askren appeared to bend down in an attempt to grab Masvidal's legs. Instead, Masvidal's knee landed perfectly on Askren's neck, and he immediately collapsed to the mat unconscious. Masvidal jumped on top of Askren and delivered a pair of blows to the face before Herzog intervened putting a stop to the fight that had literally just started. Masvidal had just recorded the fastest knockout in UFC history. 
Masvidal's popularity exploded
With his short but impressive performance, Masvidal became the talk of the UFC. Multiple MMA media outlets would go on to name his performance the Knockout of the Year. It was quite a remarkable turnaround for Masvidal, who just a year earlier was in the middle of an almost two-year-long layoff reassessing his career.
Following Masvidal's victory over Askren, which was his second consecutive win that included a defeat of Darren Till via a second-round TKO in March of 2019, he looked to build on the momentum against Nate Diaz at UFC 244. And that's precisely what he did.
In that fight, Masvidal's confidence was understandably at an all-time high and it showed. Masvidal won the bout in somewhat controversial fashion, earning a TKO by doctor stoppage. He improved his overall record to 35-13 and was riding a three-fight win streak. In Dana White's eyes, Masvidal's three most recent performances showed he was in top form and worthy of a potential welterweight title shot. 
Ben Askren out of MMA 
Almost four months after Ben Askren's humiliating defeat and the first loss of his professional MMA career, he stepped inside the Octagon to face Demian Maia. No one knew what to expect from Askren. To his credit, he performed better than his fight with Masvidal but still lost in the third round by submission. 
Following the loss to Maia, Askren surprised the UFC and MMA community when he announced his retirement. He said it was due to hip issues he had battled for years. "I've been having hip problems, and I finally had the discussion with my doctor … and I need a [left] hip replacement," Askren told ESPN's Ariel Helwani. "So, man, that's it for me. I've been thinking about this for a week and what I was going to say, and I'm filled with gratitude for how great of a career I've been able to have, even though obviously, in the end, it did not turn out to go my way."
In a span of seven months, Askren had gone from defeating the former UFC welterweight champion to suffering a pair of losses, including one in record-setting fashion, and then retirement. It was an incredible fall from the top. Unfortunately, if anyone knows about incredible falls, it's Askren. He will forever be on the wrong side of the answer to the trivia question — who was involved in the fastest knockout in UFC history?