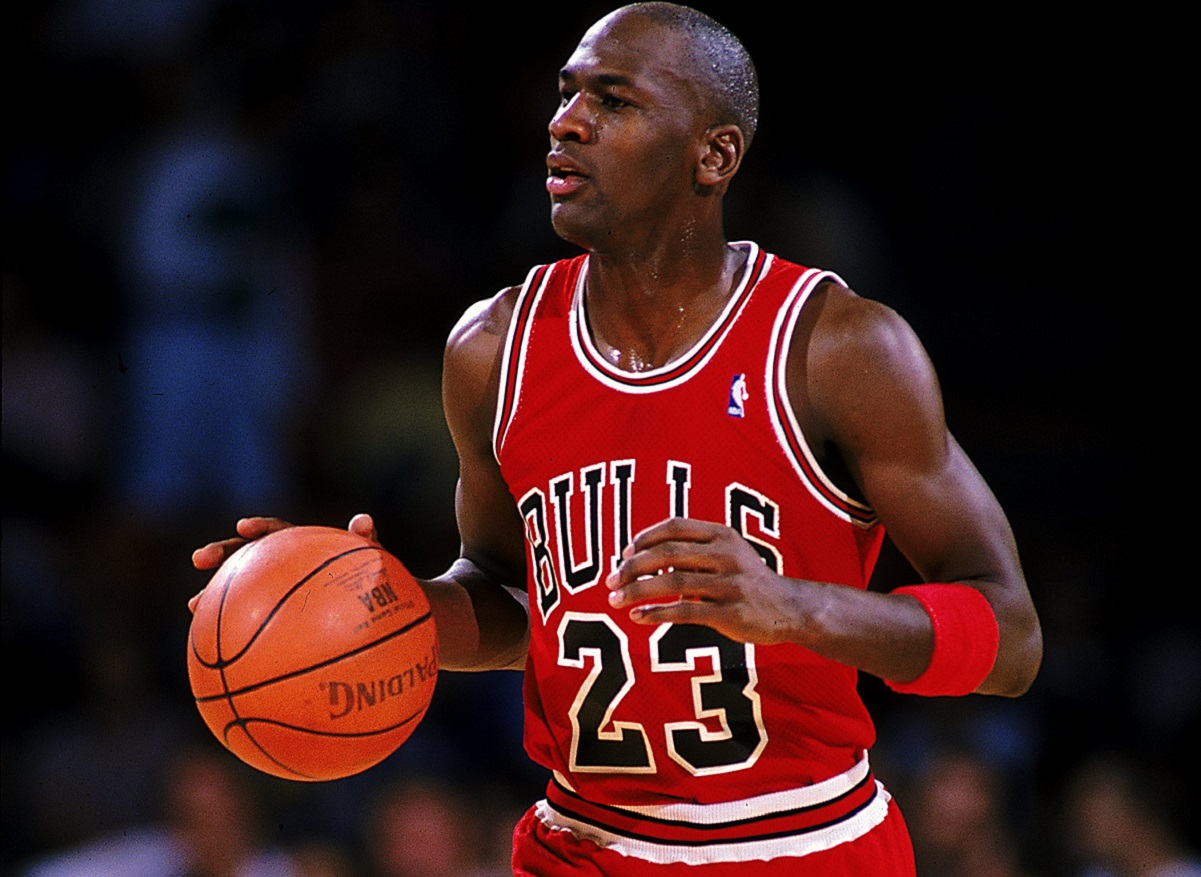 What Was Michael Jordan's Best NBA Opening Night Performance?
A look back on the NBA opening night performances from Michael Jordan with the Chicago Bulls and Washington Wizards.
There's certainly no arguing that Michael Jordan is one of the greatest NBA players of all time. MJ won six titles with the Chicago Bulls, winning NBA Finals MVP in each of those championship series.
He was a five-time NBA MVP, a 14-time All-Star, a three-time All-Star Game MVP, an 11-time All-NBA selection, a nine-time All-Defensive selection, a 10-time scoring champion, a three-time steals leader, and was once named Defensive Player of the Year.
Now, whether or not Michael Jordan is actually the greatest player of all time will be debated until the end of time, but that's not what we're doing here today.
No, today we're going to be looking at a particular aspect of his career — how he performed on the opening night of the NBA season, as you likely ascertained from the title of this article.
How many NBA seasons did Michael Jordan play?
Michael Jordan played parts of 15 seasons in the NBA, 13 with the Chicago Bulls and his final two with the Washington Wizards. However, he played in just 14 season openers as he famously didn't join the Bulls until March during the 1994-1995 season after ending his first retirement.
So we're not going to count that game as a valid season opener. But just in case you forgot what happened that day against the Indiana Pacers, Jordan scored 19 points on 7-for-28 shooting in his first action since Game 6 of the 1993 NBA Finals.
As for the 14 season openers we're counting here, a dozen with the Bulls and two with the Wizards, Michael Jordan averaged 30.8 points per game, which is just slightly above his career average of 30.1. He only scored less than 20 points on two occasions, his rookie season and his final season, and went for 30 or more seven times. MJ went for 40-plus three times, including two games in which he went for 50 or more.
Michael Jordan's best performance in a season opener was a 54-point outburst against the Cleveland Cavaliers
It's quite fitting that Michael Jordan's best performance in a season opener came against the Cleveland Cavaliers, isn't it? After all, he tortured the Cavs for years and scored his career-high 69 points against them on March 28, 1990. But that wasn't the only incredible game MJ had against Cleveland that season.
The Chicago Bulls opened the 1989-1990 NBA season against the Cavaliers and Michael Jordan, who'd knocked the Cavs out of the playoffs the previous spring with "The Shot" over Craig Ehlo, had yet another phenomenal performance against his rivals.
Jordan shot 19-for-31 from the floor, made one of two 3-pointers, and made 15 of 17 free throws to score 54 points in 47 minutes in the Bulls' 124-119 overtime win. He was one of four Bulls to score in double digits as Scottie Pippen scored 19 while Horace Grant and Bill Cartwright added 17 each.
If you're looking for Jordan's best season-opening performance in a non-overtime game, that would be his 50-point game against the New York Knicks to open the 1986-1987 season. At the time, it was the most points scored by an opposing player at Madison Square Garden. MJ went on to average a career-high 37.1 points per game that season.
His worst performance on opening night came in his final NBA season with the Washington Wizards
It shouldn't come as a surprise that Michael Jordan's worst performance on opening night came in his final NBA season, which was his second year with the Washington Wizards. Jordan came off the bench in 15 games for Washington in 2002-2003, including the Wizards' season opener against the Toronto Raptors.
In 24.5 minutes that night, Jordan shot 4-for-14 from the floor, didn't take a 3-pointer, and missed both of his free-throw attempts to score just eight points in Washington's 74-68 loss. It was the only time Jordan failed to reach double digits in a season opener.
His previous low was as a rookie in 1984 when he scored 16 points for the Bulls in a 109-93 win over none other than the Washington Bullets.
Have thoughts on this topic? Keep the conversation rolling in our comments section below.