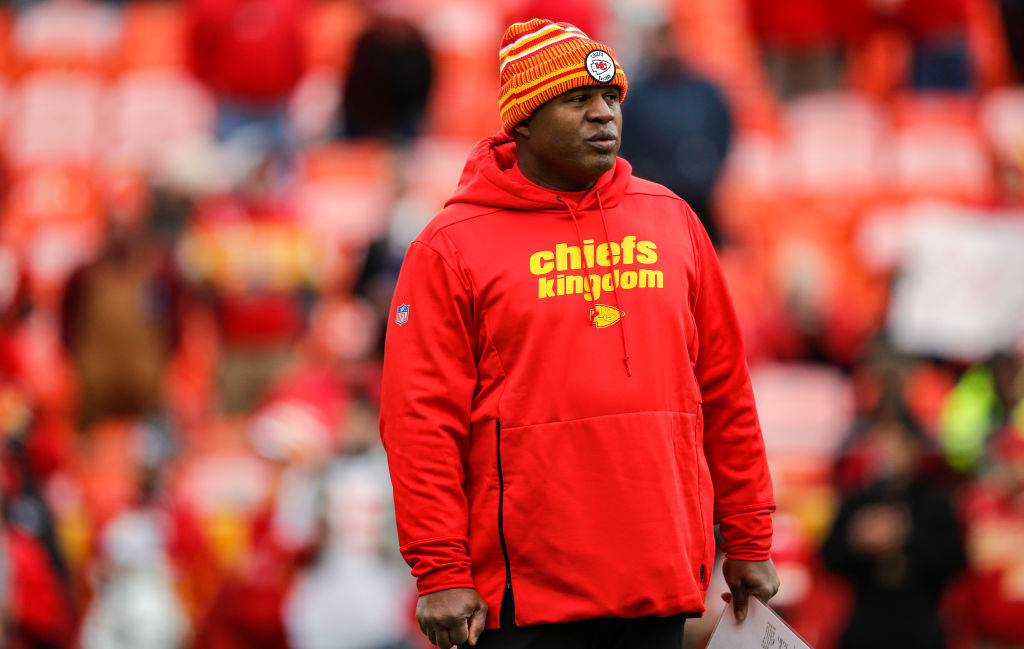 What Will It Take for Eric Bieniemy to Score an NFL Head Coaching Job?
What will it take for Kansas City Chiefs offensive coordinator Eric Bieniemy to land an NFL head coaching position?
The resume is there. He's the offensive coordinator of a high-powered Kansas City Chiefs team that just won the Super Bowl. The NFL's Rooney Rule is there to help minority coaches such as Eric Bieniemy get interviews for any open position in the league. Unless he's completely bombing these interviews, it's puzzling why Bieniemy isn't running an NFL team yet.
Eric Bieniemy's football background
Eric Bieniemy made a name for himself in the football world while playing college football at Colorado. A short and stocky running back (5-foot-7, 207 pounds), Bieniemy played four seasons with the Buffalos. He had two seasons where he rushed for more than 1,000 yards – his sophomore and senior years.
During his senior year at Colorado, Bieniemy rushed for 1,628 yards and ran for 17 touchdowns. He was second in the nation in rushing and helped guide Colorado to a national title. Bieniemy finished third in the Heisman Trophy voting behind Ty Detmer and Raghib Ismail. Bieniemy remains Colorado's all-time leading rusher with 3,940 yards.
Bieniemy was drafted in the second round of the 1991 NFL draft. He was taken by the San Diego Chargers with the 39th overall pick. Bieniemy didn't have nearly the success in the NFL as he did in college. He played four years with the Chargers, four with the Cincinnati Bengals, and one with the Philadelphia Eagles. He spent much of his career on special teams. His best season as a running back came in his first year with the Bengals when he rushed for 381 yards and three touchdowns.
Bieniemy's life after his playing career
Eric Bieniemy's final season in the NFL came in 1999 after his lone season with the Philadelphia Eagles. Bieniemy returned to Colorado and became the Buffalos' running backs coach for two seasons before taking on the same role at UCLA for the next three seasons.
Bieniemy made his way back to the NFL when the Minnesota Vikings came calling. There, he was initially the running backs coach but then moved on to become the team's assistant to the head coach on offense. In 2010, Bieniemy returned to his alma mater at Colorado when he became the team's offensive coordinator. He spent three seasons there before making another stop in the NFL.
Kansas City Chiefs coach Andy Reid brought Bieniemy on board to be the running backs coach. Reid has coached Bieniemy during Bieniemy's lone season with the Eagles. Since 2013, Bieniemy has remained with the Chiefs. In 2018, Reid promoted Bieniemy to offensive coordinator. The Chiefs, led by quarterback Patrick Mahomes, have one of the most prolific offenses in the league and showed it when they won the Super Bowl last season.
Reid has a lot of faith in Bieniemy
When Andy Reid promoted Eric Bieniemy to become the Kansas City Chiefs offensive coordinator in 2018, he had a lot of praise for the former running back. "I've known Eric a long time, both as a player and a coach," Reid said in a statement on NFL.com. "He's done a phenomenal job with our running backs and has been involved in every aspect of our offense over the last five years. He's a great teacher and has earned this opportunity. I know he will do a good job."
In 2020, Bieniemy turned down the chance to interview for the vacant heading coaching job at Colorado. According to Reuters.com, in 2019, Bieniemy interviewed for the head coaching positions for the
New York Jets, Miami Dolphins, Cincinnati Bengals, and Tampa Bay Buccaneers. This year, he interviewed with the Carolina Panthers, Cleveland Browns, and New York Giants. Bieniemy went 0-for-7.
What will it take for Bieniemy to land an NFL coaching job? Joe Judge, an assistant with the New England Patriots was scooped up quickly by the New York Giants. Judge's resume isn't nearly as decorated as Bieniemy's. Unless Bieniemy is the worst interviewer in the world, it's tough to figure out why he hasn't yet landed his dream job.