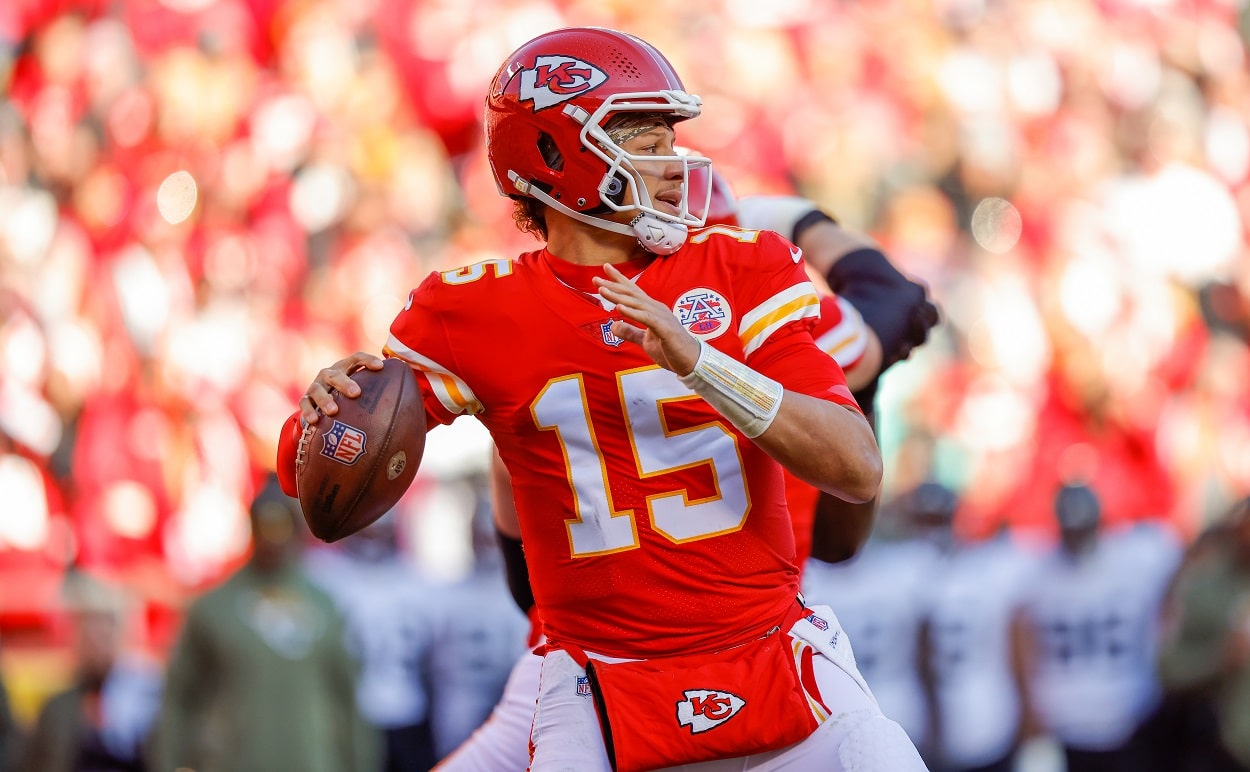 What Would Patrick Mahomes' Stats Look Like If He Plays as Long as Tom Brady? (Spoiler: TB12's NFL Records Will Fall Hard)
A look at what Patrick Mahomes' stats might look like if he plays as long as Tom Brady.
As a bit of an NFL quarterback nerd, I randomly look at the all-time passing yards list from time to time, a list currently topped by Tom Brady, who's thrown for 87,325 yards in 328 regular-season games.
As I continued my scroll, I noticed that Patrick Mahomes, who's in his sixth season with the Kansas City Chiefs and his fifth as the starter, is already in the top 100. In fact, coming into Week 11 of this 2022 campaign, he's exactly 100th on the list with 21,927 yards in 72 regular-season games, just ahead of Sammy Baugh (21,886) and just behind Danny White (21,959).
Mahomes is also already number 66 in NFL history in regular-season touchdown passes with 176. Brady, of course, leads that list as well with 636.
So I got to thinking. If Patrick Mahomes is lucky enough to play as long as Tom Brady has, what will his career stats look like? Here's a hint — he'd shatter TB12's records.
What would Patrick Mahomes' career stats look like if he has as long of an NFL career as Tom Brady?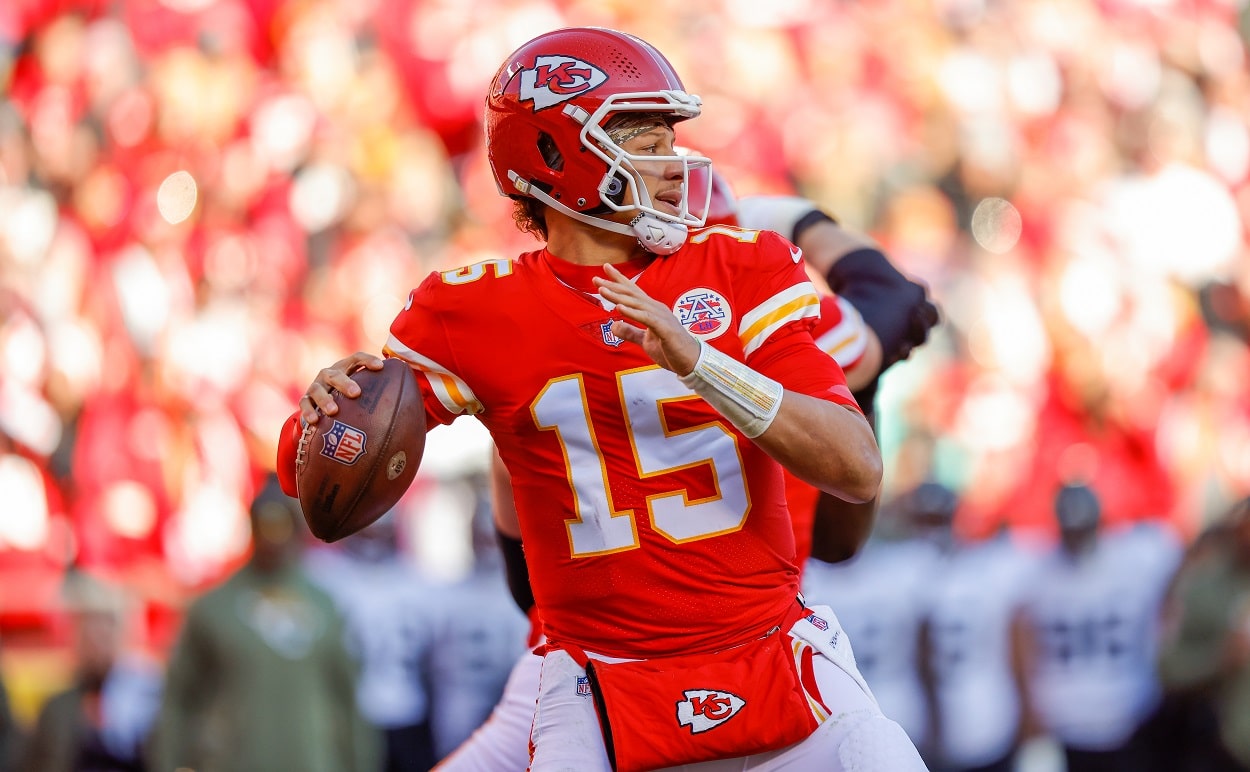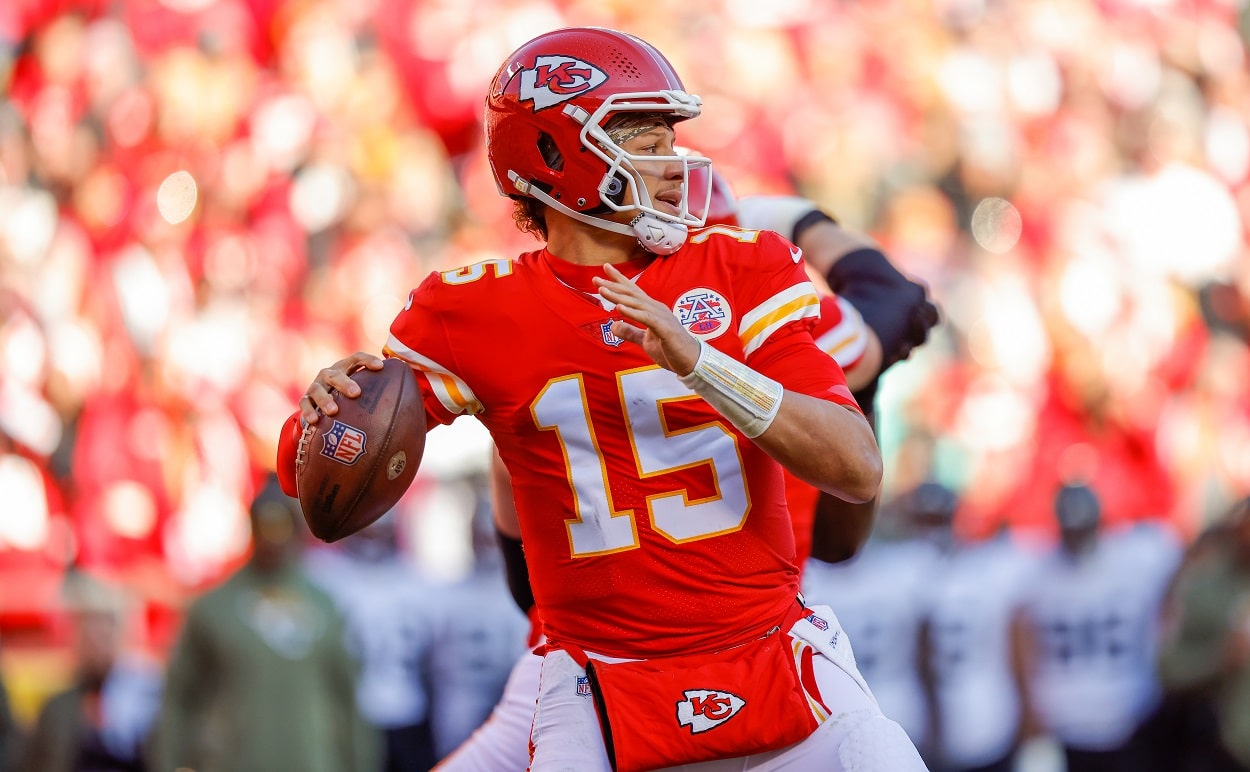 Before we get into his incredible stats, let's first look at Mahomes' record. Through his first 72 regular-season games, he's 57-15, giving him a 79.2% winning percentage. Brady's record in 326 regular-season games as a starter is 248-78, putting his career mark at 76.1%. Those 248 wins are the most in NFL history. But if Mahomes can play 326 games and maintains his current winning percentage, he'd get to 258.
If Mahomes gets to 326 games (we're just going to use Brady's starts instead of his 328 total appearances) and somehow manages to maintain his current career averages of 304.54 yards and 2.44 touchdowns per game, he'd end up with 99,281 yards and 797 touchdowns. You see? Shattered.
Is it likely Patrick Mahomes gets to 326 games? Probably not. Brady's longevity is unprecedented (and ridiculous, given the level at which he can still play), and it's not likely we'll see many quarterbacks playing to the age of 45.
Mahomes, however, wouldn't need to play until age 45 to get to 326 games. Assuming he plays all 17 games every year, which is obviously a tall order, he'd be 42 when he reached that number. Or maybe it's not such a tall order. Brady has only missed four games since 2008, and that was due to the Deflategate suspension, not injuries. But we'll obviously have to wait and see how all of that plays out.
And where does Mahomes stand behind Brady's postseason records? We'll save that for another day.
Have thoughts on this topic? Keep the conversation rolling in our comments section below.