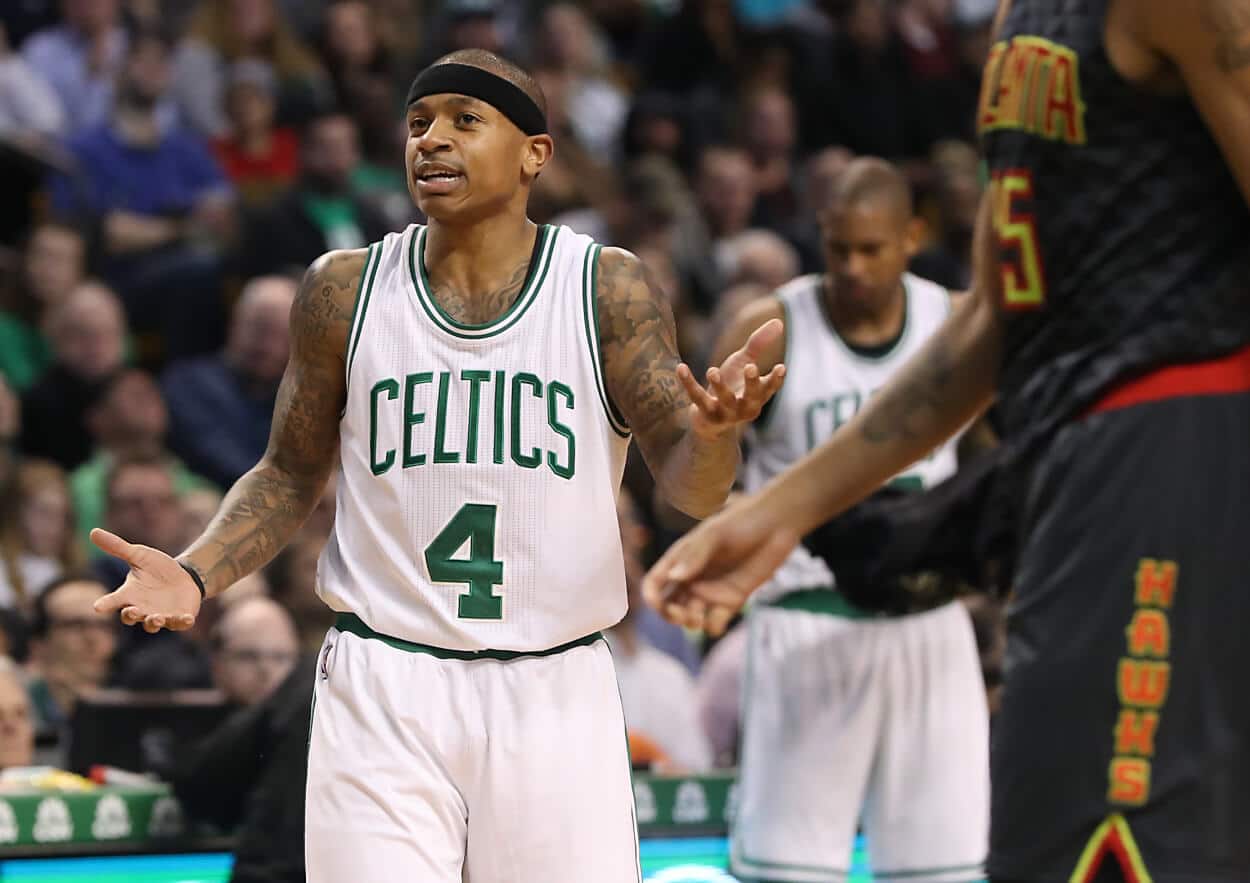 When Isiah Thomas First Saw Isaiah Thomas With the Boston Celtics, He Immediately Had That Sinking Feeling
It took some time for Isiah Thomas to make sense of Isaiah Thomas playing for the Boston Celtics.
Here is when an 'a' makes all the difference. When we're talking about Isiah Thomas, we mean the legendary Detroit Pistons point guard who won two NBA championships. When we add the extra 'a' to the first name and speak about Isaiah Thomas, we're talking about the two-time All-Star point guard who won over the hearts of Boston Celtics fans.
The elder Thomas recently spoke about the first time the two met. He admitted he had a tough time hearing his own name praised in Boston.
Isiah Thomas recalled his first meeting with Isaiah Thomas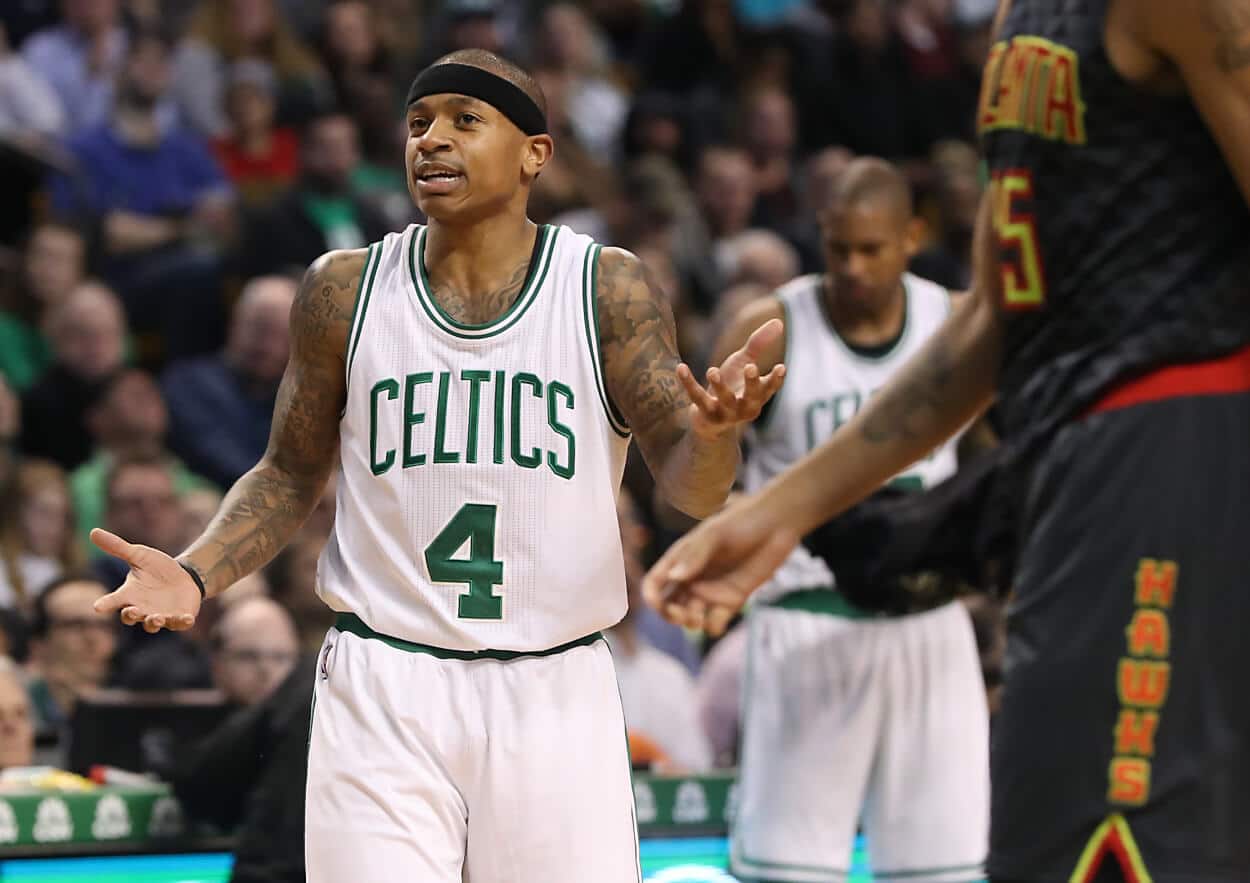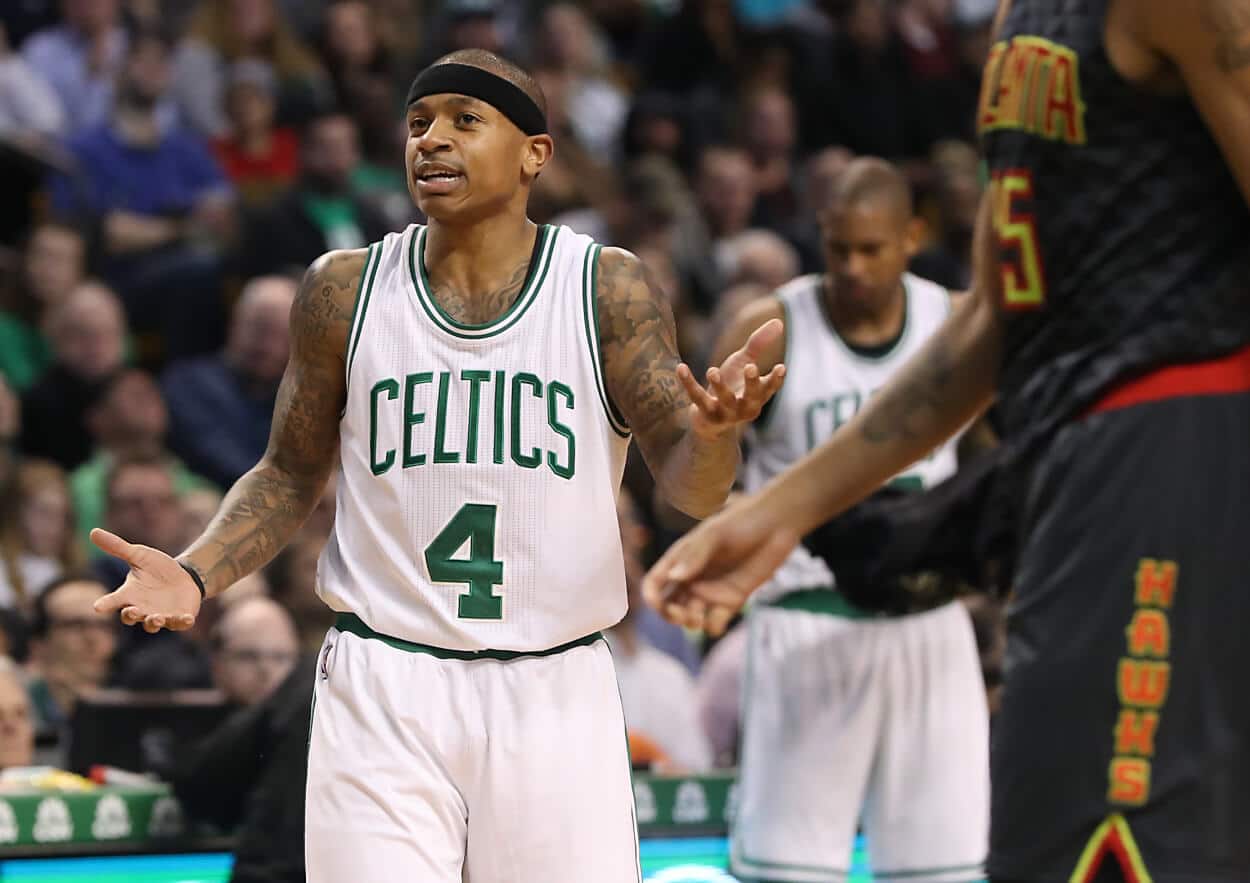 Isaiah Thomas is named after Isiah Thomas, and it all happened because of a bet. According to Sports Illustrated, James Thomas bet a friend that his Lakers would beat the Detroit Pistons in the NBA Finals. The name of James' first son was at stake.
In February 1989, James and Tina Baldtrip had a baby boy. It was months before Isiah Thomas and the Pistons swept the Lakers in the championship round, but James had already warmed up to the Isiah name. Tina agreed, as long as it had the Biblical spelling.
Isiah Thomas recalled his first encounter with Isaiah Thomas.
"I'm scouting, and I think I'm still in New York at the time," Thomas said recently on the All the Smoke podcast. "I'm hearing about this guard in Seattle by the name of Isaiah Thomas, and I'm like this can't be right.
"Now, I start doing a little research. I get the film, and I'm watching him play. I'm like this joker's kinda good, like really good."
Isaiah played for Washington, and the Huskies were in LA at the time for the Pac-10 Tournament.
"They were playing UCLA, and I wanted to meet this dude," Thomas said. "His mom was at the game. His mom and his dad, they come up and say hello. Then I get to meet him. When I got to meet him, it was like, damn, I feel like I really know you. I'm feeling this dude. I hadn't been in his presence, but in his presence, we vibing on a totally different level."
The elder Thomas had a tough time seeing Isaiah with the Boston Celtics
Isiah Thomas knew Isaiah Thomas could play in the NBA, despite being listed at 5-foot-9. Isaiah was the last pick in the 2011 NBA Draft, selected by the Sacramento Kings.
"In my mind, I'm like this dude can really play," Isiah Thomas said. "I don't know why the scouts are tripping, but this dude can really play, and he should be in the NBA."
When Isaiah got traded to the Celtics, Isiah had a sinking feeling.
"Now he goes to Boston," Isiah said. "Now, I'm all f***ed up. I'm really messed up now because Isaiah Thomas is playing for the Boston Celtics, and they love Isaiah in Boston. This don't work. How's this working?
"Now, he's breaking all kinds of records in Boston. I'm hearing Tommy Heinsohn talking about 'Oh Isaiah. He's the best. He's the greatest. You gotta love that Isaiah Thomas.' What are the odds?"
To this day, many still get the two Thomases confused. Some even think Isiah is Isaiah's father. Isiah Thomas said he has no issues when he gets mistaken for Isaiah.
"I love it when he gets criticized," Thomas said.