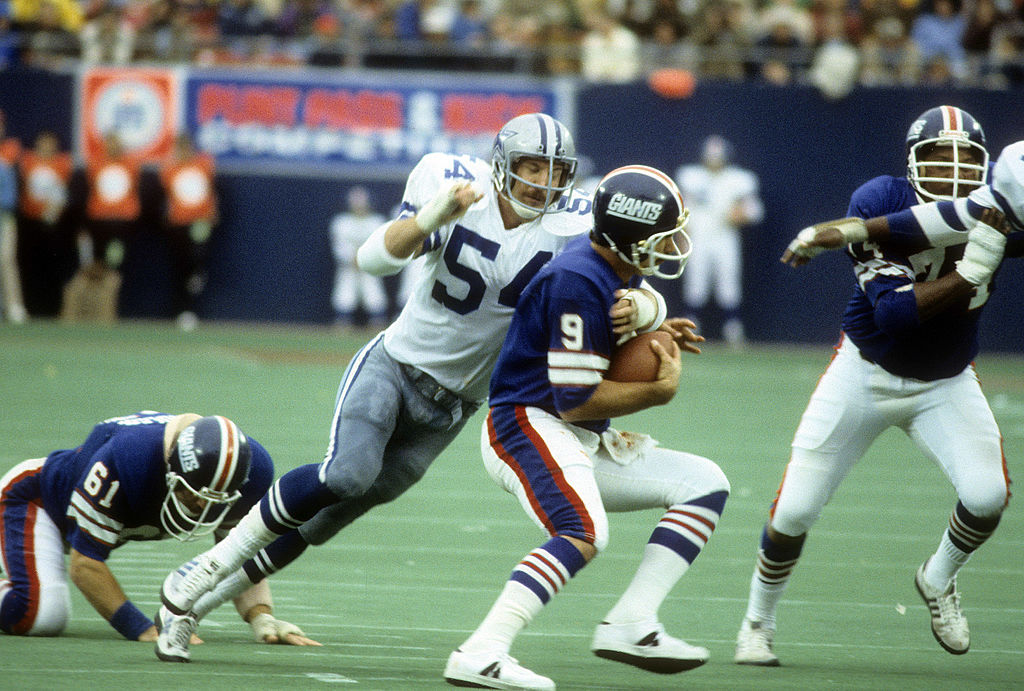 Where Is Former Dallas Cowboys Defensive Star Randy White?
Randy White, aka, The Manster, is one of the greatest defensive players in Dallas Cowboys history. White retired in 1988. Where is Randy White today?
Randy White was one of the most dominant defensive tackles in NFL history. His nickname—The Manster—perfectly described how the 6-foot-4-inch, 257-pound White, was half-man, half-monster. He played all of his 14 NFL seasons with the Dallas Cowboys before retiring in 1988. He was inducted into the Pro Football Hall of Fame in 1994. Where is Randy White today?
Randy White's early career
The Dallas Cowboys selected Randy White with the No. 2 overall pick in the 1975 NFL draft. White was all-everything his senior season at the University of Maryland where he won the Outland Trophy, Lombardi Award, and was named the ACC's player of the year in 1974. In the Liberty Bowl, which Maryland lost to Tennessee, White was named the game's most valuable player.
When White arrived in Dallas, he struggled. Not because he wasn't up to the task, but because head coach Tom Landry wanted to play him out of position at linebacker. 
"Coming out of college a lot was expected of me," White said on DallasCowboys.com. "But I never did feel comfortable playing linebacker. Those first two years I was fighting for my life out there. Then they switched me to defensive tackle, where I was a lot more comfortable, and from there my career took off."
 White becomes The Manster
Randy White's career taking off is actually an understatement. In the 1977 season, White dominated whatever offensive lineman opposed him. That season White earned his first All-Pro selection and was named to his first Pro Bowl. More importantly, on his 25th birthday, White along with teammate Harvey Martin, two key cogs of the Doomsday Defense, earned co-MVP honors in the Super Bowl as the Cowboys defeated the Denver Broncos 27-10. He became one of seven defensive players to ever win that honor. 
The following season White had arguably one of the best seasons by a defensive tackle in Cowboys history recording 16 sacks, which currently ranks third in franchise history. For his dominant performance that season, White was named the NFC Defensive Player of the Year as the Cowboys returned to the Super Bowl. 
For his 14-year career, in which he incredibly missed only one game, White played in six NFC Championship Games and three Super Bowls. He remains third all-time in career tackles for the Cowboys with 1,104 and second with 701 career solo tackles. He retired from the game in 1988, Tom Landry's last season. In 1994, the Cowboys inducted White into the Ring of Honor and he received induction into the Pro Football Hall of Fame.
Where is Randy White today?
After retiring, Randy White pursued a variety of interests, including a brief time acting. In 1991, he made a cameo appearance in the movie Necessary Roughness, where he played the role of a convict football player. Like many former athletes, White also got into the restaurant business and opened up several eateries, his most successful, Randy White's Hall of Fame BBQ. 
In 2012, White joined 27 other retired NFL players in a concussion-related lawsuit against the NFL, which accused the league of ignoring a link between concussions and permanent brain injuries.
For more than 25 years, he has been the spokesman for Smokey Mountain Chew, a nicotine-free smokeless tobacco. White, who lives in the Dallas area, was connected with the Cowboys up until the 2019 season as he had been a co-host on a Dallas Cowboys pre-game show for the CBS station for years.
If you're wondering, White has a lot of gray on his head but still has the massive arms and looks like he could strap on a helmet and dominate just like he did back in his prime.