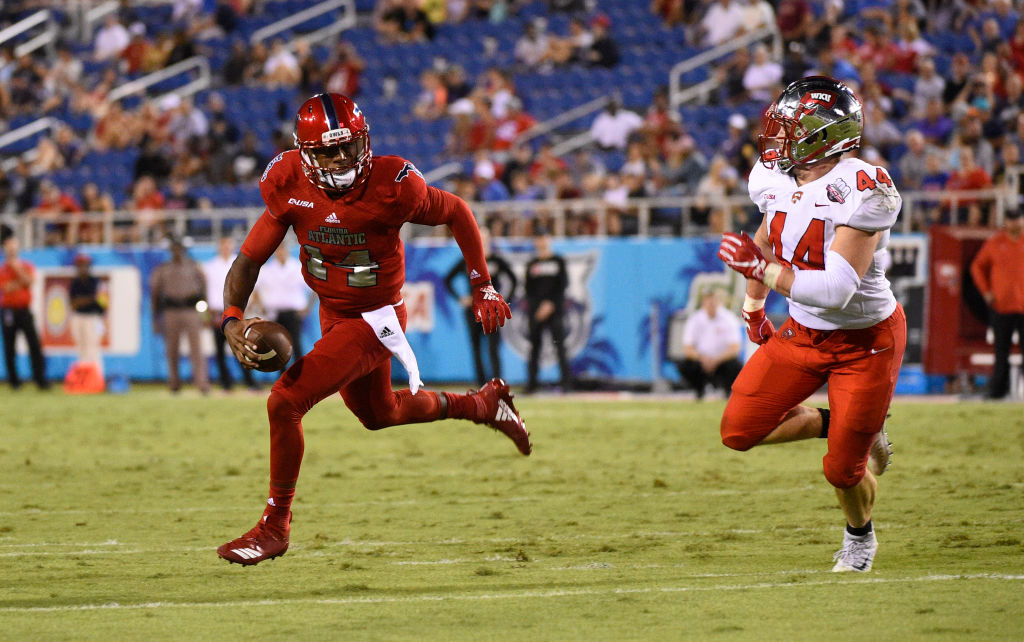 Where Is Former 'Last Chance U' Quarterback De'Andre Johnson Now?
Former Florida State quarterback De'Andre Johnson rose to prominence on Netflix's 'Last Chance U.' What is Johnson up to now?
De'Andre Johnson began his college football career as the heir apparent to a future NFL draft top pick and ended his time in the college ranks as a popular quarterback at the FCS level. The 2014 winner of Florida's Mr. Football, Johnson signed with Florida State out of high school. Johnson is best remembered for his time at East Mississippi Community College, a junior college featured on the first two seasons of Netflix's Last Chance U.
Johnson played at four different Regardless of what happens with his professional football career, Johnson will always be remembered for his time on Last Chance U. Here's what Johnson is up to after finishing his college football career.
De'Andre Johnson rose to prominence on Netflix's Last Chance U
De'Andre Johnson arrived at Florida State with high expectations. Heisman Trophy winner Jameis Winston was off to the NFL and Jimbo Fisher needed a capable quarterback to keep the Seminoles competing for national championships. Johnson threw for nearly 12,000 yards and 131 touchdowns at First Coast High in Jacksonville, Fla. The 6-foot-2 Johnson ran for another 23 touchdowns in high school.
Johnson's 3,710 passing yards and 47 touchdowns as a senior in 2014 set a state record. Although he enrolled early and participated in FSU's 2015 spring game, Johnson never saw action in a regular-season game in Tallahassee because he was dismissed in July 2015 for an off-field incident.
After publicly apologizing, Johnson transferred to East Mississippi and won the starting quarterback job in 2016. Johnson completed 61% of his passes for 2,645 yards and 26 touchdowns. Johnson also totaled 834 yards and five touchdowns, helping EMCC to a Mississippi State Bowl State Championship.
Johnson's time at East Mississippi coincided with Last Chance U's second season. Johnson instantly became a fan favorite for both his play and how he moved on from the incident at Florida State.
After Last Chance U, De'Andre Johnson played at Florida Atlantic University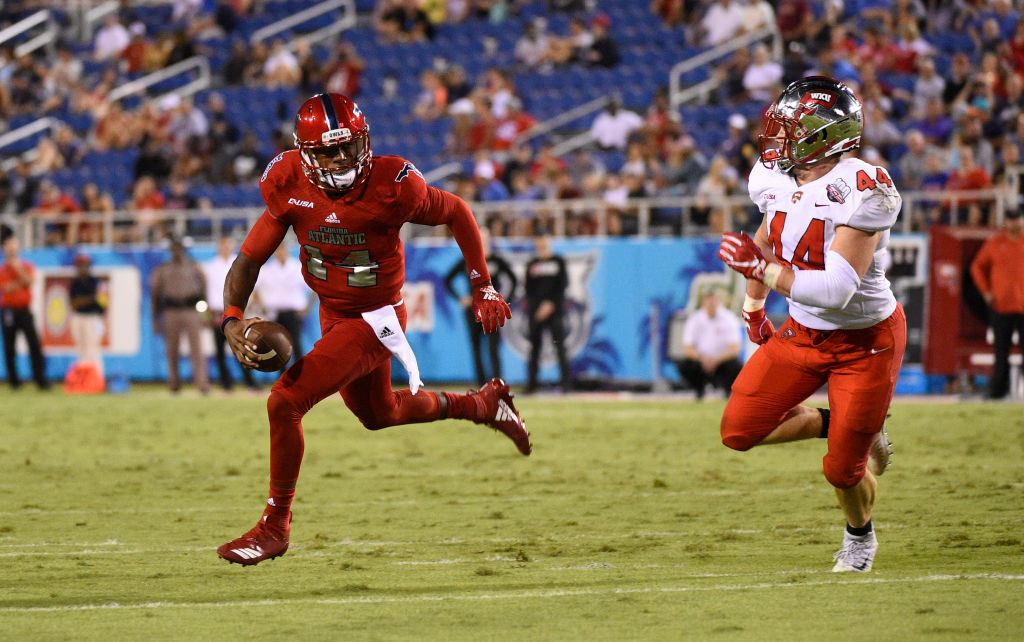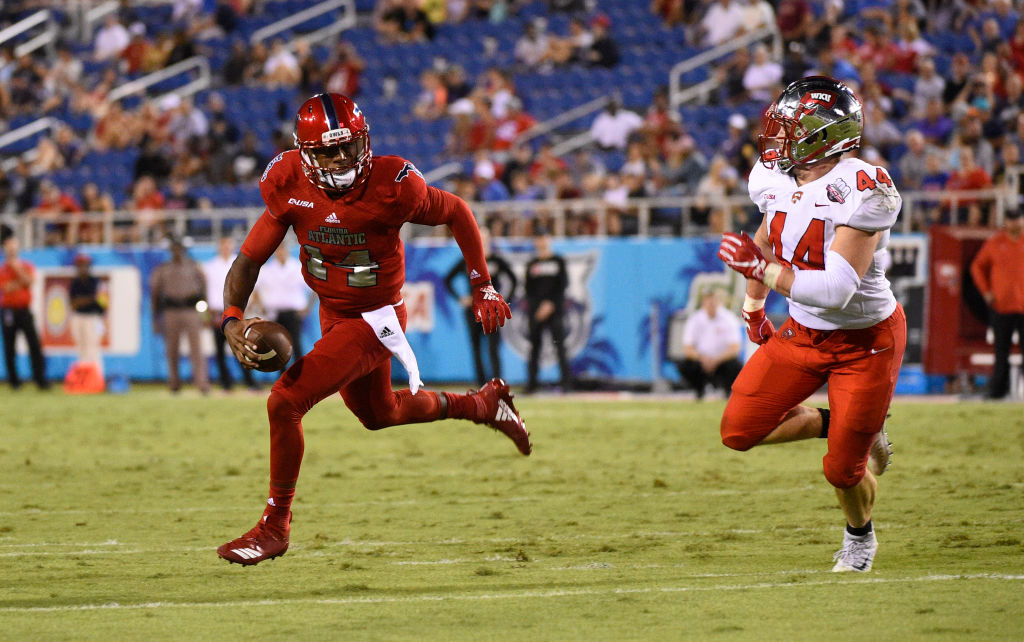 De'Andre Johnson earned interest from several Division I football programs after his tenure at EMCC. The winning program was Lane Kiffin and Florida Atlantic, which recruited Johnson under the previous coach. Johnson signed with FAU days after Kiffin was hired in December 2016 and enrolled with the Owls in time for spring practice.
Johnson wasn't the only ex-Last Chance U star to join Kiffin's Owls. Johnson's junior college teammate, defensive end Tim Bonner, signed with FAU in early 2017. Auburn receiver John Franklin III, Johnson's teammate at Florida State and a cast member on Last Chance U's first season, joined FAU as a graduate transfer in August 2017. Kiffin also named EMCC quarterbacks coach Clint Trickett as FAU's tight ends coach.
Johnson began his first season at FAU as the backup behind Daniel Parr. While Johnson saw action in FAU's Week 1 loss to Navy, he underwent surgery for blood clots in his arm less than a week later. Johnson had been battling a nagging, undisclosed injury that summer and missed the rest of the 2017 season. FAU finished that year 11-3 and won both the Conference USA championship game and the Boca Raton Bowl.
When starter Jason Driskel retired and Parr transferred, Johnson appeared the early favorite to win FAU's starting quarterback job. Johnson impressed at times throughout the offseason but opened the season behind Chris Robison, an Oklahoma transfer, and SMU transfer Rafe Peavey on the depth chart. Johnson finally got an extended chance during a 49-14 victory at rival Florida International, completing four of six passes for 67 yards and two touchdowns. Johnson also ran for 50 yards on seven carries that night.
Johnson passed for 161 yards, two touchdowns and an interception in 2018. He also totaled 178 yards and a touchdown on the ground, but transferred to Texas Southern, an FCS program, after the season.
De'Andre Johnson is currently preparing for the NFL draft
Johnson completed 60.2% of his passes for 1,927 yards, 10 touchdowns and five interceptions at Texas Southern last year. Johnson ran for another three touchdowns for the Tigers, who finished 0-11 in head coach Clarence McKinney's first season.
Rather than petition the NCAA for an extra year, Johnson declared for the NFL draft in December. He signed with Rare Sports Agency and has posted pictures on Instagram of him preparing for the NFL draft. Johnson is not listed on several draft sites and will likely need to make an NFL team as an undrafted free agent.